"Relieving Home Improvement Stress Since 1959."
RWC is a family-owned kitchen remodeling and renovation company, providing services to northern New Jersey since 1959. We are proud to provide our customers with a true start-to-finish remodeling service. Our vast showroom has various kitchen cabinets, countertops, tile, hardware, doors, and windows to choose from. We'll guide you through the design process, the product selection, and then install everything you need with our certified, in-house kitchen contracting team.
The Benefits of Kitchen Remodeling with RWC
When you work with RWC Windows, Doors, Kitchens and Baths, our expert team of New Jersey home contractors will ensure that your final remodel meets your vision. When you work with us, you can expect:
A dedicated designer and lead carpenter from start to finish

Flexible financing options

A personal, family-run experience
Interested in Other Services as Well?
Available Products and Brands for Your Kitchen:
Depending on the layout and design requirements of your kitchen redesign, RWC is able to offer you a wide range of products in different materials, styles and finishes. We'll work with you to recommend what pairs well together, as well as what might function better or last longer in your specific home. Check out our products commonly used in our kitchen projects, or keep reading to learn more about our process.
Please note that due to supply chain issues, there may be delays with certain products.
The following windows are available and organized by material:
Storm Windows
Full Line of aluminum storm windows from Larson 
Vinyl Windows
Full Line of Vinyl Windows from MI Windows and Doors
Full Line of Vinyl Windows from Simonton Windows
Full Line of Vinyl Windows from JeldWen
Full Line of Vinyl Windows from Crystal Windows
Full Line of Vinyl Windows from ProVia
Aluminum Windows
Full line of Aluminum products from Crystal Windows (residential and commercial)
Full line of Aluminum products from Northern (commercial)
Full line of Aluminum products from Winco (commercial)
Full line of Aluminum products from Efco (commercial) 
Fiberglass/Composite Windows
Andersen 100 Series Composite windows
Marvin Essential Series Fiberglass windows
Wood/Clad Windows
Full lines of wood/clad windows from Marvin (Elevate Series & Signature Series)
Full lines of wood/clad windows from Andersen (200 series, 400 series, Woodwright, A-Series, E-Series)
Full lines of wood/clad windows from JeldWen (W-2500 Series, W-5500 Series, Siteline Series, Custom Series)
Full lines of wood/clad windows from ProVia (Aeris Series)
RWC currently provides cabinetry from the following:
Full Line of Cabinetry from Fabuwood
Full Line of Cabinetry from MidContinent
Lines of Cabinetry from Diamond (Vibe Line, Distinction Line, Edge Line)
Full Line of Cabinetry from Holiday
RWC's current countertop offerings include:
Full Line of Cultured Marble countertop material
Full Line of Granite countertop material
Full Line of Quartz countertop material
For further information on our countertop material, please contact our showroom, where a designer or team member at the store will be able to provide more information.
Hardware, Fixtures, & More
For the final touches on your kitchen, RWC carries a variety of options for door hardware, cabinet hardware, shutters, and plumbing fixtures. This includes:
Tile and other supplies from Porcelanosa
Full line of Kohler fixtures
Full line of Delta fixtures
Full line of cabinet hardware from Top Knobs
Whether it's an interior door, entrance door, or patio door, RWC has a wide variety of options at our disposal. The following door options are available and are organized via material/type:
Storm Doors
Full Line of storm door products from Larson
Vinyl Patio Doors
Vinyl Patio Doors from MI Windows and Doors
Vinyl Patio doors from Simonton Windows
Vinyl Patio Doors from Crystal Windows
Aluminum Patio Doors
Aluminum Patio Doors from Crystal Windows (residential and commercial)
Aluminum Patio doors from Northern (commercial)
Aluminum Patio doors from Winco (commercial)
Aluminum Patio doors from Efco (commercial)
Wood/Clad Patio and French Doors
Wood/Clad patio door lines from Marvin
Wood/Clad patio door lines from Andersen
Wood/Clad patio door lines from JeldWen
Fiberglass Entrance Doors
Full lines of entrance doors from ThermaTru (Smooth Star, Fiber Classic and Classic Craft lines)
JeldWen Aurora Fiberglass Entrance Doors
Wood Entrance Doors
Simpson wood entrance doors
JeldWen IWP custom wood entrance doors
Door Hardware
Full line of Schlage hardware
Full line of Emtek hardware
Full line of Baldwin hardware
Our Kitchen Remodel Process
Our kitchen renovation contractors will give you an affordable kitchen remodel that you'll love. Throughout the whole process you'll have consistent points of contact that will help educate, advise, and apprise you of every situation and need. Read the follow to get an idea of what your kitchen remodel process will look like.
Step 1: Kitchen Remodeling Consultation
Your consultation will involve exploring our showroom as well as our team seeing your kitchen in person. Ahead of your kitchen design appointment, explore for inspiration and take initial measurements of your space. Come prepared with this and your initial ideas on budget. When you come to the showroom, you'll be able to explore all of our different kitchen products in person. Want a wine rack? Need a kitchen island? Dreaming of an open concept kitchen or a decorative window? Let us know! This information will help us to better explain the kitchen construction process and make your wish list a reality. After we've discussed your wants and needs, we'll also make sure that your design won't have any issues with pre existing structural, plumbing, or electrical hurdles.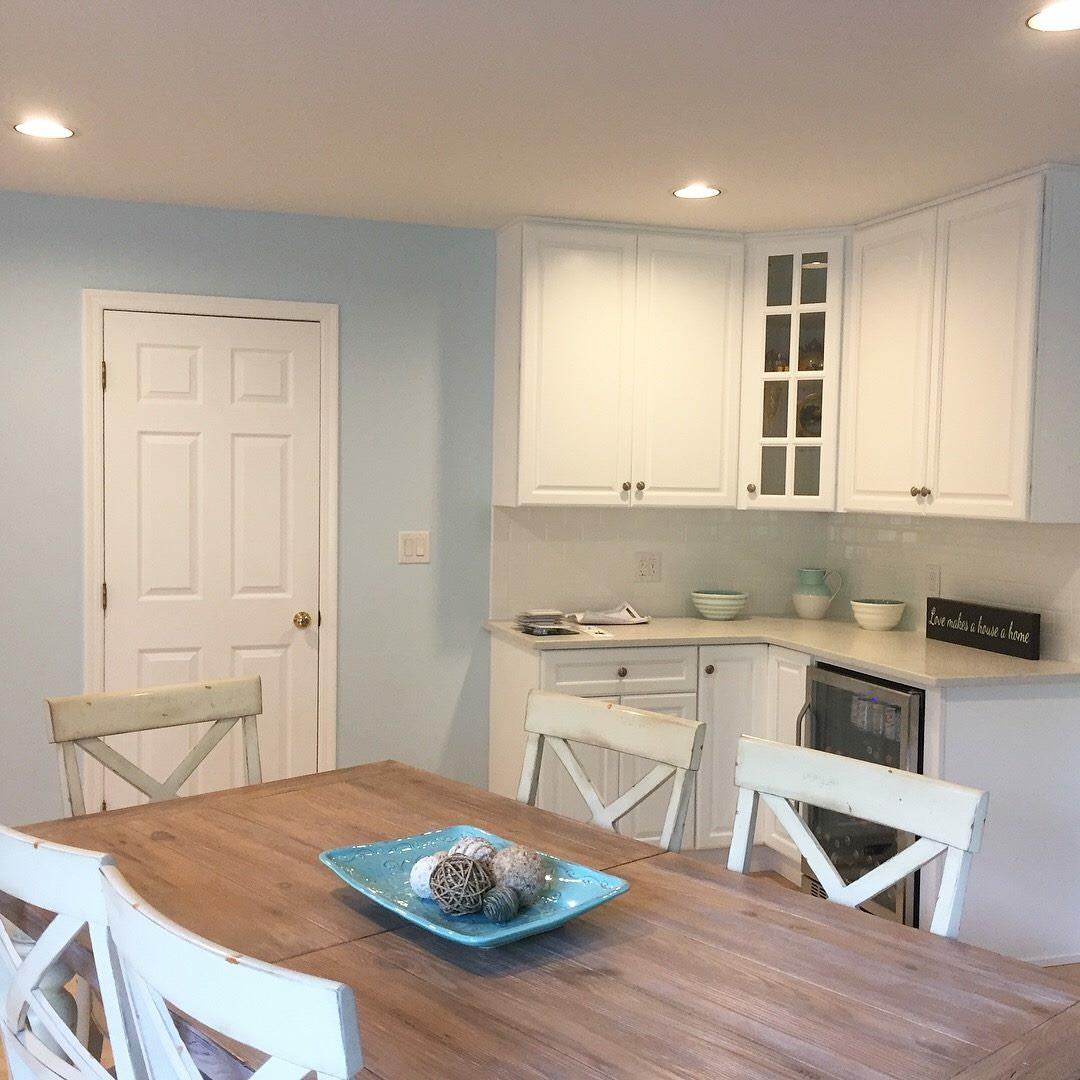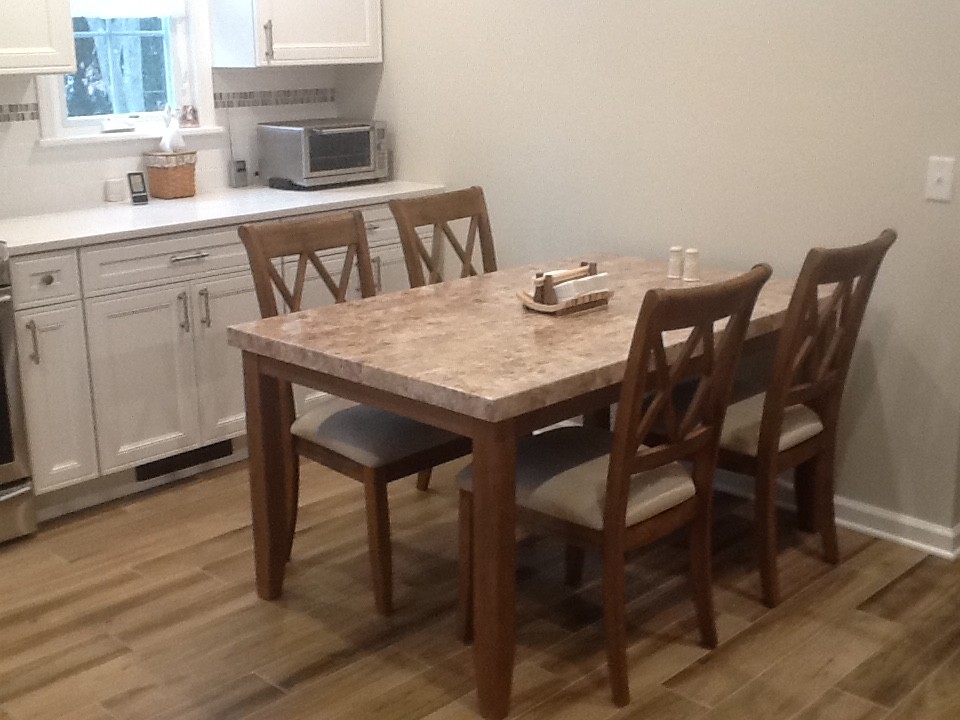 Step 2: Design and Product Selection
At our showroom, you'll work with your designer to select the right kitchen cabinets, countertops, fixtures and more. We have one of the largest variety of kitchen products available in our showroom in Essex County. 
Once your space has been vetted and your production selection completed, your designer will create a written proposal for the project as well as a 3D color rendering of your new kitchen. It will be at this time that the design goes through any final revisions. Upon signing off and material orders placed, you'll meet with our kitchen contractor and carpentry team to discuss installation.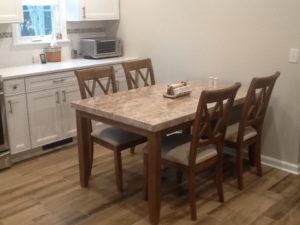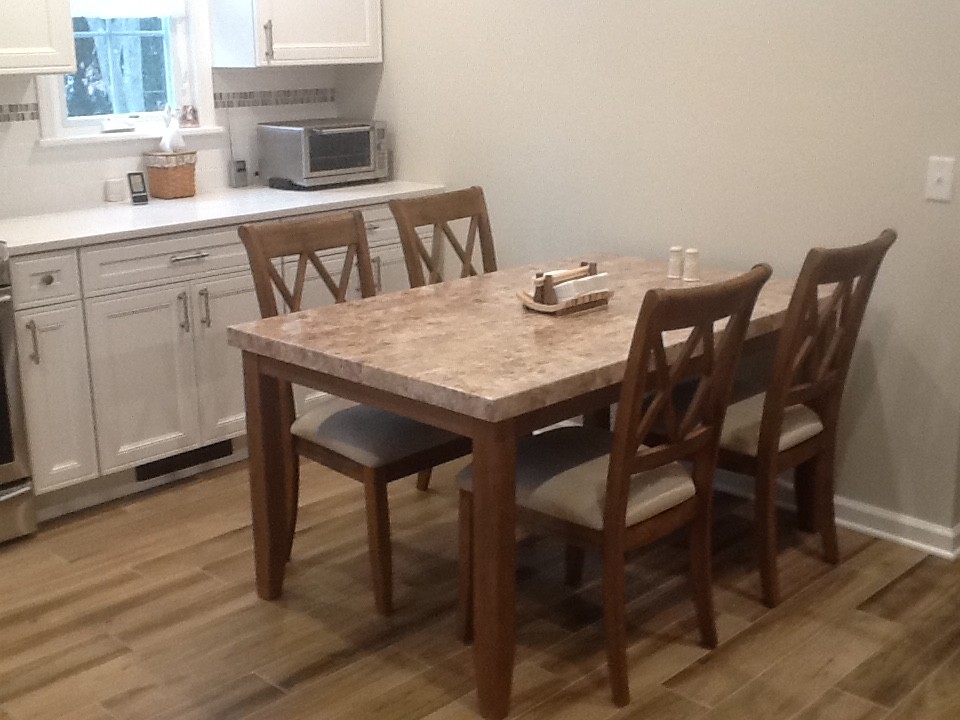 Step 3: Prepping Your Kitchen Remodel
Ahead of starting your kitchen remodel, you and your contractor will make sure that building permits are acquired for any structural, electrical, plumbing, or mechanical changes to your kitchen. When your products have arrived, they will be inspected for quality assurance and will need to be stored in a dry area that is ideally climate controlled. 
Assuming that all products pass our quality assurance, RWC will be ready to start building your kitchen. To make things as efficient as possible, please make sure to pack up everything in your kitchen and place it in a safe space. A temporary kitchen equipped with a refrigerator and cooking appliances. An outdoor grill can also serve as an effective solution for your cooking needs.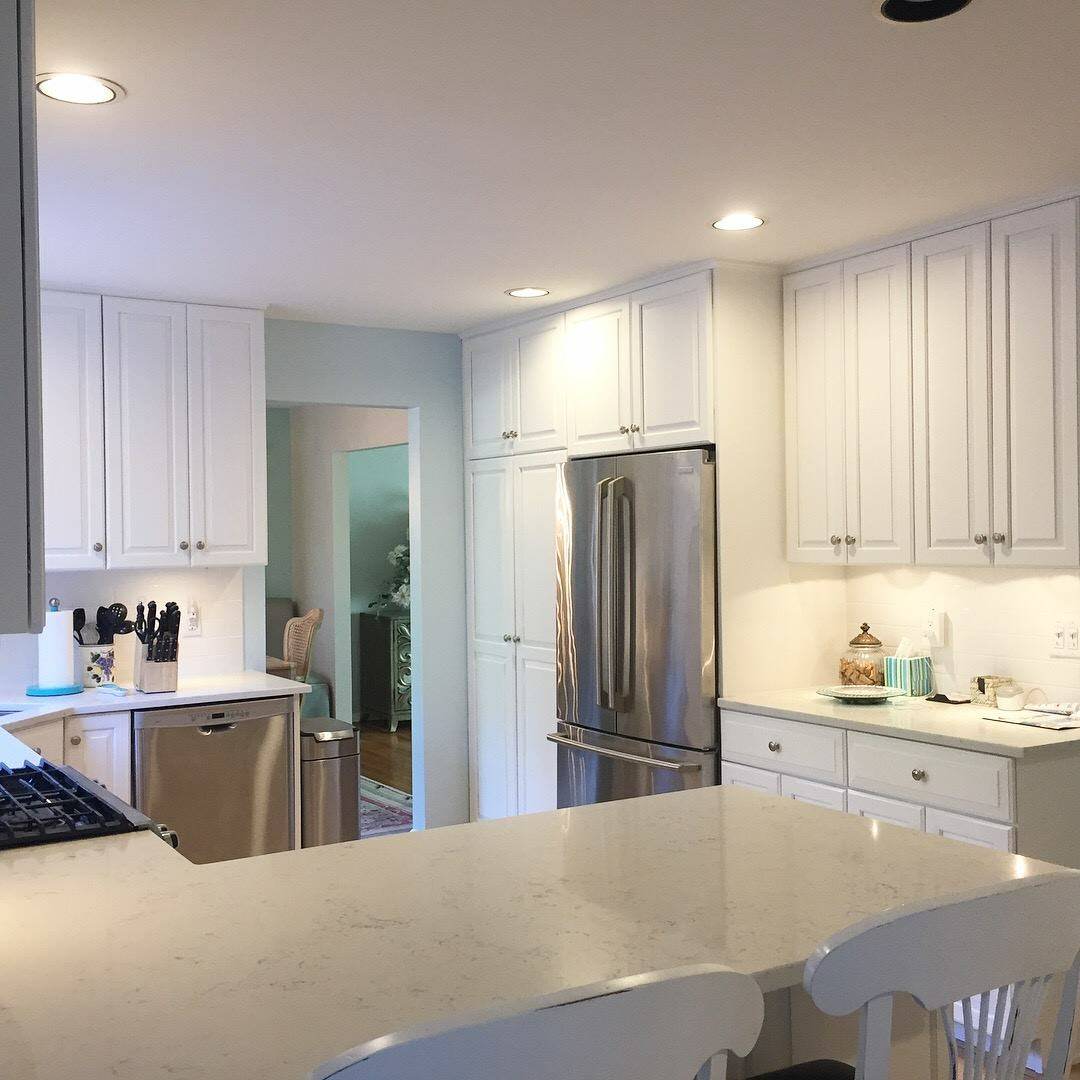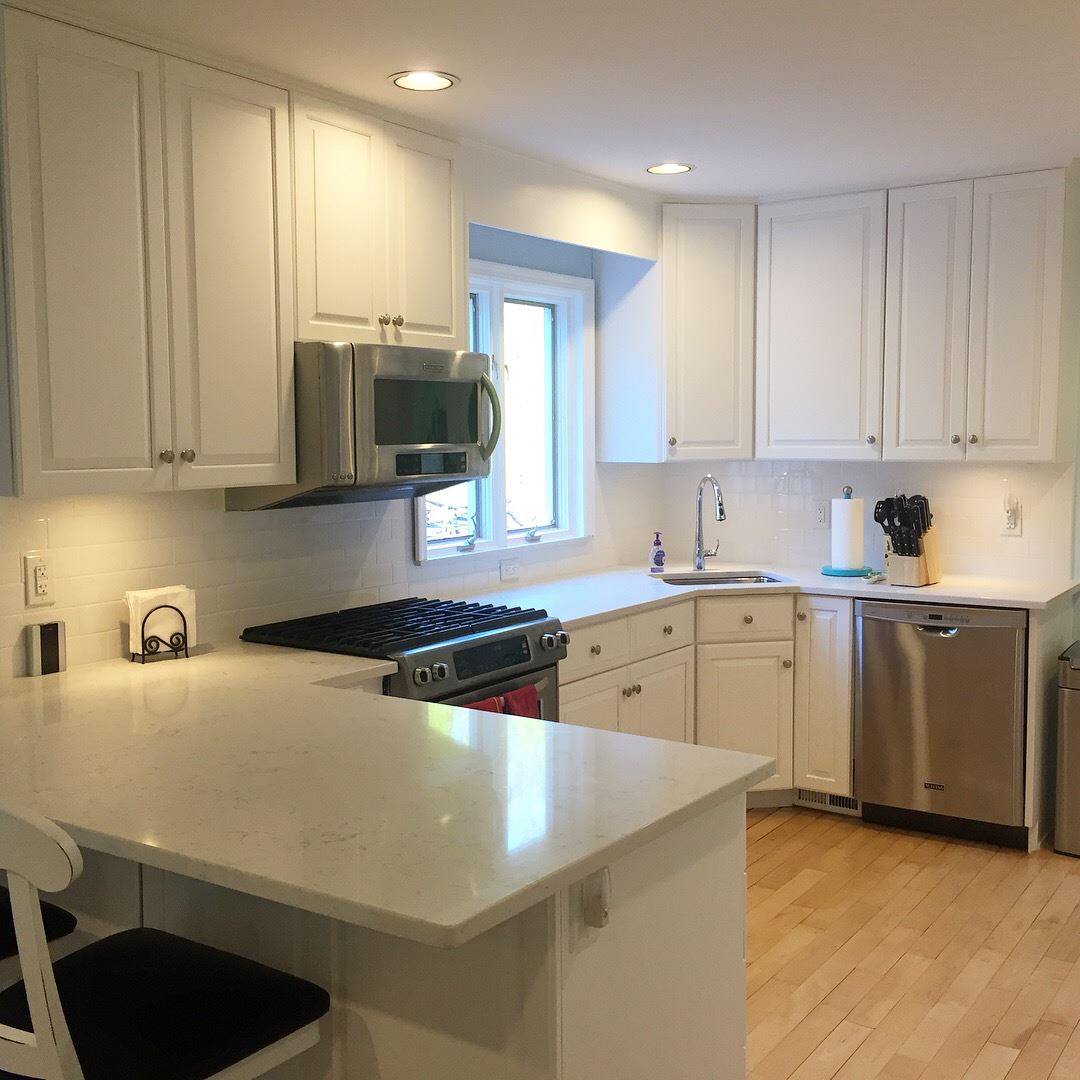 Step 4: Initial Construction
Depending on the steps needed to remodel your kitchen space, your initial construction period will last 1-6 weeks. During this period, your kitchen will be demolished for any potential structural changes that follow. After structural changes, utility work will be done to update anything mechanical, electrical, or plumbing related. After confirmation of all structural and utility work being sound, the RWC team will work to install drywall, flooring, and paint surfaces.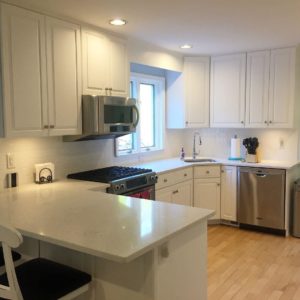 Step 5: Completing Your Kitchen Remodel
With the initial construction phase completed, the most fun part begins with the installation of all hardware and appliances. Cabinets and countertops will be measured and fabricated as needed ahead of installation, followed by the installation of your stove, refrigerator and other appliances and fixtures. From here finishing details such as cabinet hardware and crown molding are installed, before finally finishing with the backsplash. 
At this point, in the likely scenario that building permits were needed for construction, a final inspection will be needed from a building inspector. Once inspection is passed, final cleanup of the room will ensure that your new kitchen is free of any dust and debris!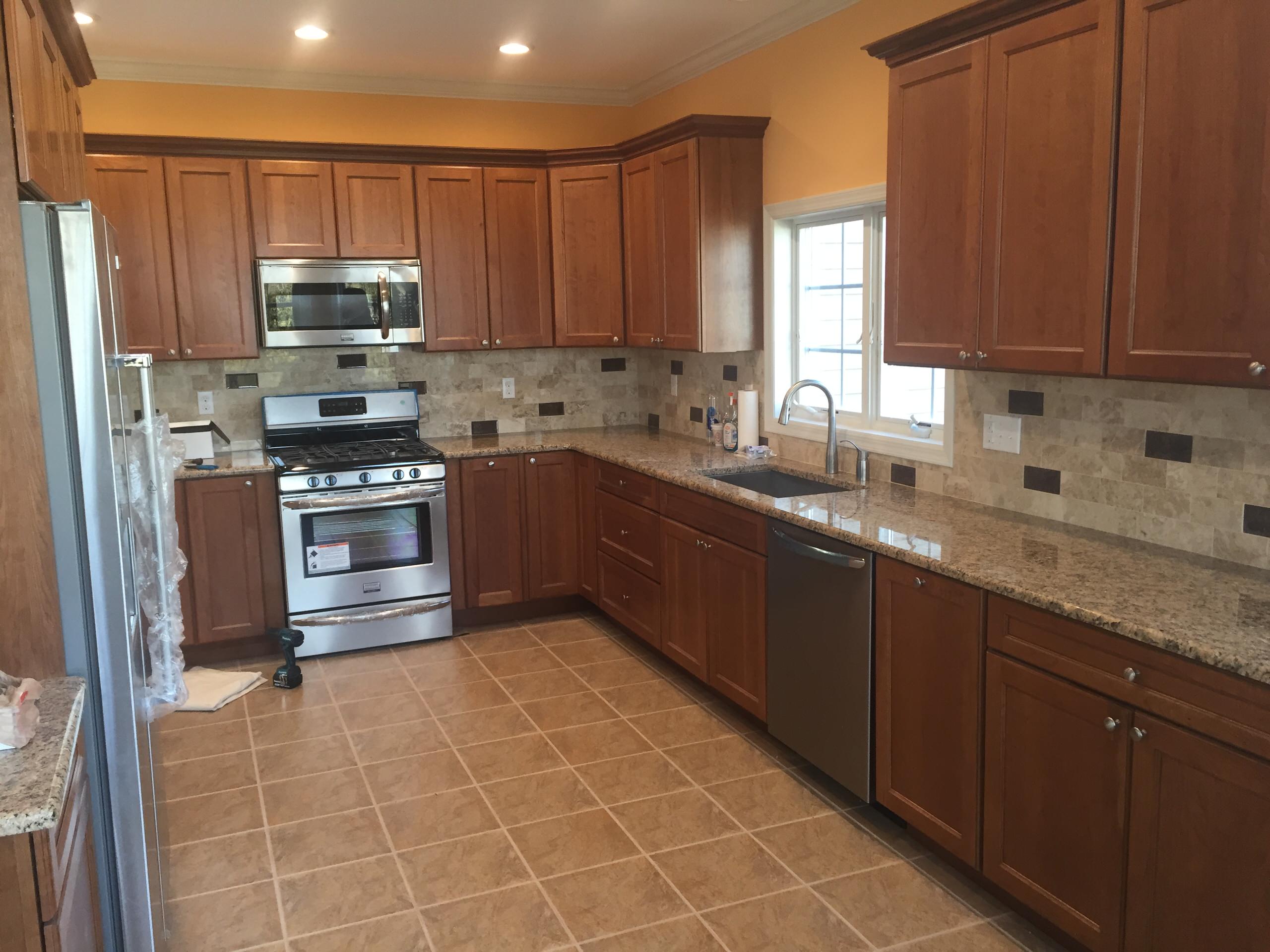 Three Generations of Kitchen Remodeling Experience
Working with our team will help make your kitchen more efficient, more inviting, and improve the value of your kitchen and home.
RWC's core team have at least 15 years of experience

All contractor and carpentry staff are factory certified

7500 sq. foot showroom enables us to carry a wide array of products, all of which we can educate you on

We have close relationships with adjacent stores in the area, allowing us to assist you on any additional needs for your kitchen
Now Offering Virtual Estimates
See What People Are Saying
Explore the hundreds of 5-star reviews RWC has received, as well as numerous remodeling awards.
Your Last Stop for Home and Kitchen Remodels
At RWC it is our mission to be your one stop shop for all of your home remodeling needs. That is why we offer more than just kitchen remodels. Our teams are also experienced in bathroom remodeling, window installation, and door installation, so you can always find a solution to your home needs. Contact us today and get a free quote on your next home project
It's Time to Get Started.
Depending on the work that is being done, a kitchen remodel can range from a few weeks to complete a project to multiple months. Kitchen size, scope of work and project complexity are going to be the three most common factors you'll want to consider. In recent years due to the pandemic, some products have also had longer delivery times, which consequently delayed completion of the related remodel.
In each case, we work to accomplish each project with minimal kitchen downtime for you and your family. If you have any questions or concerns about project timelines, we'll be happy to answer them during your free design consult.
Just like with project timelines, kitchen remodels are going to vary in price based on project scope, kitchen size, products desired, and project complexity. In general, considering 5% to 15% of your home value is a good place to start your budget. For most minor kitchen remodels, expect to spend $20,000 or more. If you break down the different costs of your kitchen remodel, they'll likely be distributed something similar to the following:
Cabinetry and hardware: 29%
Installation: 17%
Appliances and ventilation: 14%
Countertops: 10%
Flooring: 7%
Walls and ceilings: 5%
Lighting: 5%
Doors and windows: 4%
Design fees: 4%
Faucets and plumbing: 4%
Other: 1%
Keep reading to find out more about how much your kitchen remodel is going to cost.
The kitchen will forever be the heart of the home, which is why kitchen remodels can often see high returns on their investment in home appraisal value. Minor kitchen remodels are often capable of seeing up to 80 – 90% return on investment.
However, knowing which projects will provide the most value is important. A project to upgrade the kitchen is likely to to see nice returns on investment, but not if you were installing a $20,000 stovetop in a starter home. It's also crucial to take care of the fundamental aspects of your home first, such as a leaky roof.
Learn about the best home improvement projects for ROI.
RWC is proud to serve customers in northern New Jersey, most commonly in Essex County, Passaic County, Bergen County, Union County, and Morris County. A sample of the towns we have provided homeowners kitchen and bathroom remodeling services, plus window and door services, includes:
Recent Kitchen Remodeling Blogs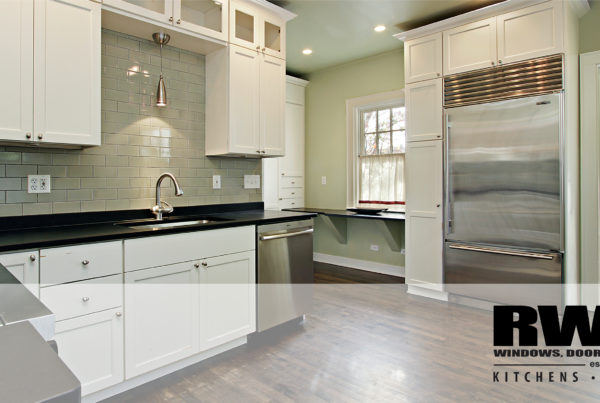 Remodeling your kitchen is a significant project that requires extensive planning. Our kitchen remodelers are here to guide you through this process, plan the best possible kitchen remodel, and ultimately…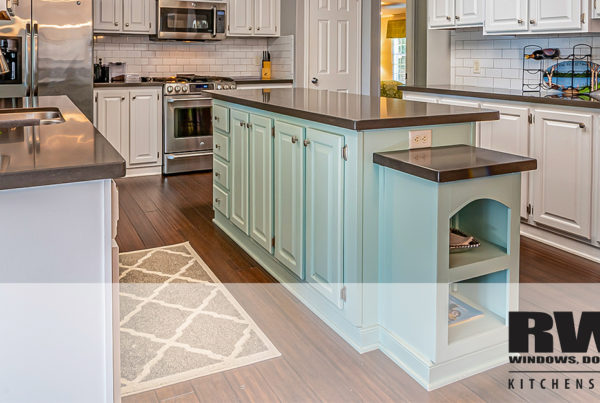 Bringing together an eye-catching collaboration of both function and style, the kitchen island has grown to be one of the most desirable modern kitchen implements. These freestanding structures can offer…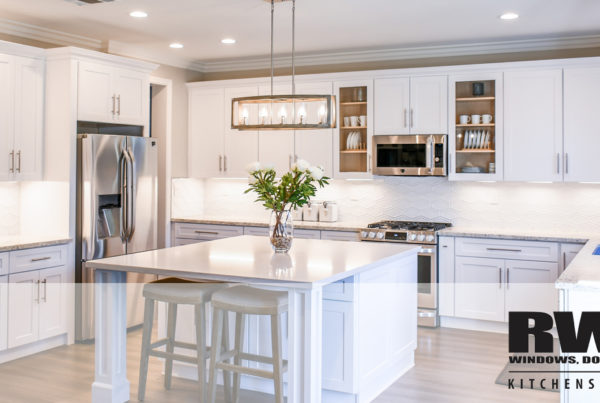 A kitchen remodel doesn't come with a small price tag and there's a substantial amount of planning involved. As the saying goes, it's all in the details. In order to…