ThermaTru Entrance Doors in NJ
Homeowners in New Jersey can enjoy convenient access to the full line of ThermaTru entrance doors at RWC Windows, Doors, Kitchens, and Baths. We carry a wide range of options, including Classic Craft®, Fiber-Classic®, and Smooth-Star®, which come in many different styles, colors, and finishes. Find more information about ThermaTru door products at RWC below.
Request a Quote Today
In 1983, ThermaTru Doors launched its Fiberglass-Classic style, the first fiberglass door on the market, and is now the nation's leading manufacturer of fiberglass and steel exterior door systems. The company is committed to advancing the industry with quality products that hinge on performance, comfort, and style.

ThermaTru Entrance Doors Available in NJ at RWC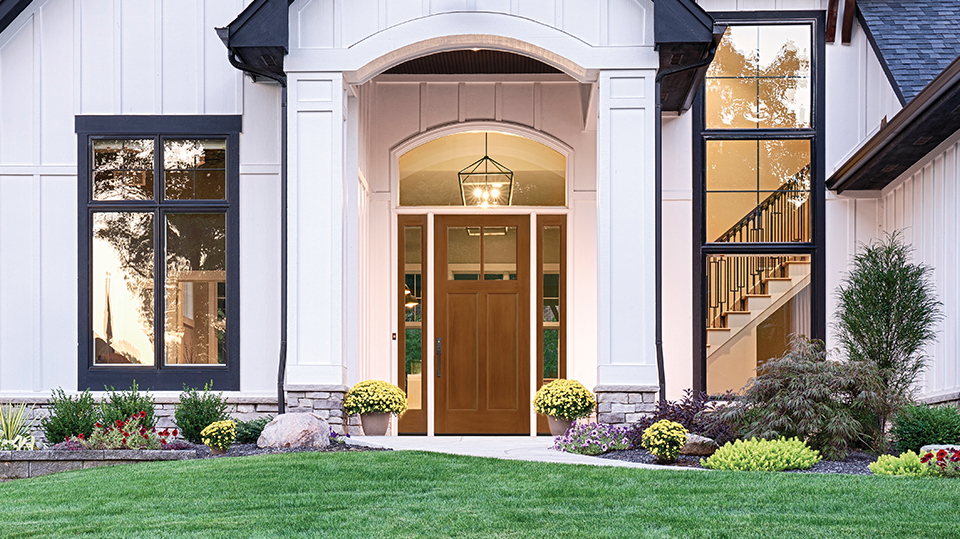 Pulse® Steel Entrance Doors
ThermaTru's Pulse entrance doors are a combination of contemporary door styles and glass designs that will surely make a bold statement. There are three aesthetic options available — Ari, Linea, and Echo — which can be mixed and matched with sleek, flush door, and sidelite styles.
Profiles™ Steel Entrance Doors
Profiles entrance doors offer versatile front entry and house-to-garage options. If you're looking for the durability and security of steel, these are the ideal doors for you. They also feature 24-gauge steel and triple-shadowed panel embossments for greater detail.
Traditions Steel Entrance Doors
Traditions entrance doors from ThermaTru combine attractive designs and value-based options for front entry and house-to-garage. They also feature 25-gauge steel and a standard embossed smooth surface. Fire-rated options are available for both the Profiles and Traditions series.
Smooth-Star® Fiberglass Entrance Doors
Smooth-Star fiberglass entrance doors are the perfect choice if you're looking for a smooth, paintable surface. These doors are ready-to-paint with crisp, clean contours, and they are a more attractive and durable alternative to steel.
Fiber-Classic® Fiberglass Entrance Doors
The Fiber-Classic entrance doors feature wood grain to suit any home's style. Customers can choose from two distinct collections, Mahogany and Oak. These doors come available in a variety of sizes and glass designs to satisfy curb appeal and convenience.
Classic Craft® Fiberglass Entrance Doors
ThermaTru's Classic Craft fiberglass entrance doors blend artistry, craftsmanship, and modern engineering to bring your home design vision to life. There are three collections available, including Artíssa, Founders, and Visionary, each providing their own unique look and feel.
ThermaTru Product Gallery
Installation Services for ThermaTru Products in NJ
RWC provides replacement and installation services throughout NJ for ThermaTru Doors products. Come in to our Caldwell showroom to experience the possibilities for your project and get expert advice from a certified in-house team member. Contact us for more information or to schedule a design appointment today.