"Relieving Home Improvement Stress Since 1959."
Bathroom Remodelers in New Jersey
At RWC, we have been successfully managing and completing bathroom renovations in Northern New Jersey for over 60 years, so you never have to settle for a boring bathroom! You'll be able to work with our in-house bathroom design and certified installation teams to seamlessly take your renovation project from concept to completion, all in one place. Start with a personalized design consultation, explore our showroom, and then let our bathroom contractors take care of the rest! Learn more about the brands we offer and the streamlined process you'll experience when you choose RWC for your bathroom renovation in NJ.
The Benefits of Bathroom Remodeling with RWC
Working with RWC Windows, Doors, Kitchens, and Baths provides NJ homeowners with a variety of benefits that make the entire process easier. When you work with us, you can expect:
A dedicated designer and lead carpenter from start to finish

Flexible financing options

A personal, family-run experience
Interested in Other Services as Well?
Available Products and Brands for Your Bathroom
RWC continues to have strong relationships with the top manufacturers of essential bathroom products, including standard and luxury brands that have been vetted by our team over years of installing bathroom vanities, new cabinets, windows, doors, and more. When you visit our showroom in West Caldwell, NJ, you'll have the unique opportunity to see our products in person and choose what you think suits your new bathroom vision best. Our brands include:
Please note that due to supply chain issues, there may be delays with certain products.
Available Windows & Doors
Window and door brands we offer for your NJ home include:
Full Line of windows & doors from Marvin
Full Line of windows & doors from JeldWen
Full Line of windows & doors from Anderson
Full Line of windows & doors from MI
Full Line of windows & doors from Simonton
Full line of vinyl and aluminum products from Crystal Windows
Your bathroom cabinetry options at RWC include: 
Lines of Cabinetry from Diamond (Vibe Line, Distinction Line, Edge Line)
Full Line of Cabinetry from MasterBrand Cabinetry
Full Line of Cabinetry from Mid Content Cabinetry
Available Tiles and Countertops
RWC's current tile and countertop offerings in NJ include:
Full Line of tiles from Daltile
Tile and other supplies from Porcelanosa
Full Line of Cultured Marble countertop material
Full Line of Granite countertop material
Full Line of Quartz countertop material
For further information on our countertop material, please contact our showroom, where a designer or team member at the store will be able to provide more information
Available Hardware, Fixtures, & More
Put the finishing touches on your bathroom remodel with hardware and fixtures from the top brands at RWC. Our current offerings include:
Shower door products from Glasscrafters
Full line of Kohler fixtures
Full line of Delta fixtures
Full line of cabinet hardware from Top Knobs
What to Expect from a Bathroom Remodeling Consultation with RWC
Remodeling your home can be a nerve-racking and time-consuming process. At RWC Windows, Doors, Kitchens, and Baths we pride ourselves in making remodeling your bathroom as easy as possible. Our expert bathroom remodeling contractors are all in-house and factory-trained. Learn more below about what happens when you schedule a bathroom remodeling consultation with RWC, and how we will use the process to ensure that we bring your bathroom vision to life!
Step 1: Cementing Your Vision
We work with you to create a "wishlist" for your new bathroom layout. Imagining a glass shower stall? Love subway tiles? Want a spa-like atmosphere? Let us know! You might want to add a window for light and natural ventilation. Not sure how you want to remodel your bathroom? That's not a problem either. We have so many different bathroom designs and ideas to choose from for your new and improved bathroom. Knowing your wants, budget, and room dimensions will help us make your bathroom remodel go as smoothly as possible.
After our initial appointment, we will take pictures, check for structural, plumbing, or electrical issues, and notify you if any such issues will interfere with your desired design. Still coming up with ideas for how to remodel your bathroom? Check out our design ideas page to gain inspiration before consulting with our experts.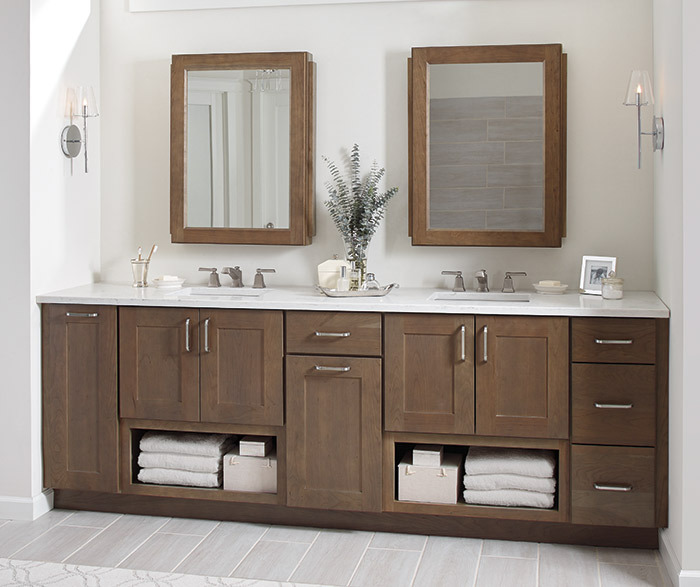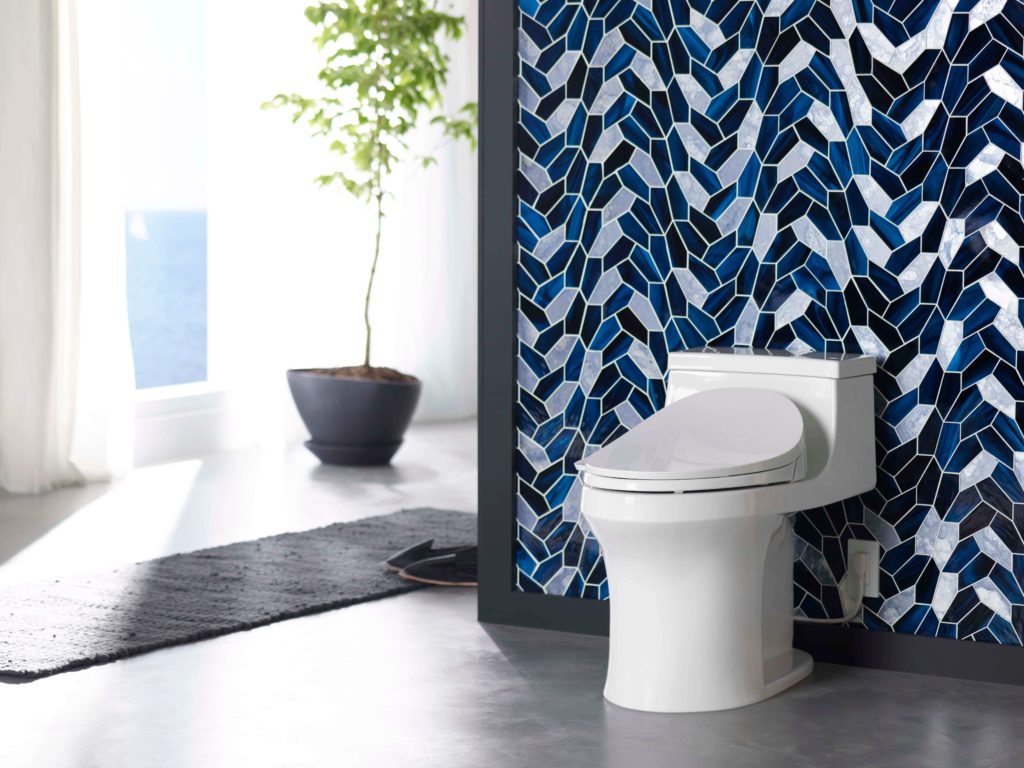 Step 2: Bathroom Design Time!
You'll meet our Designer at our home design center in New Jersey to select the finishes and materials you want to include in your new bathroom remodel. Some choices include:
Tile

Fixtures

Commodes

Tubs

Whirlpools

Faucets
Sinks

Glass Shower Doors

Vanity Styles

Vanity Tops

Colors

Finishes
Our expert bathroom contractors in NJ will guide you along the way and advise you on affordable materials and products for your bathroom remodeling project.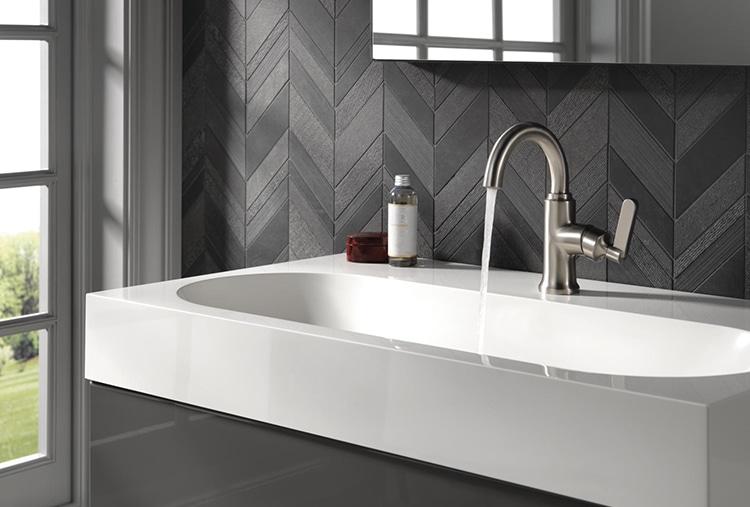 Step 3: Finalizing Your Bathroom Remodel Project Proposal
Once you choose your project materials, our designer will create your written proposal and 3-Dimensional color drawing of your bathroom. Have a last-minute idea you want to incorporate? Don't worry, we'll explore additional ideas and designs at this time and create a detailed scope of work and contract with a full bathroom remodel timeline. After you sign on the dotted line, you'll be introduced to our Lead Carpenter and discuss your construction and bathroom renovation steps for your NJ bathroom remodel.
Your designer and lead bathroom contractor will be your primary contacts throughout the entire construction process. If at any time you have questions about our progress, please do not hesitate to contact us. Our specialists are here to discuss every aspect of your kitchen and bathroom renovations.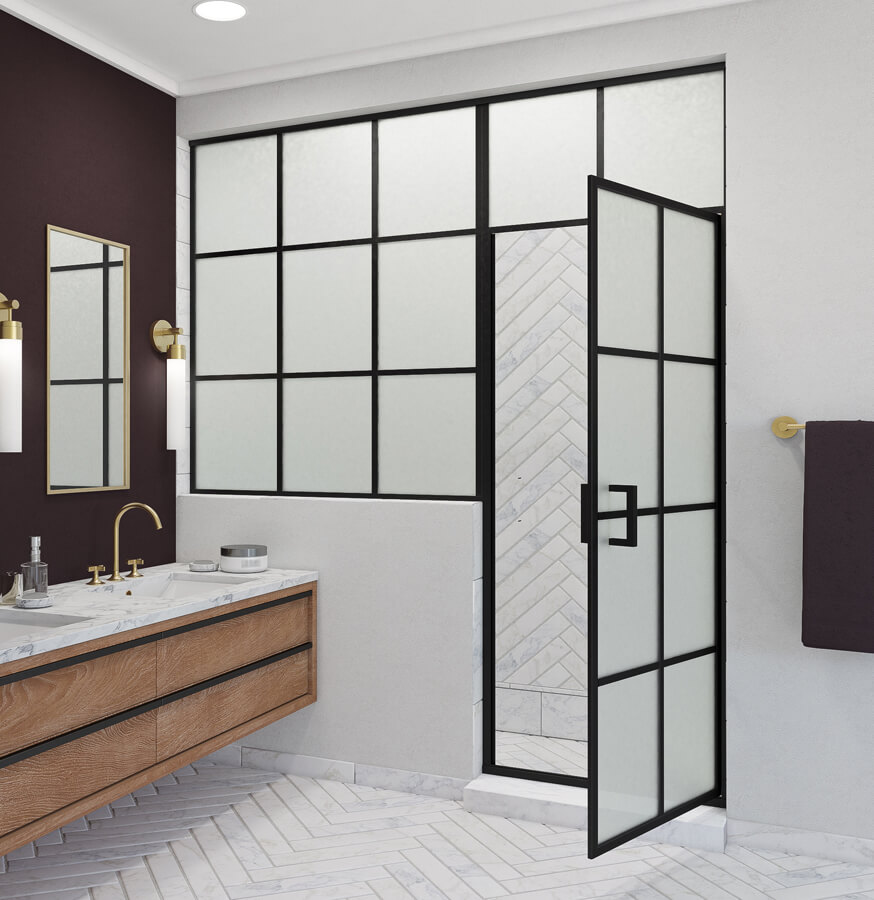 Working with the Best Bathroom Contractors
Each bathroom contractor is factory trained and works only in-house for RWC. This ensures proper installation of any design, along with top-level quality assurance. Thousands of people have trusted RWC with their bathroom renovations – including other home contractors who want their bathrooms done right. Check out our Houzz page or our Google reviews for proof! Get started today by booking a free design appointment. Virtual appointments are also available.
Three Generations of Bathroom Remodeling Experience
Working with our team will ensure that your newly remodeled bathroom is the perfect place to start and end your day.
RWC's core team has 15+ years of experience.

All contractor and carpentry staff are factory certified

7500 sq. foot showroom enables us to carry a wide array of products, all of which we can educate you on

We have close relationships with adjacent stores in the area, allowing us to assist you with any additional accouterments for your kitchen
Now Offering Virtual Estimates
See What People Are Saying
Explore the hundred of 5-star reviews RWC has received, as well as numerous remodeling awards.
Northern New Jersey's Leading Bathroom Remodelers
At RWC, Windows, Doors, Kitchens, and Baths we offer a full suite of home remodeling services. Our expertise surpasses bathroom remodeling and stretches to kitchen remodels and even door installation. No matter what direction you want to take your home, RWC has a team of experts ready to help you achieve your goals while remaining on budget. Contact us today for your free consultation and take your first step towards the ideal bathroom.
It's Time to Get Started.
Whether you're planning a move in the near future or just want to boost your home's resale value, consider adding a second or third bathroom. A typical buyer is often looking for a home with a master bath, family bathroom (full bath), and half bath (powder room) for guests. Not sure if the remodeling project is worth it? Think again. According to the 2022 Cost vs. Value Report, homeowners can recoup 52% of the cost of a bathroom addition, on average. Learn more about adding a new bathroom to your home with the help of RWC.
Your bathroom is one of the most used rooms in your home, so it should be a place where you enjoy spending time. If your bathroom is outdated or you're just not happy with the current style or functionality, it may be time to redesign your bathroom. On average, bathroom remodels cost about $10,000. However, the price will vary based on the scope of the project. Are you doing a tub-to-shower conversion or simply replacing a vanity or sink? Whatever the case, RWC is here to help. We'll take your goals and budget into consideration and create the perfect solution for your space. Contact us today to get started!
A neo-angle shower is made up of three glass sides and two wall enclosures, creating a beautiful diamond shape. It helps to increase the amount of usable space and upgrade the bathroom with a more modern look. Neo-angle showers come in a variety of sizes and styles to suit any homeowner's needs and are also a cost-effective option. They typically go from anywhere between $300 and $900, depending on the type of glass and hardware you choose, as well as several other factors. To learn more about this innovative shower design, read our blog here.
RWC is proud to serve customers in northern New Jersey, most commonly in Essex County, Passaic County, Bergen County, Union County, and Morris County. A sample of the towns we have provided homeowners kitchen and bathroom remodeling services, plus window and door services, includes:
Recent Bathroom Remodeling Blogs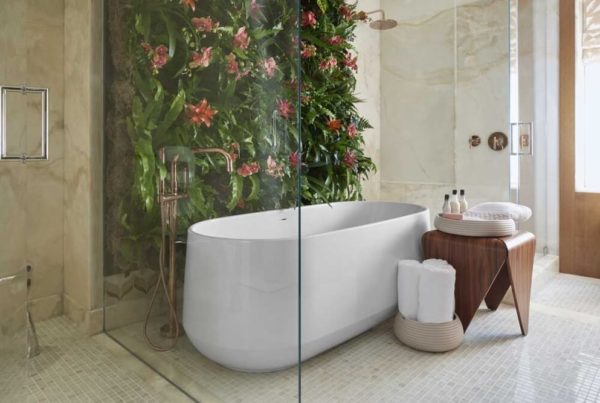 Top Bathroom Design Trends for 2023 Your bathroom should not only be visually appealing, but also well equipped. Surprisingly, bathroom design trends are evolving more rapidly than those for the…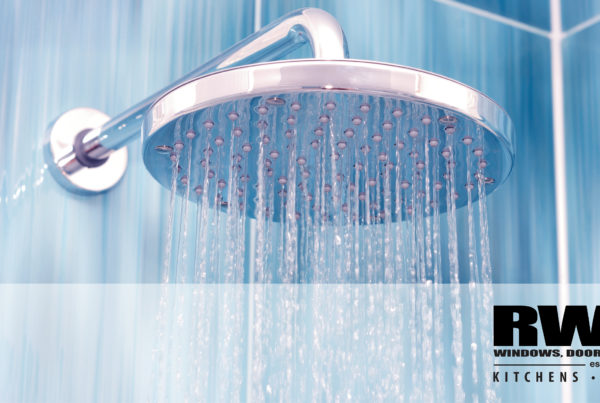 Are you in the market for a bathroom remodel in Northern New Jersey? While you are looking at different bathroom shower design ideas, getting information from a professional team to…
Kitchens may be the most popular rooms in the house to remodel, but bathrooms come in at a close second. These small rooms were born out of necessity. Still, over…