Simpson Wood Entrance Doors in NJ
RWC Windows, Doors, Kitchens, and Baths is a leading supplier of Simpson Doors for homeowners in New Jersey. If you're looking to upgrade the front of your home, we carry the full line of wood entrance doors from Simpson Doors, which come in a variety of wood types, glass, and sizes. Find your ideal door with the help of RWC.
Request a Quote Today
 Since 1912, Simpson Door Company has been providing customers with standard design and one-of-a-kind custom doors. Simpson's comprehensive line of interior and exterior stile and rail doors includes hundreds of options from panel to French to decorative entry doors, depending on your specific needs.

Simpson Entrance Doors Available in NJ at RWC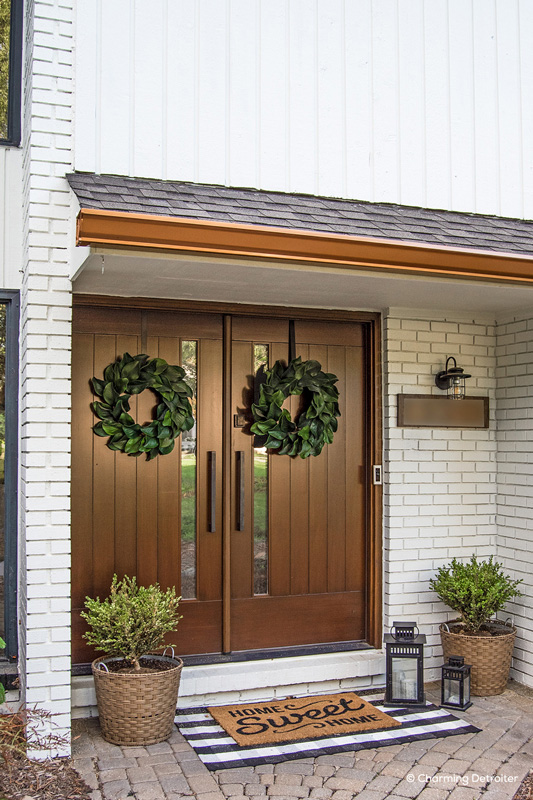 The Nantucket Collection entrance doors combine durable, weather-resistant wood, solid 2-piece laminated components, and a modified mortise-and-tenon construction technique. The result is a door that will retain its rugged beauty for years to come, regardless of the conditions.
The Mastermark Collection entrance doors are world-class favorites, with a reputation for elegance and performance. They feature engineered components that resist warping and twisting, as well as triple glazed leaded glass inserts to reduce heat loss and enhance appearance.
The Artist Collection entrance doors are created with the highest level of craftsmanship and complemented by a talented artist's touch. Simpson partners with artists who are known for their expertise and contributions to the fields of architecture, home, and building product design.
The Craftsman Collection entrance doors are inspired by the timeless appeal of fine craftsman architecture and furniture, with the option to add a Simpson Craftsman sidelight, transom, or dentil shelf. These doors come standard with UltraBlock® technology, which means it's backed by a 5-year warranty.
The Bungalow Series entrance doors offer a classic look, adding more charm and character to your home. These doors come available with traditional beaded v-groove panels and a large selection of glass layouts and options, perfect for establishing a feeling of traditional comfort.
Builder's Advantage Series®
The Builder's Advantage Series entrance doors make a statement with decorative glass and handcrafted wood. You can personalize your door by choosing from any wood species, as well as a wide selection of intricate glass panels, all at a price you can afford.
Traditional Exterior Doors
The Traditional Exterior Doors are stocked 1-3/4″, 3'0″ x 6'8″ with 1-7/16″ Innerbond® double hip-raised panels, with matching sidelights. These doors come available in a wide range of wood species, offering a simple and classic style that suits any home.
The Exterior Barn Doors combine practicality and aesthetics to create a timeless look and feel. Classic barn door design styles are 1-3/4" thick with 3/4" grooved flat panel, and there is also a "weathered" option available. They can be used for both interior and exterior applications, on hinges or with barn door track hardware.
The Selects Series offers an array of charismatic doors, delivering great value, highlighted by a range of tasteful decorative glass configurations. They are available in 15 standard designs with matching sidelights and transoms.
Contemporary Exterior Doors
The Contemporary Exterior Doors deliver clean lines, uncluttered looks, and distinctive styles, all with the quality and craftsmanship you expect. These doors allow you to embrace modern architectural features without sacrificing the warmth and durability of wood.
Exterior French & Sash Doors
The Exterior French and Sash Doors are available in over 200 standard designs with many options for customization, depending on your home's style. These doors can also be upgraded with WaterBarrier® and UltraBlock® technology for greater durability and weather protection.
Product Gallery for Simpson Doors
Installation Services for Simpson Products in NJ
RWC is proud to provide replacement and installation services for all Simpson Door products in NJ. At our Caldwell showroom, you will find a vast selection of high-quality products and our certified in-house team can help guide you toward the right decision. For more information about our services near you, contact us today!