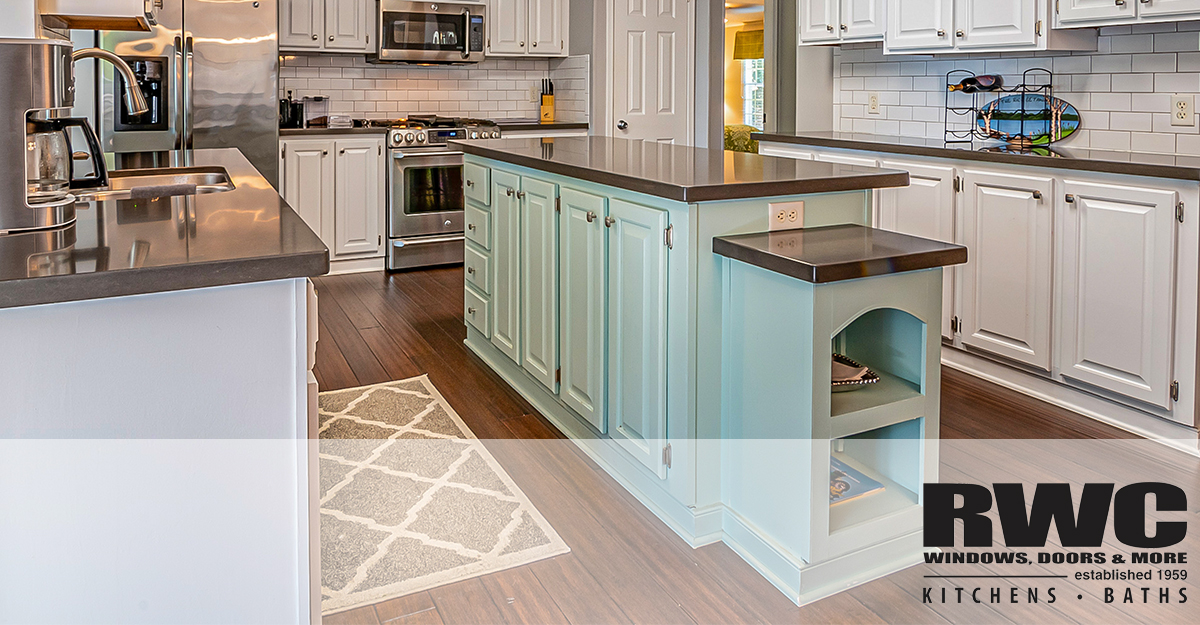 Bringing together an eye-catching collaboration of both function and style, the kitchen island has grown to be one of the most desirable modern kitchen implements. These freestanding structures can offer a range of functions beyond just upscale design, from extra counter space for food prep to a new cooking surface or breakfast bar. However, even though these implements are pretty awesome and bring in a lot of use-value, not every kitchen is meant for an island. Here are a few things to consider.
Is my kitchen big enough for an island?
One of the first things you, as a homeowner, have to consider is the size of your kitchen. Will an island work with the space you have available and kitchen island spacing requirements? Your kitchen may seem like it has a beautiful wide-open floorplan that will allow the addition of an island, but remember that your island will only look good if there's the proper space for it. The last things you want to do are compromise the size of your island, and the functional space in your kitchen. There should be ample walking space around the island, so your kitchen does not look or feel too overcrowded.
In general, the smallest island should be no less than four feet long by two feet deep. If the kitchen you have now is not at least 12 feet long and 8 feet deep, any island may take up too much space. You need at least three feet of clearance around the island as well. If you don't have enough space, it doesn't necessarily mean you can't have an island. Still, our experts recommend that you consider either a kitchen renovation or expansion to make more room.
Kitchen Island Ideas to Consider
[houzz=https://www.houzz.com/hznb/photos/clifton-nj-kitchen-renovation-and-remodel-contemporary-kitchen-new-york-phvw-vp~42647240]
If you know you have room in your kitchen layout for an island, it is a good idea to get familiar with some of the most popular kitchen island styles. Everyone has their tastes and ideas about the style and what kind of purpose the island should serve. You want to make sure that the island matches your lifestyle. Here are a few to consider.
The Appliance-Housing Island
Some of the most popular types of kitchen islands – serves multiple functions, as it also houses some of the kitchen appliances. For example, the island may have its glass cooktop set in granite countertops, an oven, and maybe even a small sink or wine refrigerator. These islands can free up other space in the kitchen and give you an excellent food-prep zone complete with all those extras.
The Minimalist Island
The minimalist island is relatively straightforward in its design; it doesn't have integrated appliances or anything too drastic. The primary purpose of this island style is to get more counter space for food prep and a bit of extra storage in cabinets beneath the countertop of the island.
Takeaways to Remember
The kitchen island can be just as functional as it is part of the decor

Consider the kitchen island size requirements based on the size you have available in your kitchen

Floorplan reconfiguration or a kitchen expansion project can help you make room for an island

Numerous kitchen island designs exist, and picking the best is all about your kitchen needs
Talk to Us About your Kitchen Ideas
Whether it is implementing a kitchen island or doing a full-on kitchen remodel, RWC Windows, Doors, Kitchens and Baths can help. Reach out to us today to find out more about getting the kitchen you have always wanted, even if that means just trying to figure out if an island will work.