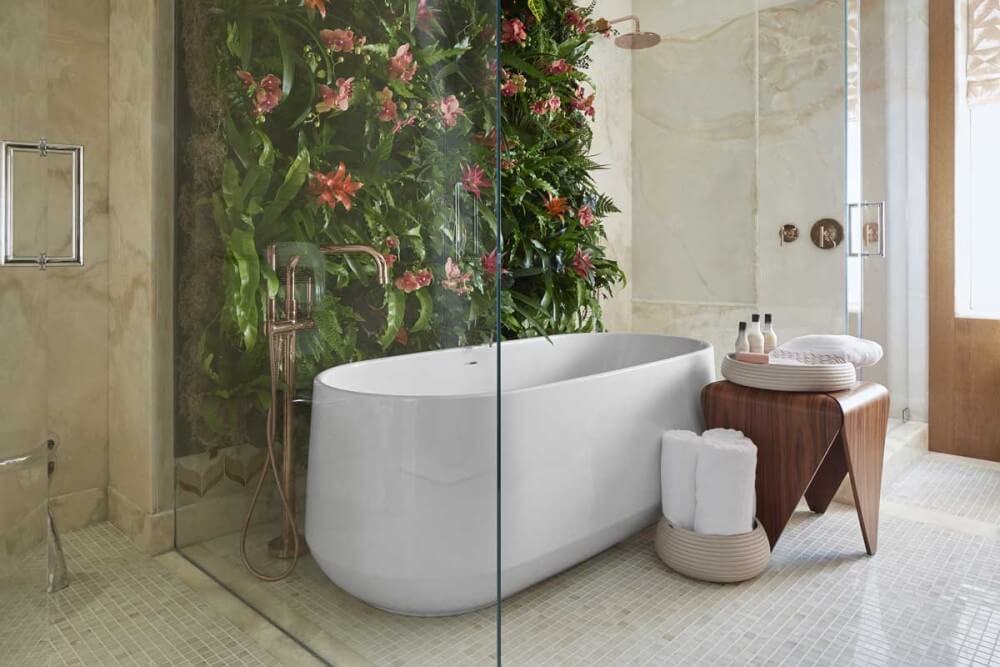 Top Bathroom Design Trends for 2023
Your bathroom should not only be visually appealing, but also well equipped. Surprisingly, bathroom design trends are evolving more rapidly than those for the living room and kitchen. In recent years, bathrooms have gone from being strictly functional to more aesthetic and fashionable spaces within the home.
If you're thinking about renovating your bathroom, RWC has you covered. We've compiled a list of major bathroom design trends for 2023 to help inspire your next project. Keep reading to see what's in store as we head into the new year!
Note: this article is an update from our previous bathroom trends article from 2020. You can still see that content at the bottom of the page.
Wabi-Sabi Style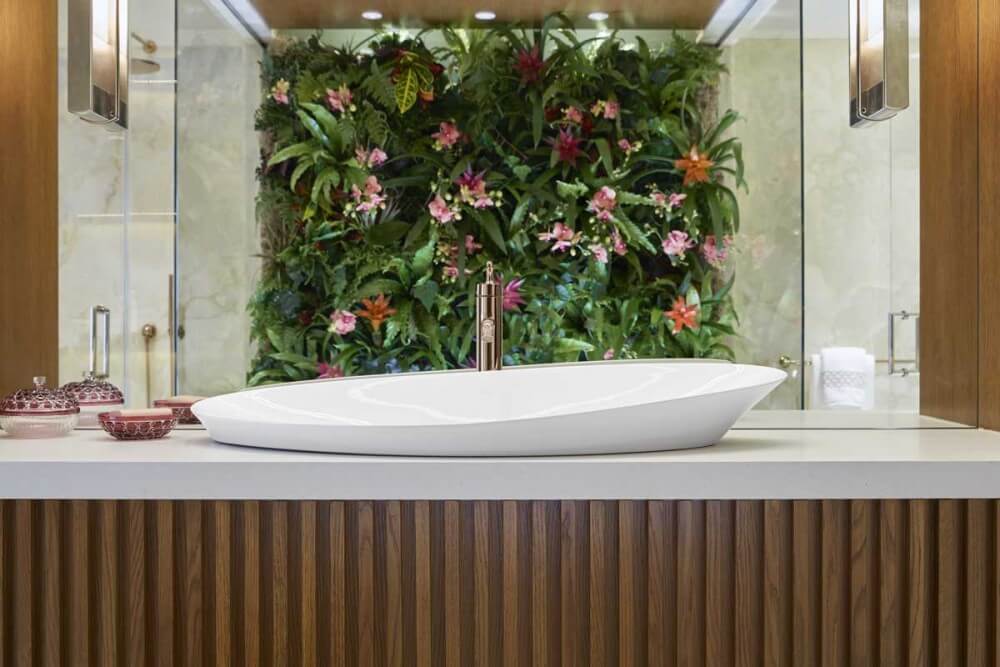 2023 is a time for simplicity and naturalness, characterized by the Japanese Wabi-Sabi style. The main features of this trend are earthy and muted colors, organic shapes, floor tiles with subtle motifs, and plastered walls. The Wabi-Sabi bathroom style offers a particularly homely feel and relaxes the senses so you can enjoy spending your time there. Adding scented candles, plants and flowers, and wood accessories can also help to cultivate an organic environment.
Terrazzo Flooring
Originating in 16th-century Italy, Terrazzo is a composite material made up of colored chips of marble, quartz, dolomite, granite, or glass. The terrazzo floor has established itself as a favored alternative to the classic natural stone floor. The famous Venetian design offers an attractive appearance and is extremely durable, easy to care for, and suitable for underfloor heating.
Shower Zone with Bathtub
The two-in-one shower and bathtub concept is another top trend for 2023. It is best to put the shower zone near a window so you can ventilate the room directly after showering and to keep the rest of the room dry. If you are working with a small space to begin with, combining a shower and bathtub into a single area is a great solution for those who want to maximize practicality and convenience.
Copper or Brass Accents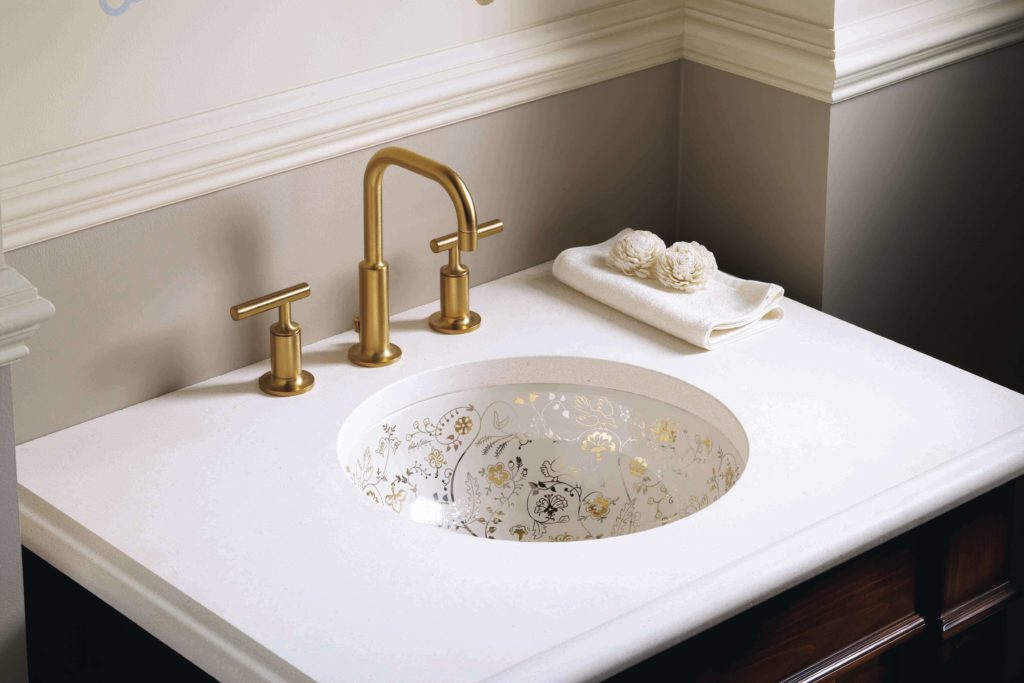 Copper and brass accents are heavily integrated into bathroom faucets, mirrors, light fixtures and cabinet handles. This bathroom trend for 2023 can quickly turn any interior from ordinary to lavish. They effortlessly match with a wide range of materials, such as marble, wood, stone, ceramic, and many others.
Geometric and Patterned Tiles
Geometric and patterned tiles are one of the leading bathroom trends for 2023. Some of the most popular shapes include hexagons, chevrons, bricks, and parquet-like tiles which can accommodate any preference or taste. The tiles can also have a glossy, matte, or other type of finish. Tiles are both practical and durable, making them an ideal choice for bathroom spaces.
Freestanding Sinks
Freestanding sinks or washbasins with clear lines are making a comeback in 2023. They can be designed as a single or double solution made of high-quality ceramic or natural stone to give the room a modern look. Freestanding sinks can be perfectly combined with an illuminated mirror to create a minimalist design that is guaranteed to grab everyone's attention.
Decorative Wallpaper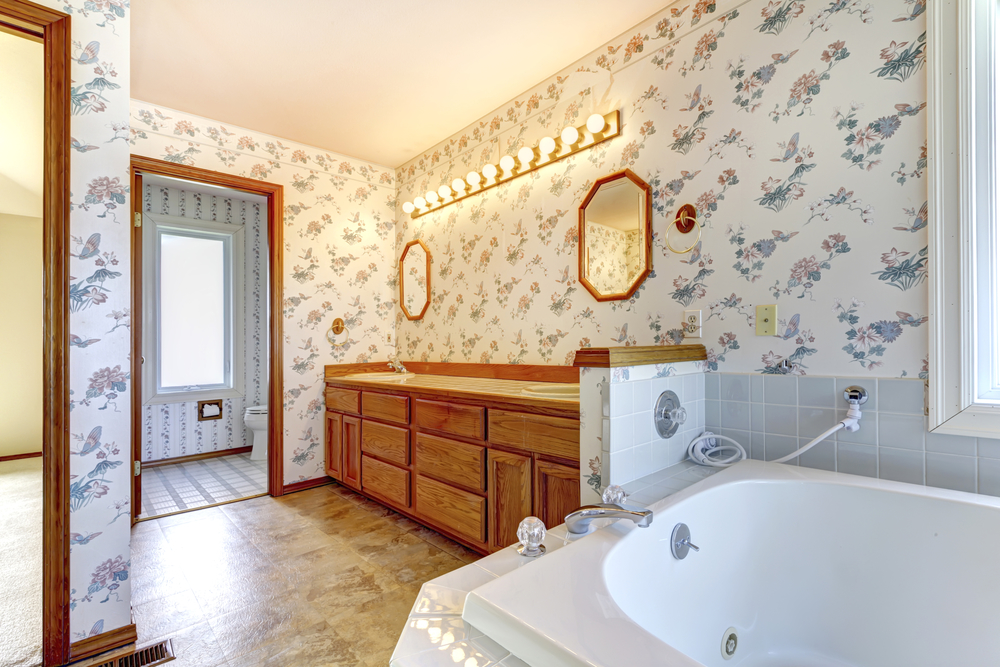 Decorative wallpaper is the perfect trend for those who want to add more character to their bathroom in 2023. Highlight specific areas in the room with a stylish pattern, such as bold florals. The best types to use are fiberglass and vinyl wallpaper since they are water-resistant and waterproof. Wallpaper can be installed anywhere in the bathroom, even directly in the shower, in a steam room, or behind the toilet.
Redesign Your Bathroom in NJ
RWC is are committed to being your trusted source for all your bathroom remodeling needs in NJ. With an extensive kitchen and bathroom showroom in Caldwell, decades of experience, and a family oriented staff, RWC is your best choice in northern New Jersey when you need a remodel done correctly.
---
Bathroom Trends in 2020
Home design trends come and go circularly, and 2020 bathroom design shows this concept with modernized versions of traditional bathroom styles coming back into fashion. The bathroom interior design trends for 2020 are really exciting this year as traditional tiles and color schemes allow for a wide variety of bathroom remodels according to individual tastes. Well built high quality bathrooms are gaining a new level of appreciation, and a certain clean simplicity reflects the functionality and versatility of open spaces.
Bathroom Tile and Color Trends
Bathroom tile trends of 2020 are the epitome of timeless class and functional quality. Neutral colors are a great starting point, as they allow towels, appliances, candles, and flowers to change the color palette seasonally or whenever you desire. Because of the tiles' durability and inherent waterproof qualities, they are great for floors and walls, counters and backsplashes, and even for custom designed showers or sinks.
Bathroom color trends 2020 have a wide range of popular designs according to what your preference is. Consider what you find relaxing when you want to take a long bath, what colors you enjoy while getting ready for work in the morning or getting ready for bed in the evening. Again, you can't go wrong with neutral colors and use decorations to set the color scheme, but unlike tiles paints and stains can be reapplied fairly easily if you decide to change them later, so don't be afraid to make a bold choice if you know that's what you like.
Bathroom Trends to Avoid
The main bathroom trends to avoid 2020 are any designs which are overly gaudy. Excessively fancy lighting, faucets, or hardware distract from the intended focal point which might be wonderful tile work throughout the room, a gorgeous well crafted vanity, or a luxurious tub and shower. An open and elegantly designed room is far more pleasant to be in than one which feels closed in and cluttered. Although there are plenty of great options and accessories to choose from to make your modern bathroom more functional, they can be overdone. Choose the features you know you'll use daily rather than trying to incorporate everything that "seems cool" in the showroom and you'll be happy with your bathroom for years to come. When it comes to bathroom remodeling trends to avoid, just remember that less can be more.
Small Bathroom Design and Remodeling
Even though large open designs are a popular trend this year, some home blueprints simply don't allow for a large bathroom. Using small bathroom design trends in 2020 can make a small space into a really unique, functional space. Consider perhaps having shelves instead of cabinets under the vanity, it will open up the room and make it feel less cluttered, as you'll intuitively keep the space organized. The same goes for a linen closet, removing the door is a great way to make the room feel larger, perhaps add drawers or sliding bins to keep everything in its proper place. When kept simple and clutter free, a small bathroom can be just as nice as a larger one.
Bathroom Ideas for 2020
Consider neutral colors and classic tiles proven to work well in the bathroom.

Avoid adding features you aren't going to wind up using.

Keep the space as simple as possible to provide an open elegant feel to the area.

Don't let a small bathroom make you think it can't be just as nice as a larger one.
Conclusion
If you're ready for a bathroom renovation, contact us at RWC Windows, Doors, and More to discuss what we can do to build your dream bathroom. As experienced bathroom remodeling designers in NJ, we can provide both small bathroom remodeling and master bathroom remodeling ideas! Visit our showroom, or have a representative come to your house at your convenience to discuss how we can provide you with a great new bathroom or any other remodeling project your home might need.