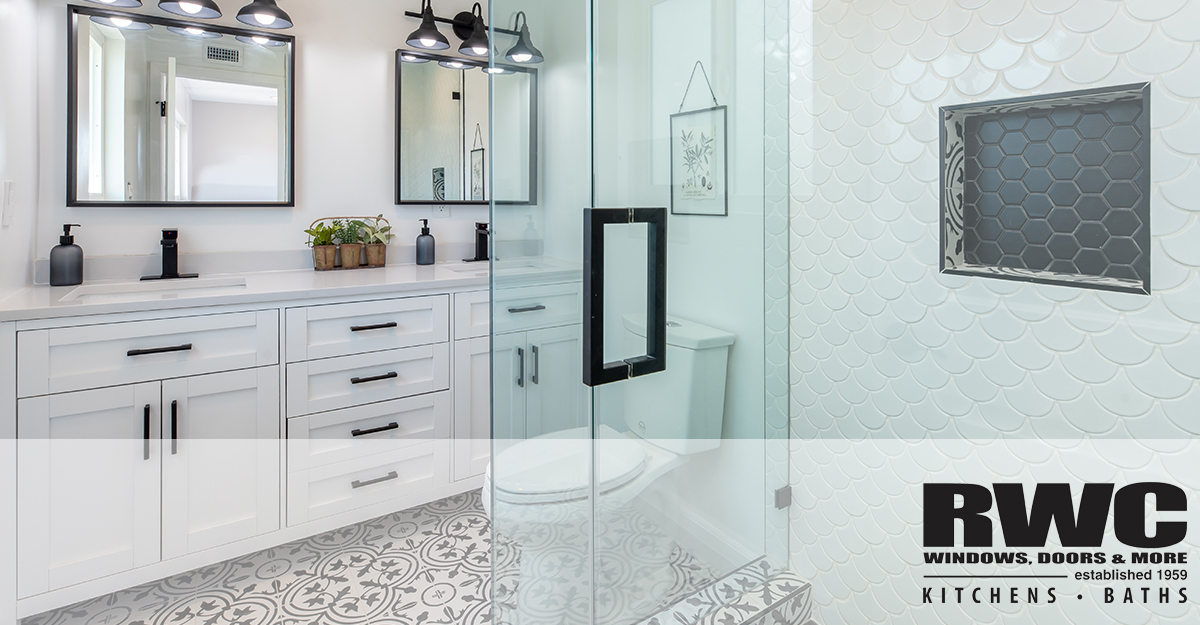 Kitchens may be the most popular rooms in the house to remodel, but bathrooms come in at a close second. These small rooms were born out of necessity. Still, over the years, these rooms have grown to become rooms for rejuvenation, privacy, and comfort. Whether you are working on a small bathroom makeover or a master bathroom layout renovation, know how to plan a bathroom remodel can help take the stress out of the project. Here is a good bathroom remodel checklist to follow.
1. Determine your bathroom design goals.
The very first step in the bathroom remodel checklist is to sit down with a bathroom design specialist and talk about your bathroom design goals. It is common for the designer or project manager to come to your home to look at the existing space and take measurements. From there, they can help you determine what layout will work with what is already in place. You will learn a lot during this interaction, and it will typically end with you having a good idea of what the goal is with the project and what needs to happen next.
2. Finalize the design with product selections.
This is where the bathroom design starts to come together. If you are already working with a project manager, you will likely meet with the professional to begin product selection, which can be really exciting. Some of the things you will be choosing at this point will include:
The type of tile you want to be used in the bathroom, such as ceramic, marble, or porcelain

What bathroom fixtures you want, such as the toilet, tub, and sink

The faucet types and other small plumbing fixtures you prefer

Vanity style and material and the vanity top material and style

The kind of lighting for the bathroom

What kind of shower doors you want
As you make each decision for your bathroom, you will start to see how all of the individual pieces come together. By the time the consultation is over, you will walk away with a more complete vision of how your new bathroom will look.
3. Go over the project proposal and the service contract.
Once all the design elements have been tacked down and the big decisions made, it will be time to go over the project proposal with the project manager. No need to be worried! If you're working with an experienced and trust contractor, these proposals are usually straightforward. The most important information includes the total cost of the project to the detailed scope of the work. You will also get a service contract to review that provides all of the specifics about the work being done and what you will pay. It is always necessary to go over the proposal and contract in-depth to make sure everything is just as you want it to be. During this time, you can discuss any possible adjustments to things like fixture choices or certain parts of the project. A great contractor will also loop you into their construction schedule or timeline to go over as well.
Takeaways to Remember
Working with a bathroom design specialist is the best way to get the project off to a good start and will give you guidance to spring from

Making implement selections is the most exciting part of the process, and should take careful consideration

Go over the project proposal and service contract and make any final adjustments before proceeding
Get Your Project Off to the Best Start
When it comes to a bathroom remodel project management, it can be a lot to take in for the average homeowner. Still, you don't have to tackle these remodel projects alone. RWC Windows, Doors, Kitchens and Baths has more than 60 years of experience with remodeling projects, and we can help you achieve that bathroom design you have in mind. If you are ready to get started on your bathroom remodel checklist, reach out to us to get started today.