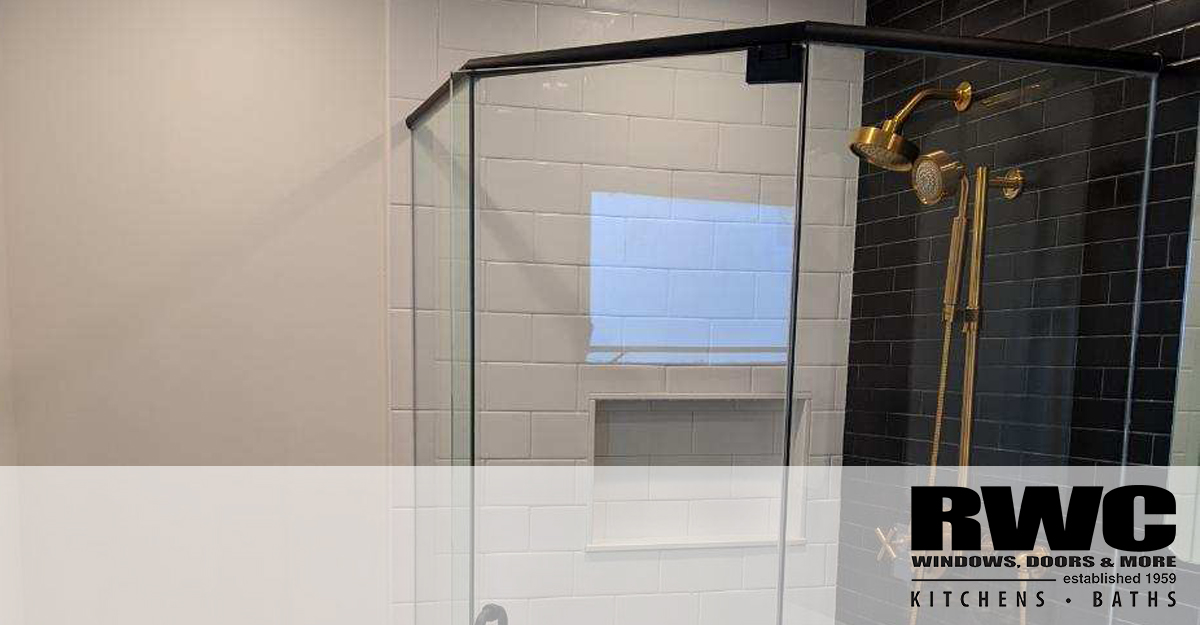 Many people are in the market for a custom Neo Angle shower enclosure for their bathroom to increase the amount of usable space and to upgrade the bathroom with a more modern look. These innovative neo angle shower doors and enclosures reduce the floor space consumption of the shower to its absolute minimum while providing a stylish new appearance. 
What Are Neo Angle Showers?
These minimalist shower enclosures come in a variety of sizes, but their most outstanding feature is their ability to save space in your bathroom while providing a modern upgrade for your bathroom décor. The doors are most often clear glass plate but translucent glass can be used if greater privacy is desired. 
The one most outstanding feature of the majority of neo angle shower design is the truncated outer corner. The one corner of the shower which normally projects most into the floor space of the bathroom is cut down on a 45-degree angle, adding an average of about one and one-half square feet to the overall floor space to the bathroom. The smallest neo angle shower sizes provide just enough room for a healthy adult to complete a shower without any difficulty. Neo angle show sizes tend to measure around 36 inches wide and 36 inches deep. Some of the largest neo angle shower dimensions come in around 59 deep by 72 inches in width. But sizes do vary greatly.
In every instance, the enclosure is very modern looking with minimal hardware. This not only provides a sleek and modern looking addition to the bathroom, but it also helps to keep costs at a minimum. The most expensive neo angle shower enclosures cost upward of around $900 and the least expensive go for less than $300. It is the ideal way to get the most use and elbow room out of even a very small bathroom.
The Advantages of a Neo Angle Shower Replacement
The biggest advantage of neo angle showers is the ability to save space without compromising the overall look of the space. Modern designed neo angle shower can elevate the design of a room making it feel ultra-luxurious and cozy.
One common problem in other showers is the need for shower door replacement. By opting to renovate your space and add a neo angle shower, you're reducing the likelihood you'll need to replace the doors. One of the main reasons people often look to replace their shower doors is for cleanliness. The minimalist nature of neo angle shower hardware allows for fewer places for deposits and mold to hide in. This makes cleaning simple, with very little guesswork as to whether or not any remaining grime or mold might be hiding inside the hardware or in other hidden areas.
Another important advantage is the fact that by simply adding a neo angle shower, homeowners can easily upgrade their bathroom with a modern new look. Of course, while many people feel that adding one of these futuristic-looking new shower enclosures makes complete bathroom renovation necessary, complete renovation remains optional. 
Once you see how much space you can save by installing a neo angle shower, you might be inspired to renovate the rest of the room with space-saving neo angle shower ideas.
Takeaways
Neo Angle Showers Save Space and Add Style to Any Bathroom

Neo Angle Showers Fit into Any Budget & Can Help Homeowners Save Money

They Come in a Wide Range of Sizes and Styles to Suit Your Preference
To learn more about these innovative new shower designs, get in touch with the bathroom renovation experts at RWC Windows, Doors & More. We've been reducing home improvement stress since 1959, and our home improvement experts are standing by, ready to take your call.