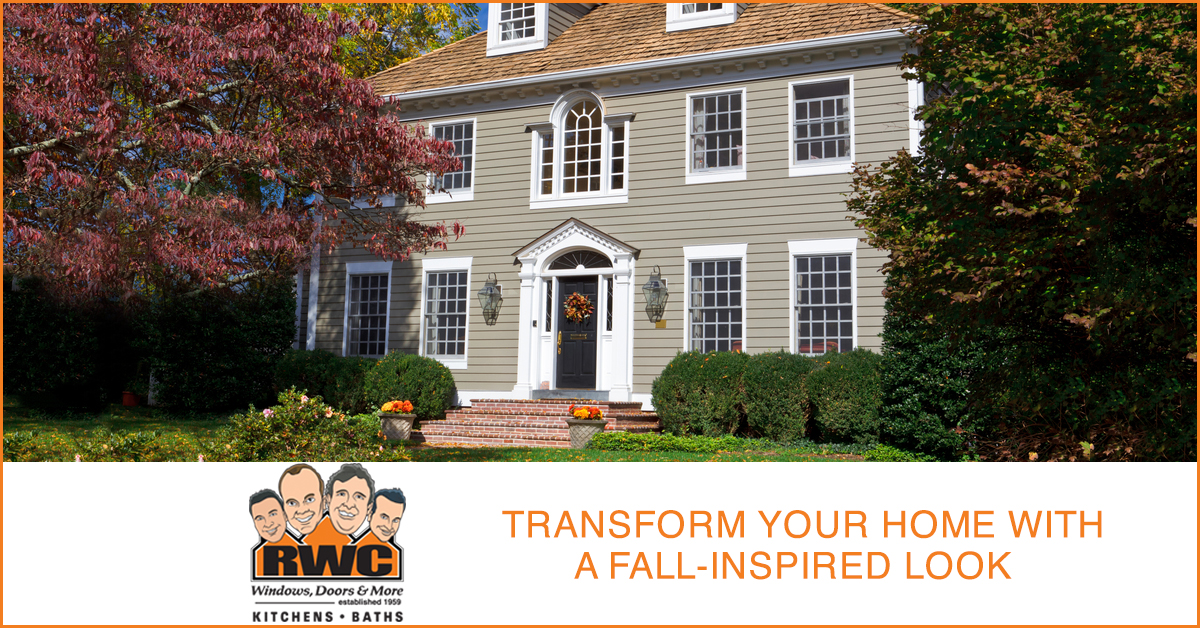 The fall season is a period of transition from summer to winter. Gone are the fast-paced days of summer and the extreme temperatures of winter yet await us. At the onset of fall, Mother Nature brings forth a wealth of earthy colors and cool temperatures that set the stage for a shift in the atmosphere.
The atmospheric shift boasts an array of colorful foliage, crisp, fresh air, and a sense of tranquility outdoors. When you consider all the characteristics of fall, you have the perfect background for a change in your home's curb appeal.
Fall

-Inspired 

Curb

 

Appeal

 Tips

Fall is a cozy time of year that evokes a sense of peace. As such, your home's curb appeal should do the same. To capture the essence of fall in your home decor, employ these five curb appeal tips:
1. Decorate Your Home and Lawn in 
Fall

 Colors

Highlight the uniqueness of your home's structure by decorating your home in various shades of orange, brown, green, and blue.

One of the most important elements to emphasize is your entry door. With the right decor, you'll welcome guests and family members without saying a word.

If you need a new entry door, consider contacting our team at RWC. We are the go-to source for home improvement in New Jersey.
2. Transform Your Lawn Into a Cornucopia
Fall, which is also known as the season of harvest, is the perfect time for your lawn to embody the sense of abundance and nourishment; make your lawn a cornucopia.
Strategically place an assortment of fall flowers, fruits, vegetables, and leaves around your porch and lawn. Remember, a little goes a long way. Your fall decor shouldn't be overbearing. Less is more with fall decor.
3. Incorporate 
Halloween

 Decor

Beyond being a time of harvest, fall is also a time for ghosts and ghouls. Your home's curb appeal should incorporate Halloween decor to show your festive spirit. Carved pumpkins with spider webs and other fun decorations will make your theme pop.
4. Illuminate Your Lawn
During fall, the days shorten and the nights grow longer. To ensure your home gets the visibility it deserves, highlight your outdoor decor with solar lights. Place your lights in key areas of your lawn to maximize your curb appeal. Focus on spotlighting the following areas:
Entry doors
Flowers
Halloween decor
Walkways
The location of your lights should be functional as well. With shorter days, it's important to use your lights to enhance visibility so children and guests can safely make their way to your door while trick-or-treating or coming to say hi.
5. Maintain Your Lawn
Another important aspect of your curb appeal is lawn maintenance. It's imperative you rake your leaves regularly during fall. In fact, with an appropriate fall-inspired theme, you can incorporate the gathered leaves into your decor.
The following are more lawn maintenance tips that will help you keep your lawn fresh and inviting.
Continue to mow your lawn.
Water your grass.
Fertilize your grass.
Aerate your soil.
Remove weeds.
Keep in mind, the best way to ensure that your lawn reflects the beauty of fall is to maintain a lawn maintenance schedule.
Renew Your Home with Home Improvement Projects
In addition to improving the decor of your home, fall is the perfect time of year to make home improvements. With mild temperatures and a sense of renewal, you can update your entry doors and windows.
The outdoors aren't the only area of your home that matters. You can bring the tranquility of fall indoors by renovating your kitchen and bathrooms. Transform the look of your interiors and enhance functionality by incorporating the latest in kitchen and bathroom trends, including open floor plans and energy-efficient appliances.
With nearly 60 years of experience, our team at RWC has helped many customers in New Jersey realize their goals of transforming their homes into a true oasis. We encourage you to call us today to make your home the embodiment of your dream home, both indoors and outdoors. See what we can do for you today.
You can read the full story at RWC NJ Transform Your Home With A Fall-Inspired Look