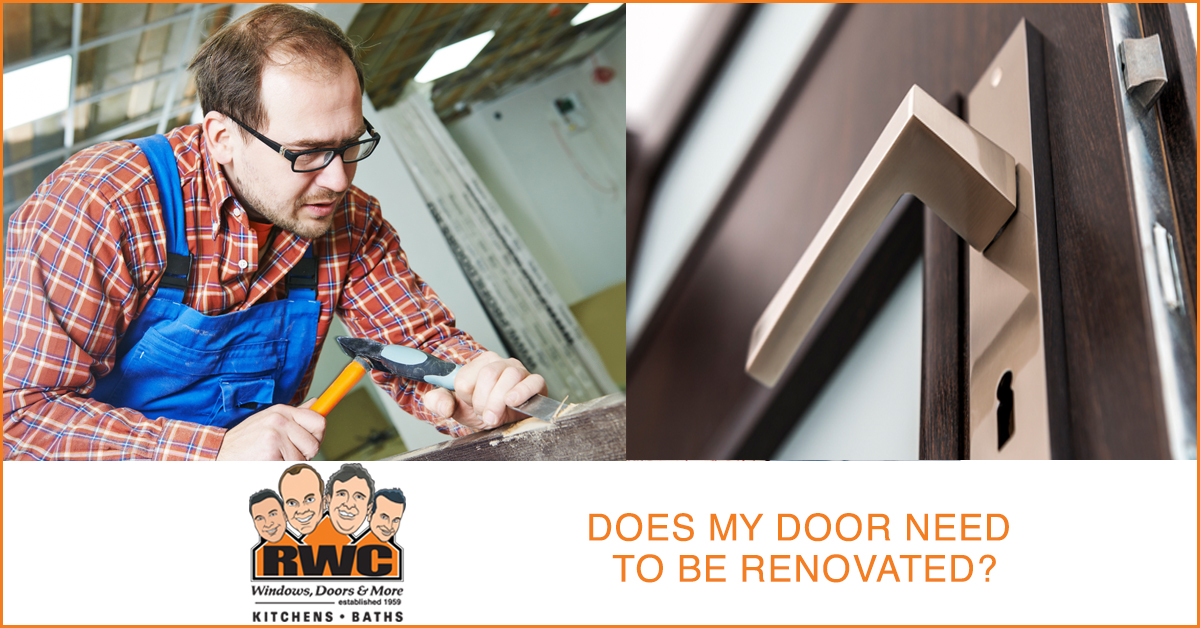 The entry door to your home gets more use than you may even realize. Since you see and use your door every day, you might not notice when it develops flaws. Completely replacing the door can be expensive and unnecessary. There are many instances when renovating your door is the smarter option.

What Is Door Renovation?
Door renovation is simply the process of repairing or making adjustments to your door so it can open and shut properly. A door renovation may be necessary due to general wear and tear after years of regular use, or if your door has been victimized by the house settling.

Reasons to Renovate Your Doors
Sticky Doors
Over time, doors can begin to stick and creak because of age. Although these issues may seem minor,  they can be irritating and can become problematic over time. These issues arise because front doors are typically made from organic materials and therefore can succumb to the general wear and tear that comes from constant exposure to the elements.
The natural changes that occur to an aging house can have negative effects on front doors. To fix a door that sticks, you will likely need to fix the size of the door so that it fits in the entryway better. This task can be simple. It may just involve cleaning the hinges and getting rid of any dirt that has built up along the door's edges. If that does not fix the issue, you can adjust the hinges and tighten them if they are loose. Finally, you can sand the edges of the door to even them out.
Repairing Dents
Since doors are utilized so regularly, they can easily become marred with dents and dings. If your door is made out of steel, it is possible to repair it by using an auto filler. This process requires you to sand down the damaged area until you see the metal. Then, the filler needs to be applied in layers until the door is smooth. Then, you must prime and paint the area. Since this process can be time consuming and arduous. It might be best to consult a professional who can do the job in a more efficient manner.
Squeaky Hinges
Nothing can be more irritating than a door the squeaks every time it moves. You can easily fix this issue by lubricating the hinges with silicone. To accomplish this task properly, you need to remove the pin from the hinge and lightly scrub both parts with steel wool and replace the pin. Then, coat the hinge with a thin layer of silicone spray or penetrating oil.
Air Leaks
Air leaks are not only bothersome, they can be costly as well. Air leaks around your entry doors can cause drafts that make the internal temperature of the house unnecessarily cold or hot. Rather than increase the money that you spend on your heating and cooling bills to make your house more comfortable, fix the air leak instead. To determine if you have an air leak by your entry door, feel for a cold draft coming in during the winter months, or a warm draft in the warmer months.
If you detect a draft, check the caulk around the door. If it appears damaged or has gaps, then it needs to be replaced You can also add weatherstripping or a weatherboard to seal the bottom of the door. If installing a weatherboard is the right choice for you, it can easily be done with your local your local RWC handy man.

Insects
Insect invasions make up an unfortunate aspect of life. However, even innocent-looking bugs can wreak havoc on an entry door. Without you even realizing it, insects can turn your door into a feasting ground.  If insects have attacked your entry door, it is definitely time for some renovation work to be done. Your best bet is to call in a professional door renovator to assess the damage and formulate the best action plan.

Increase Curb Appeal
Another great reason to renovate your entry door is to simply enhance the curb appeal of your home. It is important to have your house look as good as possible if you are trying to sell it. If your door looks old and dilapidated, it reflects poorly on the rest of the house.
This can have a severely negative impact on prospective buyers, and you can miss out on potential sales. Even if you are not in the market to sell your home, the way your door looks affects the way the rest of the home looks. Replacing the entire entry door can be expensive, but renovating your existing door can give it a new appearance at a fraction of the cost.
Whether your door is in need of minor repairs or a complete overhaul, renovating it can be your best bet. Not only is it more economical than purchasing a new door, it can be a quick and easy way to improve the overall look of your home. If you are in need of an entry door renovation, the qualified and experienced staff at RWC is here to serve you.
RWC has been relieving home improvement stress since 1959. Call us today or visit us on the web for your free consultation.