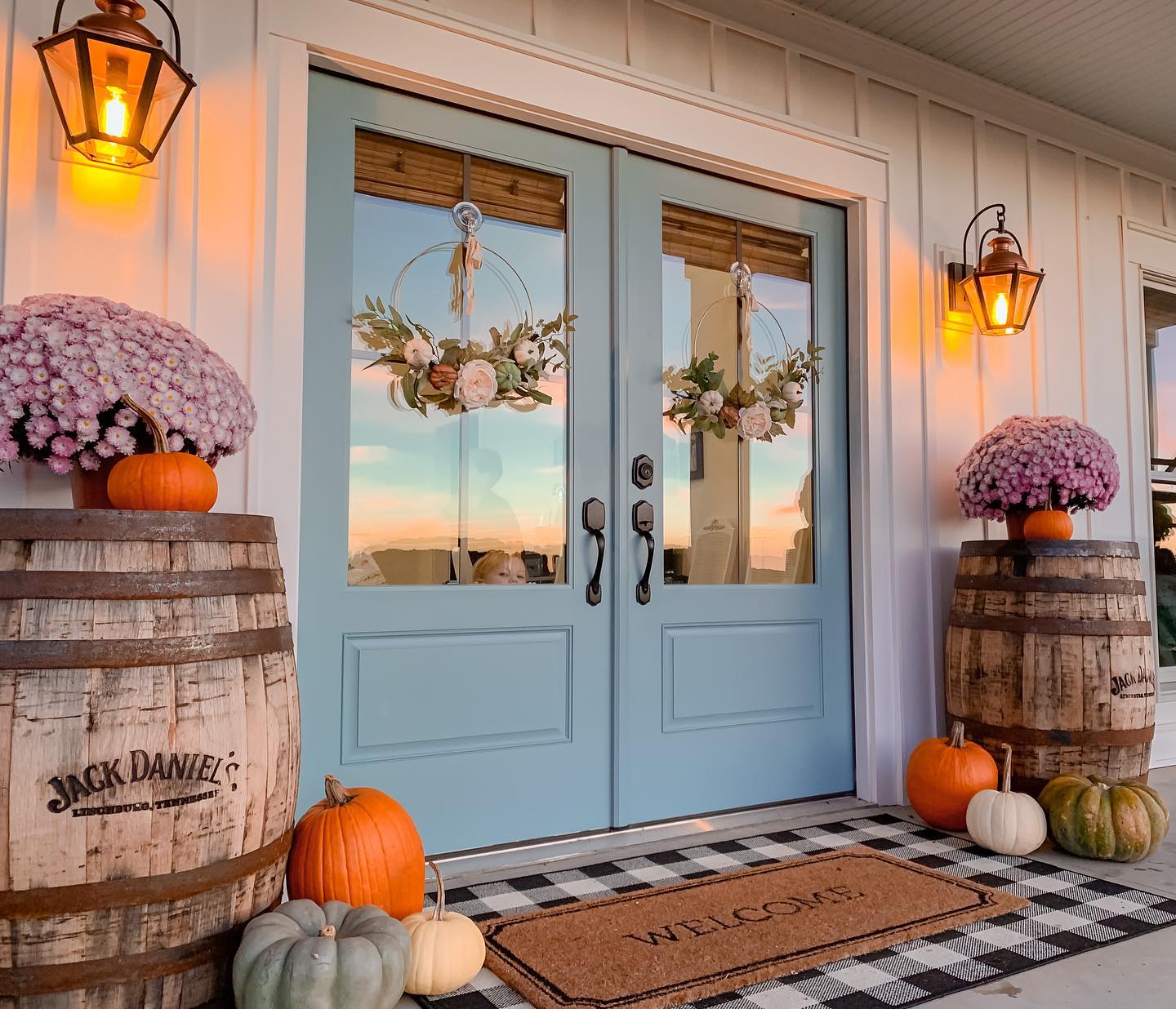 Whether you want to give the front of your home an update with a new entry door or you're looking to upgrade your patio doors, RWC is here to help you bring your design vision to life. At RWC, we are not only certified door installers; we are also design experts who stay up to date on the latest trends in the world of doors, windows, and more. To help you make the best choice for your home and get inspired, we've compiled a list of the top door trends for 2023. Check them out below and contact RWC to get started on your next project!
Wider Entry Area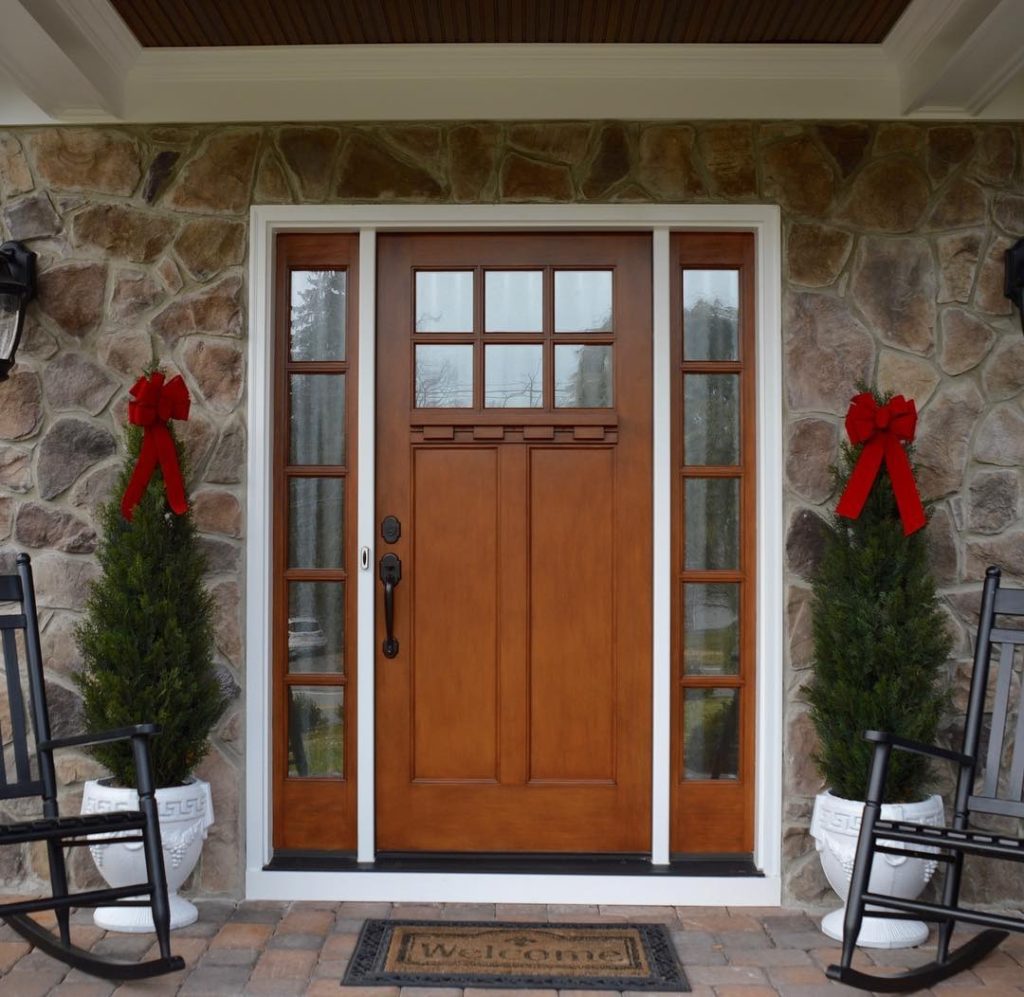 ThermaTru Classic-Craft Entry Door
While not a trend directly related to the color or material of your new door, many homeowners are opting to expand their entryways to create a more unique look. Front door sidelights – or vertical panes of glass placed on each side of an entry door – are a great way to add more light and vitality to your entry area. You can choose sidelights with different glass pane sizes depending on the level of privacy you are looking for. When you trust RWC with your next door project, our team will remove your existing entrance door, frame, wood threshold, and interior molding, so you'll have a blank slate to work with. No matter what size or style of entry door you choose, we'll make sure that the voids between the door frame and the wall are properly insulated and that interior and exterior decorative trim is installed correctly. 
Bold Door Colors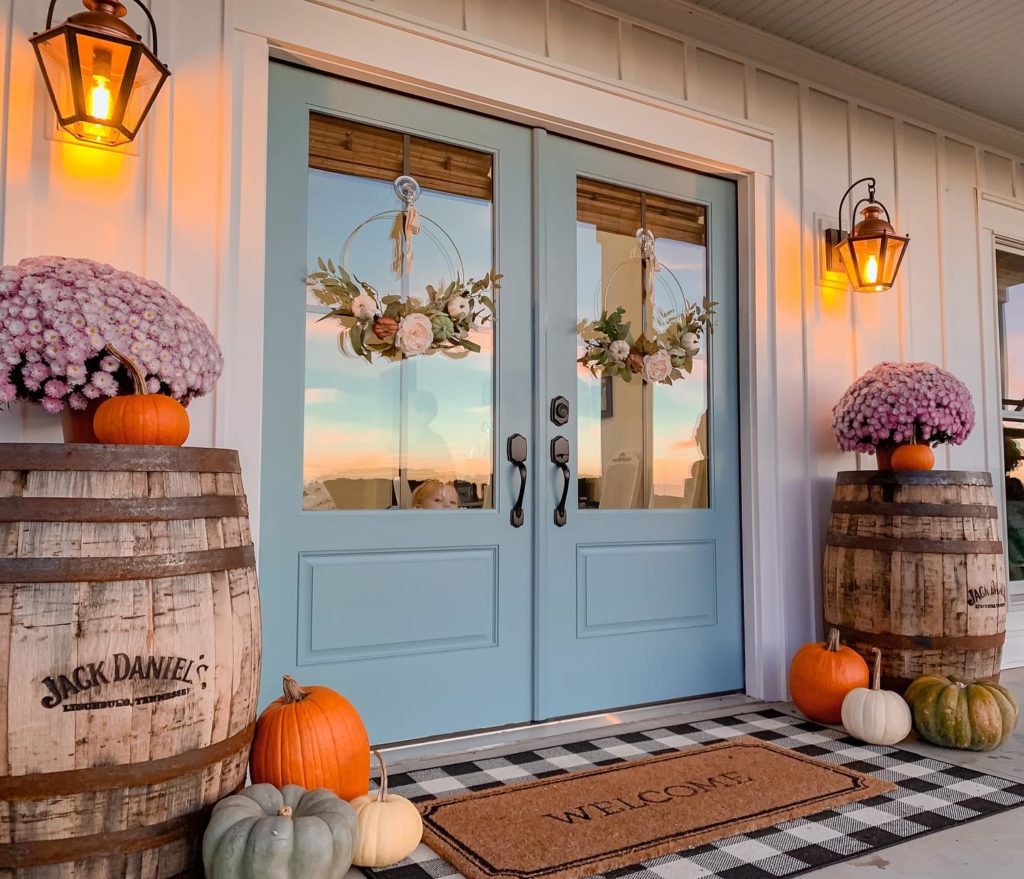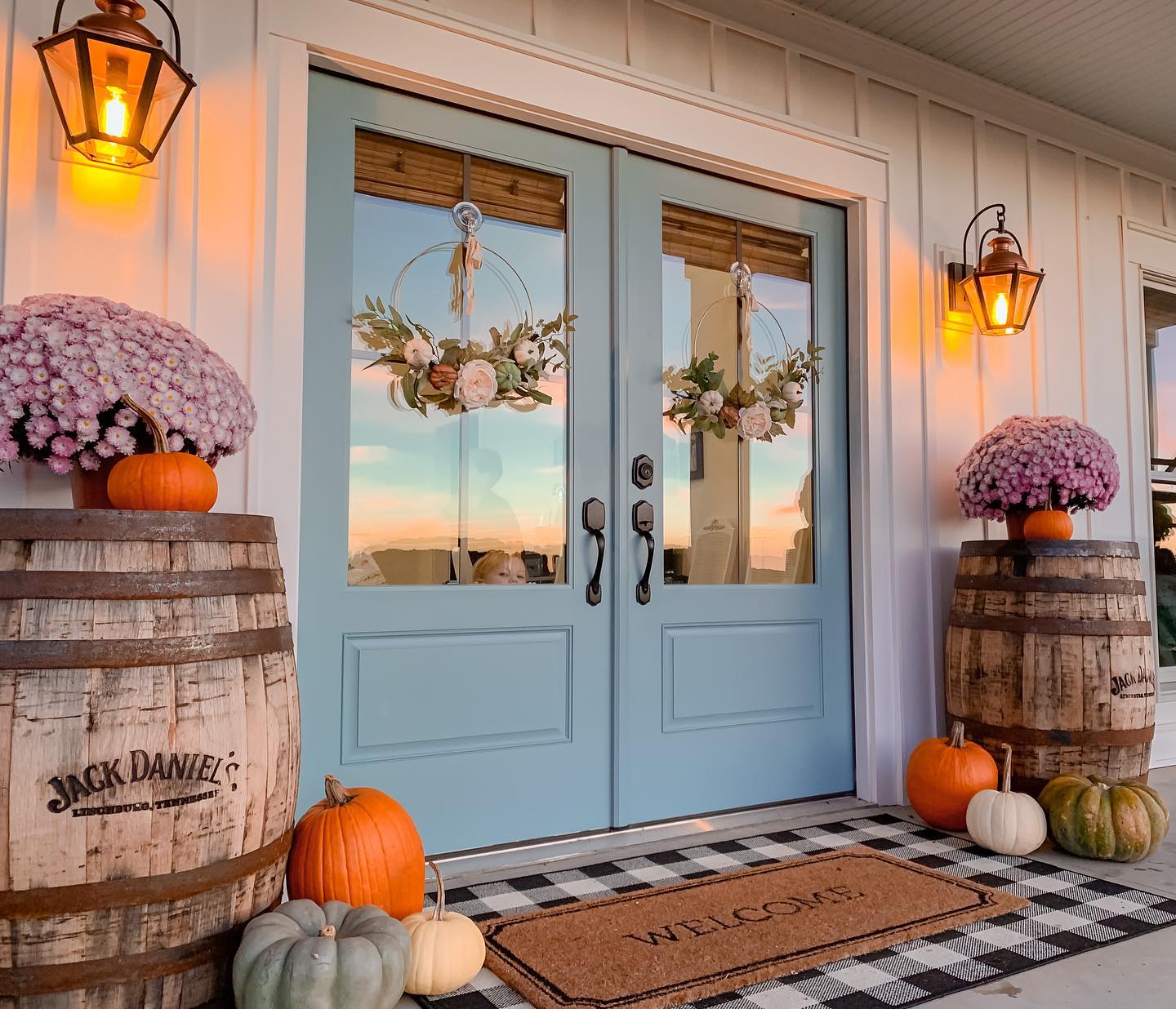 ThermaTru Smooth-Style Entry Door
A new pop of color is a great way to give the front of your home some more personality. Bold colors are in! It's hard to go wrong with a classic black or white, but a cheerful color like blue or green can make your home more inviting and boost curb appeal. You can experiment with colors based on the color of the rest of your home, your door's accents, and more, creating a theme that perfectly suits you. Many homeowners even extend their theme to their windows to create a gorgeous and cohesive design. We've seen and installed entry doors in a wide range of colors, and if color is a route you want to take, we'll help you make it happen.
Smart Locks and Smart Door Tech
Technology is moving forward every day, and those updates don't just apply to smartphones and computers. Smart locks and other tech-savvy features are becoming more and more popular for front doors, picking up even more speed as we move through 2023. Many homeowners opt for voice-controlled entry systems for an extra level of security, while video doorbells continue to be popular. Smart locks, which allow you to lock and unlock your door remotely, are also gaining traction among those making home updates. Homeowners who choose a smart lock have two options – deadbolt replacements (which replace the entire deadbolt) and deadbolt adaptors (which replace the part of the deadbolt inside the home). RWC is proud to offer NJ homeowners access to full lines of Schlage, Emtek, and Baldwin hardware, so you can choose door hardware that provides you and your family with security and peace of mind.
Fiberglass Doors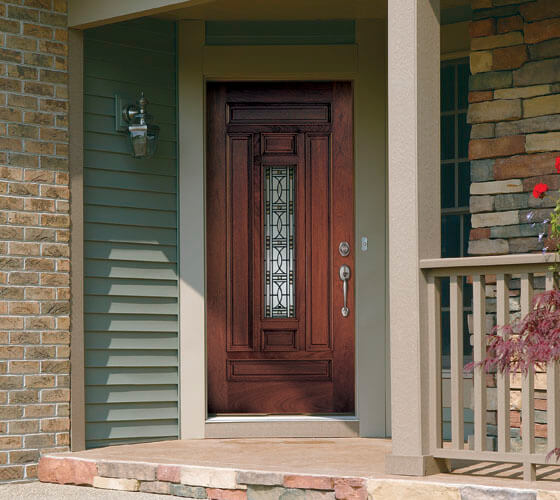 JeldWen Fiberglass Entry Door
Providing homeowners with a variety of benefits, fiberglass doors are all the rage in 2023. Fiberglass doors combine the beauty and timelessness of wood with incredible durability and weather resistance. These doors are also much more energy efficient than traditional wood doors – their fully insulated cores reduce thermal transfer between the inside of your home and the outside. Another reason why fiberglass doors are so popular this year is that they provide homeowners with endless design options – from wood grain variations and bold colors to ornate glass and knocker options. You'll be able to choose a fiberglass door that is the perfect fit for your home. At RWC, we are known for our wide selection of fiberglass entry doors in NJ, and we want to help you make the best possible choice for your home. When you visit our West Caldwell showroom, you can explore our entry door options, including the following fiberglass entrance doors:
ThermaTru

Smooth-Star Fiberglass Entrance Doors

ThermaTru Fiber-Classic Fiberglass Entrance Doors

ThermaTru Classic-Craft Fiberglass Entrance Doors

JeldWen

Aurora Fiberglass Entrance Doors

ProVia

Fiberglass Entrance Doors
Steel Doors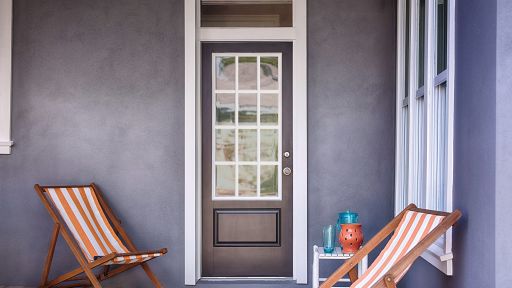 ThermaTru Profiles Steel Entrance Door
Looking for an entry door that is easy to maintain, durable, and energy-efficient? A steel door may be the perfect choice for you in 2023. Steel entry doors have been gaining nationwide popularity for years, and they're being found as part of more and more US homes this year. Steel doors last for years and are resistant to rot and warping. They are super thick and protective, adding increased security and energy efficiency to your home. They're also a popular choice for those who live in a busy area because they do a great job of blocking out noise. Steel doors are also incredibly versatile design-wise. If you choose a steel door for your home, you can also choose to paint it, opt for a wood grain design, or add glass paneling or windows. NJ homeowners can work with RWC to update their homes with top-quality steel entry doors, including:
ProVia Legacy Steel Doors

ThermaTru Pulse Steel Doors

ThermaTru Profiles Steel Doors

ThermaTru Traditions Steel Doors
A Focus on Energy Efficiency
We just talked about how fiberglass and steel doors are two energy-efficient options for NJ homes, and for good reason – energy efficiency is something that more and more homeowners are considering for their doors, windows, and more in 2023. Energy-efficient doors keep your home cooler in the summer and warmer in the winter, while also reducing your energy bills by keeping your heat and air conditioning from escaping through your front door. We want to help our customers consider this when they choose a new front door. When you work with us, our team will take the time needed to prepare your door opening to accept your new energy-efficient door system and then install your new door into the prepared opening. We'll answer any questions you have about your door and the benefits it can have for you and your family. We're dedicated to helping you find a door that will serve your family well throughout the year.
Bonus Trends: Patio and Storm Doors in 2023
Patio Door Trends in 2023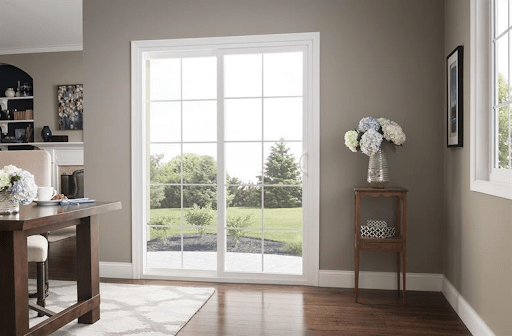 MI 390 Sliding Glass Door
At RWC, we install more than just entry doors. Our patio door offerings are designed to meet each homeowner's needs and help create a seamless transition between the inside and outside of their home. So far this year, we have noticed that vinyl, fiberglass, and aluminum patio doors are gaining even more popularity. Vinyl patio doors are cost-effective, durable, and resistant to corrosion. Fiberglass patio doors are known for their strength and resistance to rotting, while aluminum patio doors give homes of all sizes a sleek and modern feel. Homeowners looking for the perfect vinyl or aluminum patio doors can look no further than RWC! We offer:
Storm Door Trends in 2023
Storm doors allow NJ homeowners to appreciate the beauty outside their front doors while keeping bugs, pollen, and more outside where they belong. Pairing your new entry door with a new storm door is a great idea for many homeowners, and you'll want to make sure your storm door decision is just as thought-out as your entry door decision. Style and material are super important elements to consider when choosing your new storm door, and RWC is proud to give homeowners a wide range of options with Larson storm doors in NJ. These doors reduce outside noise, provide ventilation, and more, plus they come in a variety of colors, handle designs, and handle finishes so you can truly make your door your own.
Door Installation and Replacement in NJ with RWC
Give your home the update it deserves in 2023 with help from our experts at RWC! We provide NJ homeowners with a one-stop shopping experience for entry doors, patio doors, and storm doors. We work with you from beginning to end – visit our showroom to explore your options, and trust our team to provide you with premier installation services, including debris removal and clean-up. We'll always be on hand to answer any questions you have, and we will ensure that you can start enjoying your new front door as soon as it's installed. We want to show you firsthand our commitment to outstanding customer service and satisfaction – contact us by calling (973) 227-7123 to get started today.