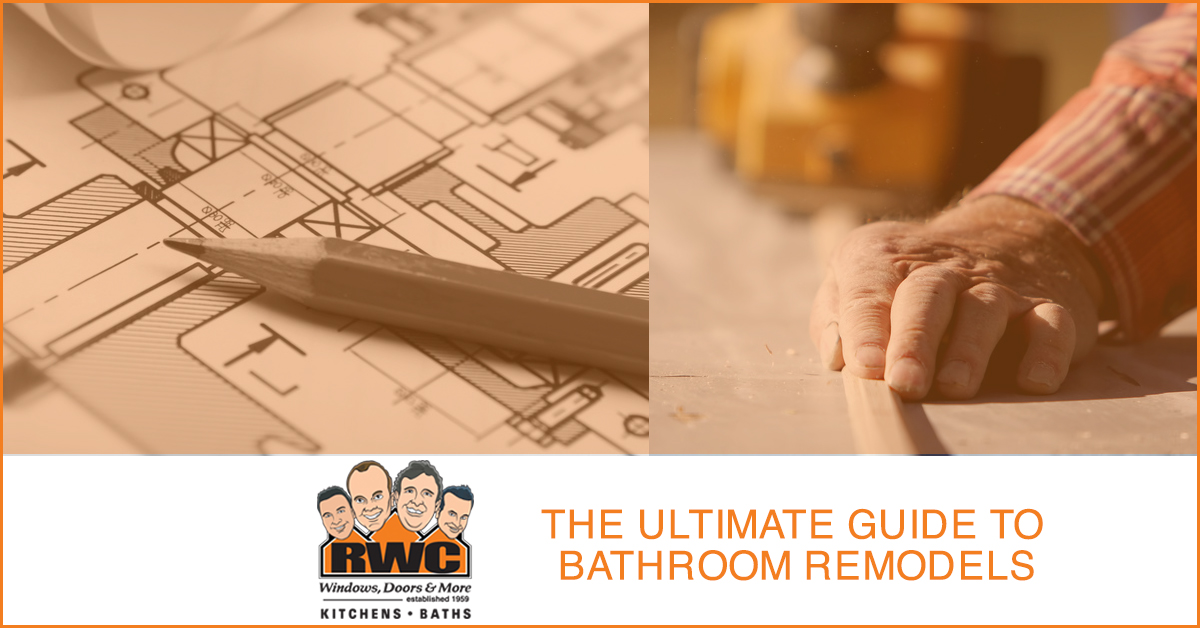 Quick Summary
Your bathroom is one of the most used rooms in your home, and it can often use some TLC because of that fact.  It may seem pretty overwhelming to think about a bathroom remodel because of all the different decisions that need to be made regarding the different aspects of the remodel.  You have to decide whether or not you want to have a bathtub or shower, what color scheme to use, countertop materials, if you want a theme, and more.  Every decision builds upon the next until you have this cohesive design that works for your needs and personal style. But, to get to that point, decisions have to be made from the many choices available to you.
SECTION I: Introduction to Your Bathroom Remodel
SECTION II: Countertop Options
SECTION III: Sink and Faucet Options
SECTION IV: Fun Shower Enclosures
SECTION VII: Color Scheme to Pull it All Together
SECTION IX: Your Own Luxury Spa
SECTION I: Introduction to Your Bathroom Remodel
There are a number of decisions that need to be made when going through your bathroom remodel, and it can be helpful to do your homework beforehand to start getting an idea of which styles and materials you're most interested in when going to speak with your contractor.
Chapter 1: Decisions, Decisions
The remodeling process can seem to be overwhelming when taken in at first glance, but going with the right contractor can help to take some of that feeling away and make the process easier because you can rely on his/her years of experience.  Your bathroom remodeling process can be broken down into four parts: the initial design consultation at your home, the proposal (including a design presentation and draft), final proposal and contract. After all of that, work can finally begin in your home.
You can trust that going with a contractor who has an expert staff on-hand will be the perfect partner in this process because he can take your needs, wants and personalized style and come up with a design that will work for your space.
One decision that should be easy to make in this process is the decision to use the services of a contractor.  Any room in your home that has electricity and plumbing involved honestly requires a contractor's touch, as the skills involved are usually above the typical person's skill level.  It is common for people to think about doing their own bathroom remodel to save money, but in the long-run it can often be more expensive. If something goes wrong and you have to hire a company to come in to fix the errors made during a DIY remodel, you may be facing a scary bill.
Do you know how much space you'll need to include in your plan for your new toilet or shower enclosure?  Do you know how to move light switches or fixtures? Chances are, your plan is to find the answers on Google, and this is not a safe route to take. It is usually best to bring in the experts.
You'll want to keep your mind focused on your particular needs and your home's space when creating your bathroom remodel plan.  Some hot features that you want to keep in mind for your upcoming remodel include heated ceramic tile flooring, quartz countertops, a walk in shower enclosure in addition to (or replacing) the traditional tub, motion-activated faucets, pocket doors, high-efficiency toilets with dual-flush capabilities, and colors that add a luxury feel.
SECTION II: Countertop Options
Countertops are one of the most important considerations when it comes to your bathroom.  The type of materials that you choose for your countertops will be reflected in all of the choices you make with your bathroom.  The color and design will play a role in every other decision made from this point forward, because the countertop is a key focal point in the room.  It is often what can be seen first upon entering, and draws the eye.
Chapter 1: Natural Materials
Natural granite is often the first option that comes to mind when picking out bathroom countertops.  It is durable, beautiful, easy to clean, and resists damage to its surface which can all be wonderful traits for a highly used surface in a bathroom.  The main downside to using natural granite in your bathroom is the cost – as it may take up too much of your remodeling budget to get other high-quality fixtures or luxury items on your wish list.  There are also manufactured quartz countertops that can be rather spectacular in a bathroom, which can mimic the look of granite – if that is the style you're looking to achieve. Also, quartz may be easier to fit in your budget.  Marble is another popular option, but often can only be used for a whole countertop in higher-end designs due to price constraints.
Chapter 2: Solid Surface
Solid surface is another great choice if you're looking to spread your budget a bit further.  These countertops are cheaper than granite, quartz, or marble.  They can work with just about any design, are easy to clean, and are resistant to molds and mildews.  They can also mimic higher-quality looks.
Chapter 3: Tiles and Other Ideas
Many people are opting for ceramic tiles to cover their countertops.  It is an affordable option that allows for a highly customized pattern and installation.  If one tile is damaged, it is easy enough to replace it rather than having to replace the whole countertop.  One downside to this idea is that dealing with the grout may make your countertop harder to clean, and can attract mildews and stains.  Another option is using laminates or Formica.  This is an affordable option that is durable, easy to clean, and warm to the touch.  The cons with this option are that it may dull or thin over time, and isn't able to be repaired.
Chapter 4: Which is Right For You?
The ultimate decision, choosing which material to use for your countertop, will be up to you to decide.  It can be helpful to weigh the pros and cons of each material before making a final decision.  You should also have a chance to touch and see samples in real life before making your decision, as you may find that you prefer one material over another because of how it feels.  This may require you to view available slabs of natural materials to choose from since they can vary in color, grain, and veins.
SECTION III: Sink and Faucet Options
There is a myriad of options when it comes to choosing the sink and faucet options available to you.  You can go with the traditional plain white basin and silver faucet fixture, separate his and her basins, or go with one that is more imaginative and creative.
Chapter 1: Sink and Faucet Ideas
There are a number of different types of sink and faucet ideas that you can use to create the perfect match on your own.  Houzz is a perfect site for seeing the examples that are currently on the market.  Get inspired by the pedestal sink that looks like it belongs in a farmhouse, using one large sink with two faucets to get the his and hers effect without having to invest in two sinks, or forgoing the traditional faucet for a spout that acts as a faucet.
Chapter 2: Sink Types
There are a number of sink types that you can choose from for your bathroom.  There are self-rimming sinks, wall-mounted sinks, vessel sinks, undermount sinks, pedestal sinks, and console sinks.  The key with picking a sink is finding one that works well with your space and will match the rest of the design of the bathroom.
Chapter 3: Faucet Types
There are several general faucet types that can be used in your bathroom.  Wall-mounted faucets, centerset faucets, widespread faucets, and single-handle faucets are just a few of the many options.  It can be a good idea to look for faucets that will offer water savings when it comes to deciding which brands to go with, as this will help keep your water bills low after the remodel.
Chapter 4: Unique Sink and Faucet Ideas
One of the best ways to get some ideas for a unique sink and faucet for your space is to examine what other people have in their homes.  This can be the perfect way to see how these features can work well together in ways that you weren't thinking about before starting your remodel.  Some ideas include using sink bowls that look more like modern art than a regular sink, or faucets that look antique to add some additional charm to your space.  You may be surprised by how a faucet and sink can go well together, even if they are seen individually and don't seem to match up at all.  Don't be shy with your creativity in this space.
SECTION IV: Fun Shower Enclosures
Shower stalls are not just for the locker room anymore, and many homeowners are optioning for a shower enclosure to replace or add to their traditional bathtub setup.  You may want to think about how you use your current bathroom space.  If you never take a bath, or are thinking of staying in your home until retirement, a shower enclosure may be the best option for you to choose.  Some homeowners have the space to have both a shower enclosure and tub for those days that they want to be able to have a luxurious soak or need a place to bathe the kids.
Chapter 1: Shower Enclosure Options
Shower enclosure options have come a long way.  You may have this image in your mind of one of those shower cubicles with the door that doesn't close right or has walls that look dated.  Many of the shower enclosure options today are sleek and modern.  Some options have glass walls that can become opaque with the touch of a button.  You can have a shower enclosure that doesn't require any stepping up to get into it in case you require a walker or wheelchair.  Think outside of the box when it comes to your shower enclosure to help it fit your space.  There are plenty of ideas out there to help you come up with your ideal shower.
Chapter 2: Shower Enclosure Accessories
Your shower enclosure may provide the perfect opportunity to turn your bathroom into a spa.  Technology has come a long way when it comes to the options and accessories available for your shower.  No longer do you have to think about having that small shower cubicle that is just economical and space-saving without a wow factor.  You can have a steam shower that offers the feeling of a sauna at home, Bluetooth speakers, touch controls, chromatherapy that uses lights to improve your mood, self-cleaning, and even aromatherapy.  Be ready to be pampered in your own home.
SECTION V: Trends in Bathtubs
There are some really hot trends in bathtubs right now that you can incorporate into your bathroom if you've decided to eschew the enclosed shower or you want the best of both worlds.  You can go traditional or trendy to find the perfect match for your ideal bathroom remodel.
Chapter 1: Option to Keep it Traditional
Since "old is new" is a recurring theme with trends, it shouldn't come as too much of a surprise that the antique claw tubs are becoming very popular again.  If you live in an older home, you may even have a freestanding tub that has been boxed in during a previous remodel, and won't have to go far to find a new tub as your contractor will just need to uncover it.  It may require new enamel, but that is a small price to pay to have a very chic and trendy tub in your home without having to purchase a new one.
Never fear if you don't have this option, as there are many great-looking freestanding tubs on the market thanks to this traditional trend.  You can opt for one that looks more like the tubs of old with clawed feet, or you can pick one that is more modern and sleek.  Either way, you're sure to be pleased with your new place to soak at the end of the day.
Chapter 2: Hot Trends in Bathtubs
The infinity bathtub is certainly an interesting and hot trend right now.  This tub overflows, and has a continuous stream of water.  Another option is a freestanding bath that is not completely freestanding in that it offers a built-in area that can be used as your shampoo and conditioner holder.  Another trend is to look for a longer bathtub meant for soaking that is perfect for stretching out and relaxing.
SECTION VI: World of Tiles
Tiles are a pretty versatile tool when it comes to your bathroom remodel.  Tile is often found on the bathroom floor, walls, shower area, and even on countertops.  Learn what you can about the different tiles you have to choose from for your remodel.
Chapter 1: Types of Tiles
There are a lot of different tiles that you are able to choose from when it comes to your bathroom.  There are ceramic tiles, glass tiles, natural stone tiles, vinyl tiles, carpet tiles, porcelain tiles, and even wood floor tiles.  Each of these tiles has their pros and cons. For instance, carpet and wood tiles may not fare very well in homes where water is constantly on the floor.  Ceramic and porcelain tiles can be cooler to the touch.  Glass tiles may work great on shower walls, but probably won't work as well on the floor.
Chapter 2: Choosing Tiles
As with every other decision made for your new bathroom, the type of tile that you choose comes down to your personal preferences, style, and budget.  You may find that you cannot afford the tiles that you are dying to have, so buy some of them to add them into a pattern so that you get the tiles you like without having to break the bank.  A final note on choosing your tiles is that you should get tiles that you are prepared to be able to clean.  Small tiles can look amazing, but that's a lot of grout to keep clean – especially with younger children in the home.  Think about your routines and what will work best for you.  Be sure to touch and feel the material samples to help you make your choice easier.
SECTION VII: Color Scheme to Pull it All Together
Your color scheme may seem hard to pick with the wide variety of colors available today, but these tips will help you to find the perfect shades for your bathroom.  Color is such a subjective choice that will rely on your personal favorites, and what looks good in the space you're working in. Therefore, colors may be hard to narrow down.  Here are some areas that may help you with making that decision to help tie in the tiles, countertops, bathroom fixtures, and more into a cohesive look:
Chapter 1: Color Guide
Look at color guides.  Color guides are specifically made to help you find colors that you like and will look nice in the space you are designing.  HGTV has an excellent color guide on their website to get you started thinking about the colors you'd like on the walls.  Benjamin Moore has a color chart on their website that you can use to start narrowing down which colors are in your top ten, and can help you narrow down which colors look wonderful in which rooms of your home.  The size of your bathroom may be a deciding factor in this as some colors may make your space look bigger while others could make it look more cramped.
Chapter 2: Color of the Year
The color of the year is another way to get inspiration for your color choice in your bathroom.  Pantone's 2016 colors of the year are Rose Quartz and Serenity, which are a pale pink and a pale blue.  Benjamin Moore's color of the year for 2016 is Simply White.  You may find that one of these colors speaks to you. If you are not taken aback by any of the colors of the year, looking at them can help you gain inspiration for what color you do want.
Chapter 3: Warm Vs. Cool & Bright Vs. Pastel
There are warm and cool colors.  There are bright, and pastel colors.  It can be hard to narrow down which palette is going to look the best in your room.  For instance, small rooms may work better with pastel colors like a pale pink, a white, or cool aqua.  Small spaces may also work well with a pop of bright yellow to make them look bigger.  Perhaps you might even want to keep the walls and floors the same color to trick the eye into thinking the room is bigger.  Don't be shy about combining colors, either.  You may want to have an accent wall or fixture that has your favorite color, and then go with a white or another color that offsets that accent wall or fixture.
SECTION VIII: Pick Your Theme
Vacation homes, beach homes, and even guest bathrooms can work great with a theme that will help to make the space fun and inviting.
Chapter 1: Bathroom Theme Options
You can take your color scheme and go one step further by adding a cute theme. This may not work for every bathroom or person's taste, but there are some cute ideas out there that can help you with find the perfect theme for your bathroom.  Log cabin style bathrooms can be simple elegant, making you feel like you've gotten back to nature.  Beach homes and beach lovers will enjoy adding their love of the beach to their bathroom's theme.  There are plenty ideas on how to add beach accents to the bathroom to give it a fun feel.
Be creative and unique.  Incorporating a theme doesn't mean that you have to go overboard with lots of trinkets and pictures. You can reinforce your theme simply by incorporating little touches that help add some personality and character to the room.  This is a great point for smaller bathrooms that might seem overwhelmed with a more concerted attempt at a theme.  Some ideas include using chalkboard paint, upcycling items, using screens, adding paint to the tub or other fixtures to add a pop of color, adding fun lighting, use decals, and adding plants.  The different touches you can add to your bathroom are endless, and you can always change them up long after the remodel is done to keep your bathroom looking as fresh as ever.
SECTION IX: Your Own Luxury Spa
Your bathroom remodel can turn your ordinary bathroom into a luxury spa retreat.  Everyone loves to be pampered after a hard day at work.  De-stressing at a spa is always nice, but not always affordable.  Why not look into some of these ideas for ways that you can turn your bathroom into a spa retreat?
Chapter 1: Spa Ideas
One of the first ways to get the spa that you want is by doing a bit of splurging with your bathroom remodel budget.  Putting in that steam shower or whirlpool tub may make your initial budget estimate go over your expectations, but, over time, you'll continue to reap the benefits.  Another way to create a more relaxing space is to invest in cabinets that allow you to keep your bathroom appliances plugged in. Therefore, if you need your blow-dryer, for example, you can take it out and get ready without having to fumble with plugs.
Think about lighting.  You may want to make it possible to have your lights dim in the bathroom to give it more atmosphere while trying to soak away your day.  Add natural features such as flooring made to look like smooth rocks, or a free-floating tub that evoke the feel of a small pond.
You don't have to just look at the remodel itself for making your bathroom into a luxury spa. Look into adding those little touches that make it feel like one.  Add some luxury features that shouldn't break the bank, like golden-colored fixtures or tiles that are rich in color.  Thick plush towels and robes are just one idea to get the spa treatment at home.  Another idea is adding candles or other aromatherapy decorations that can scent the air sweetly in case you cannot afford a steam shower with an aromatherapy option.
Think about what you like about going to the spa and go from there.
SECTION X: Conclusion
Your bathroom remodel requires a lot of different decisions, and each decision will help you to get to the finished product: a cohesive and well-designed bathroom that you will love for years to come.
Chapter 1: Pulling Decisions Together
Take your time and brainstorm everything you want in your bathroom.  Create lists that will help you narrow down each decision.  You should have a list of everything your bathroom needs to have at the end of the day. This list will most likely be comprised of the features that are the whole reason why you've started this process in the first place.
You should also create a list of things that you'd want to have in your new bathroom.  These are things that might be able to be incorporated by your contractor based on your available space and budget. These items are not critical to you being able to enjoy your space.
Try to visualize your new bathroom and how it would best fit the needs of everyone in the household.  This may help you to spot areas that you didn't think about and make sure that all of your needs are covered.
You will want to do a lot of research to see if you can find out what other people have done in their bathrooms to get an idea of what you'd like to see duplicated in your bathroom.  Talk with your contractor about her past remodels.  It is not uncommon for her to have plenty of ideas that will help you think about what worked well for her past clients and what didn't work.  Your contractor is your partner in this process, and it's beneficial to them to help you to decide on all the options that you'd like to see as a satisfied client.
You have a lot of decisions to make from the color scheme that you'll decide upon to whether or not you want to go with a shower enclosure rather than a tub.  Think carefully about what will suit your needs in the long run.  Most importantly, have fun!  This can be an exciting and fun process to go through if you have the right mindset.
Contact us today to get started on the remodel of your dreams. We're here for you.