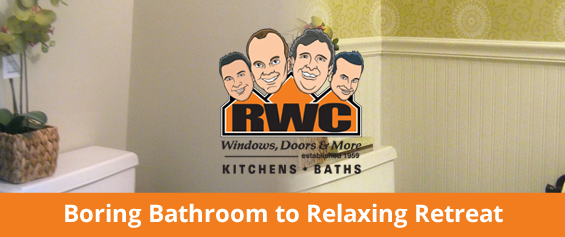 While you may spend less time in the bathroom than you do in other rooms in your home, that doesn't mean you shouldn't put just as much effort into the perfect lavatory as you would into your dream bedroom or kitchen. Today, your bathroom may seem only useful for its Spartan functions, and you may think of it as a corner of your house with a singular purpose.  But, tomorrow your bathroom could become a prized cornerstone of a relaxing, beautiful, and well-rounded home.  Here are five things to keep in mind if you want your bathroom remodel to result in a relaxing retreat.
1.  Don't Leave Anything off the Table
Just because you've always had a certain tub or sink doesn't mean that you always need to.  When renovating your bathroom, the more leeway you give yourself to make improvements and the more things you consider worth working on, the better.  There's a whole lot in your bathroom that you can switch up, from tiles, fixtures, vanities, and finishes, to sinks, tubs, commodes, faucets, and whirlpools.  If you approach a bathroom renovation by only planning to work on a few things, you won't give yourself the opportunity to create a real change.  So, leave nothing off the table, and think about your powder room as a blank canvas where anything could happen.
2.  Use All of Your Space
Even if your bathroom isn't huge, that doesn't mean there isn't room huge possibilities – you just have to be comfortable with thinking about ways to use your entire space.  For smaller bathrooms, think about how small decorative elements like premium fixtures could make a big difference. Or, get bold with the colors you put on the walls to give your bathroom a whole new look.  When decorating large bathrooms, think of more space as more opportunity, and think about how you can use every inch to create a room you can be proud of.  Installing mirrors, creating adequate storage space, and painting two-toned walls are all tried and true ways to utilize the extra space in big bathrooms, but don't stop there. Think about how every corner could be utilized for something – even if using every inch means leaving some spaces empty.
3.  Balance Your Needs
Remodeling a bathroom doesn't only have to be about function or form: good bathroom remodels balance your needs, and give you the chance to create a restroom that is both highly functional and spiritually rewarding.  Before buying a tub, sit in it and see if it feels right.  Before investing in cheap flooring, price out a more durable and slightly more expensive option, and see if you can afford springing for the quality choice that will last longer and avoid functional issues down the road.  Don't think that you have to invest entirely in things that look nice or entirely in the most practical options when remodeling your bathroom: keep both in mind, and balance your needs.
4.  Don't be Afraid to Call a Pro
Since the bathroom is often one of the smallest rooms in a home, aspiring DIY home improvers can make the mistake of thinking that it will be an easy project to tackle.  But, there may come a time when you need to call a pro when remodeling your bathroom, and knowing when it's a good option to call for an expert's help is critical to the success of your remodeling project.  Unless you have a lot of experience with plumbing, you should never attempt to move water lines or handle the intricacies of piping.  And, unless you are qualified, you shouldn't deal with electrical issues either – even if it's for something as simple as wiring a heating control.  Trying to do it all yourself can lead to disaster down the road, so call an expert before tackling any issue that you don't feel totally qualified to handle.
5.  Splurge!
For most home remodeling projects, price is a limiting factor.  But, if you want to create a bathroom retreat you can be proud of, think of just one thing you can splurge on.  Whether that's the high-end toilet or a brand new tub, splurging on one item can make your whole bathroom feel luxurious. Don't feel like you have to reach for the premium option for everything in your bathroom remodeling project, but give yourself the freedom to reach high for at least one aspect of your new lavatory. Your bathroom retreat will feel a lot more special.
RWC Windows, Doors and More has been family owned and operate for three generations, and our unique dedication to a high-quality home improvement experience is reflected in our craft.  We leverage our deep and experienced education, our informed and practical take on product selection, and our unparalleled devotion to customer service to make sure that your home improvement project turns out exactly like you want it to.
To learn about how RWC can relieve your home improvement stress and help you create the bathroom sanctuary of your dreams, contact us today!