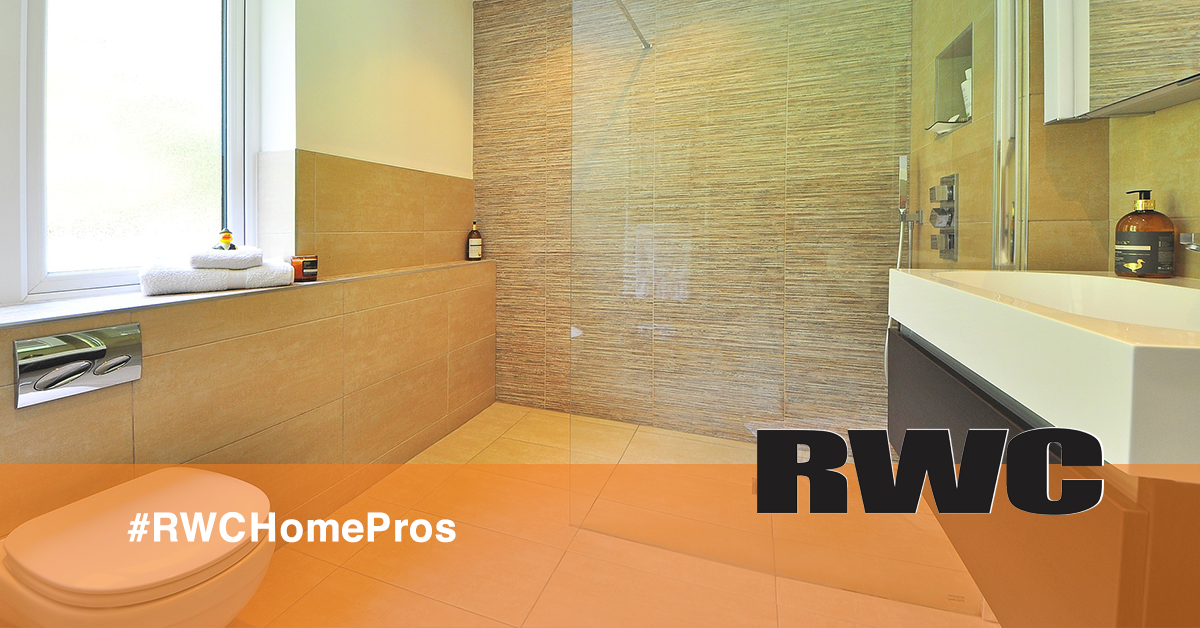 This is part three  of a four part series on remodeling your bathroom. Learn how to budget for your bathroom remodel here.
How Long Does a Bathroom Renovation Take?
Figuring how long your bathroom renovation is going to take involves a number of things. If everything goes perfectly, the bathroom makeover should take 23 working days. This translates into 4 1/2 weeks if the contractor doesn't work on the weekends. The problem is, rarely does a bathroom renovation go this smoothly. There may be issues with the plumbing, an electrician may run late, or a problem could be discovered when the bathroom is stripped down to the studs. Keep scrolling to find out more about a typical bathroom renovation timeline and what can potentially cause delays!
After Demolition Starts
When demolition starts on your bathroom renovation, your project is just beginning. Your contractor will need to remove any old materials, strip down walls, and get rid of old flooring. Depending on the size of your bathroom, demolition can take several days. During the demolition process, your contractor may find issues with the sub-flooring that needs immediate bathroom floor renovation before the project can move forward. This is a time when delays are common. When old material is removed, problems that your bathroom remodeling contractor was not aware of are discovered. These instances will always alter your construction schedule.
Installing New Plumbing or Electricity
When you need electrical or plumbing work done in your bathroom renovation, this is generally done once demolition is complete. While the work itself doesn't take much time, trying to schedule an electrician and a plumber can add a few days to the bathroom remodel timeline. During busy seasons, you will want to schedule an electrician and a plumber as soon as you know when you'll need them.
Walls and Flooring are Installed Next
After the new plumbing has been put into place and the electrical work is done, your contractor is ready to begin sheet rocking the walls. This is a pretty fast step in the bathroom renovation process. Putting up drywall doesn't take much time, but then the seams will have to be fixed and smoothed. Once the walls are up, your contractor will then put in the flooring you have chosen. The walls will need to dry, and this can cause a few delays. In addition, if you choose ceramic tiles for your bathroom floor, this takes longer than vinyl or bamboo flooring because it will have to dry in between steps.
Installing the Sink and Toilet in Your New Bathroom
Once the floors and walls are all set in your new bathroom, it's time to install the sink, toilet and shower. The sink and the toilet installation should only take a few hours or more. If you have chosen a shower that needs to be tiled, this is going to lengthen your bathroom renovation time. If you simply chose a tub with a pre-made surround, this installation will be much faster. If you are concerned about time, talk with your contractor at this stage to see how much longer your project is going to take.
Finishing Your Bathroom Renovation
As your bathroom renovation becomes more complete, it will then be time to hang accessories, put in a faucet, and complete the detail work. You may want the walls painted a particular shade, or have designed the bathroom with a particular trim. Once the details are all taken care of, your bathroom renovation checklist will be finished.
As you consider your bathroom renovation timeline, take into consideration:
Materials for your bathroom renovation may not be there on time

You might change your mind on the design

Your contractor may have a personal emergency

You might have to change plans for budget reasons
A typical bathroom renovation should take about a month, possibly slightly longer with a few delays. At RWC Windows, Doors and More, we know that time is important to you. To discuss your large or small bathroom remodel in West Caldwell, NJ and the surrounding area, call us today at (973) 227-7123 to get an initial quote.