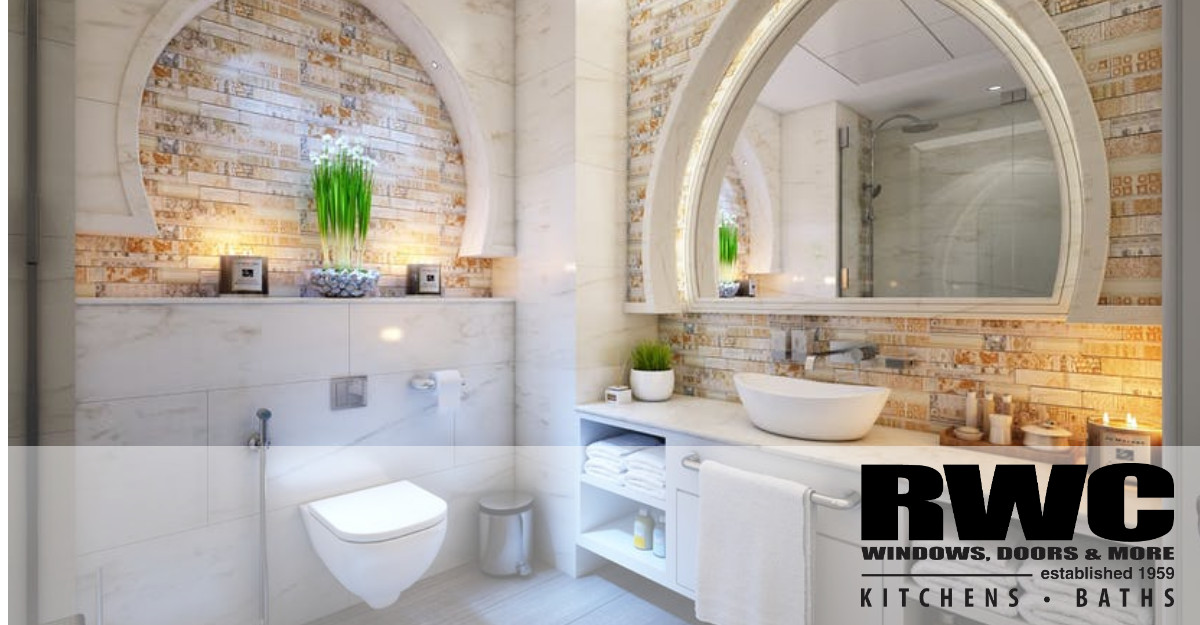 The newest bathroom trends 2020 includes decorating bathroom interiors to feel more connected and more in tune with nature. This has caused a wellspring of stimulating design themes which include wellness bathrooms that exude a calming ambiance. These types of bathrooms will feature soaking tubs, water therapy (whirlpools, rain showers), backlit mirrors, upholstered seating, diffused essential oils, and heated floors. 
Taking the bathroom as a wellness center one step further is the purpose of biophilia bathroom design – the integration of natural materials in countless ways to include nature as a focal point of the interior design. Biophilic housing, for example, will embrace nature in countless ways using furniture, walls, and flooring constructed of biophilic materials to emulate the various shapes in nature – flowing curves and organic shapes like those found in water, hillsides, trees, and flowers.
What are Biophilic Materials
A biophilic material is any material harvested from nature. But they also include interior features that assist in creating a natural environment:
Reclaimed wood, timber

Large windows, glass doors

Tree bark, driftwood

Stone, clay, bamboo

Earth, sand

Water features

Natural fibers
In addition to the above natural materials, a Biophilia decor will use the shades, colors, and pigments found in nature to elevate the occupant's sense of outdoors. For kitchens, this may be marbled countertops, and for bathrooms consider desert shades or any inspiration gathered from forest floors, the sky, or oceans.
A Biophilic Bathroom Design
When planning a bathroom renovation that embodies biophilic materials and biophilia decor, consider any of the above materials when choosing bathroom textiles, furniture, accessories, flooring, wall materials, and even the bathroom fixtures should be soft patina metals like copper and brass, instead of shiny chrome. A biophilic bathroom design will also boast certain patterns that reduce stress and improve creativity.
The decor you choose should feature forms and patterns that will emulate nature in texture, contours, color, or pattern. The goal is to strike a rich sensory connection to nature. A well-placed potted plant, a window seat with curtains pulled back, floating shelves, natural wood cabinets, and decor with botanical motifs, leaves, clouds, animal prints, or even seashells.
Also, consider traditional flooring styles that are dynamic and feature patterns that seem to move. These include parquet wood flooring, or luxury vinyl tile with a herringbone or chevron pattern. Another great material option for bathroom floors is plank wood tiles in brown and spiced tones.
Sinks and Tubs in Organic Shapes
So what about the larger picture in your biophilic bathroom renovation, such as the bathroom cabinets, sinks, toilet vanities, and tub. Bathroom fixtures can follow a biophilic bathroom design when you choose fixtures with shapes and materials from nature. Consider vessel sinks that are oval or organically shaped instead of round or rectangular. Brushed bronze is an excellent finish for a natural bathroom decor.
Today, you will find a large variety of innovative bathroom technology that can invite a sense of nature and elegance. Homeowners can choose fiberglass tub and shower liner materials that look as if they are made from natural stone or nuanced ceramics. The trend is to have a freestanding tub as part of the bathroom decor, and a separate whirlpool or hot tub for relaxation. Like nature, you will want a step-in shower with multiple water features and heating zones for maximum pleasure.
Take-Aways
A biophilic material is any material harvested from nature

Biophilic furnishings will emulate the various shapes in nature

Found items, reclaimed wood, and water features can be biophilic
To discover how you can transform your bathroom into a wellness center and incorporate biophilic materials, contact RWC Windows, Doors, and More to consult with a bathroom design specialist.