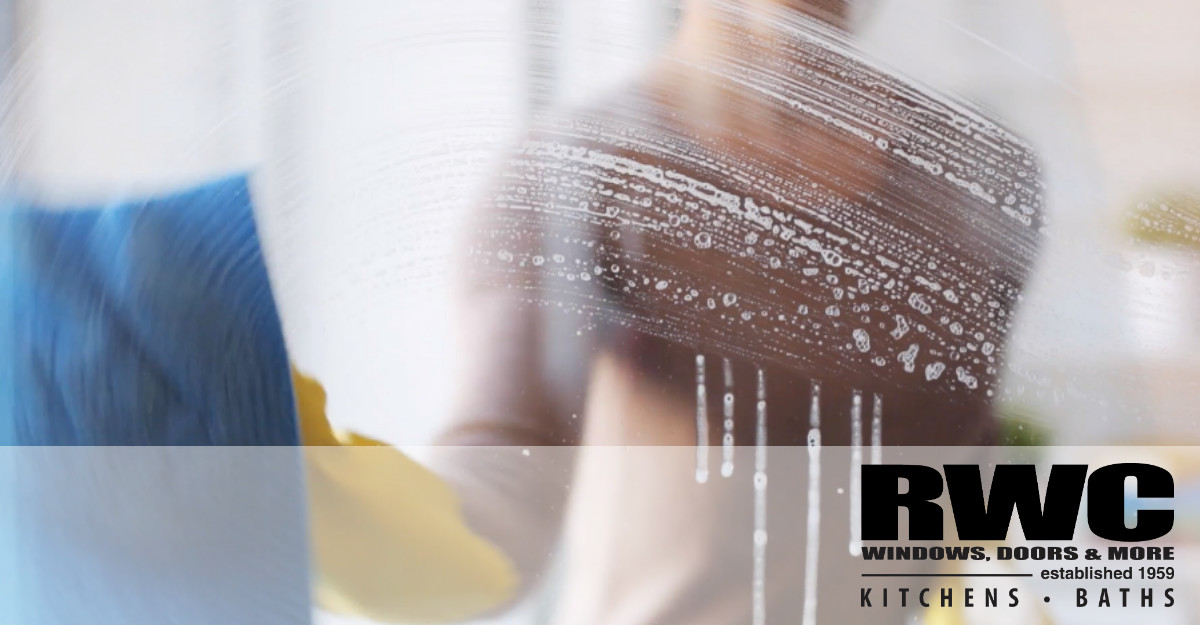 When you consider all the ways your windows can collect grime and dirt, you may realize that even windows that may look fairly clean – are not! Dirty or damaged commercial or residential windows stick out like a sore thumb. The collection of environmental, airborne pollution on exterior surfaces and the accumulation of grease, dust, and fingerprints inside will require window cleaning techniques that will deep clean glass surfaces. According to the EPA, your home furnishings that are manufactured with man-made materials are a source of poor indoor air quality and can also leave an invisible film or oily fog on windows.
Tips on Window Cleaning
Good window cleaning removes built up grime without leaving dirt or water streaks. The best window cleaner is made at home using 50% white vinegar and 50% tap water. Mix this solution in a spray bottle and add just a 1/2 teaspoon of dish detergent like Dawn. The acid in vinegar will cut through the greasy, filmy residue while the soap will collect the dirt to be washed away.
If you don't have vinegar handy, some good substitute combinations with include distilled water and Vodka, cornstarch and ammonia, warm water and lemon juice, or dish soap and rubbing alcohol. You can  find the recipes here.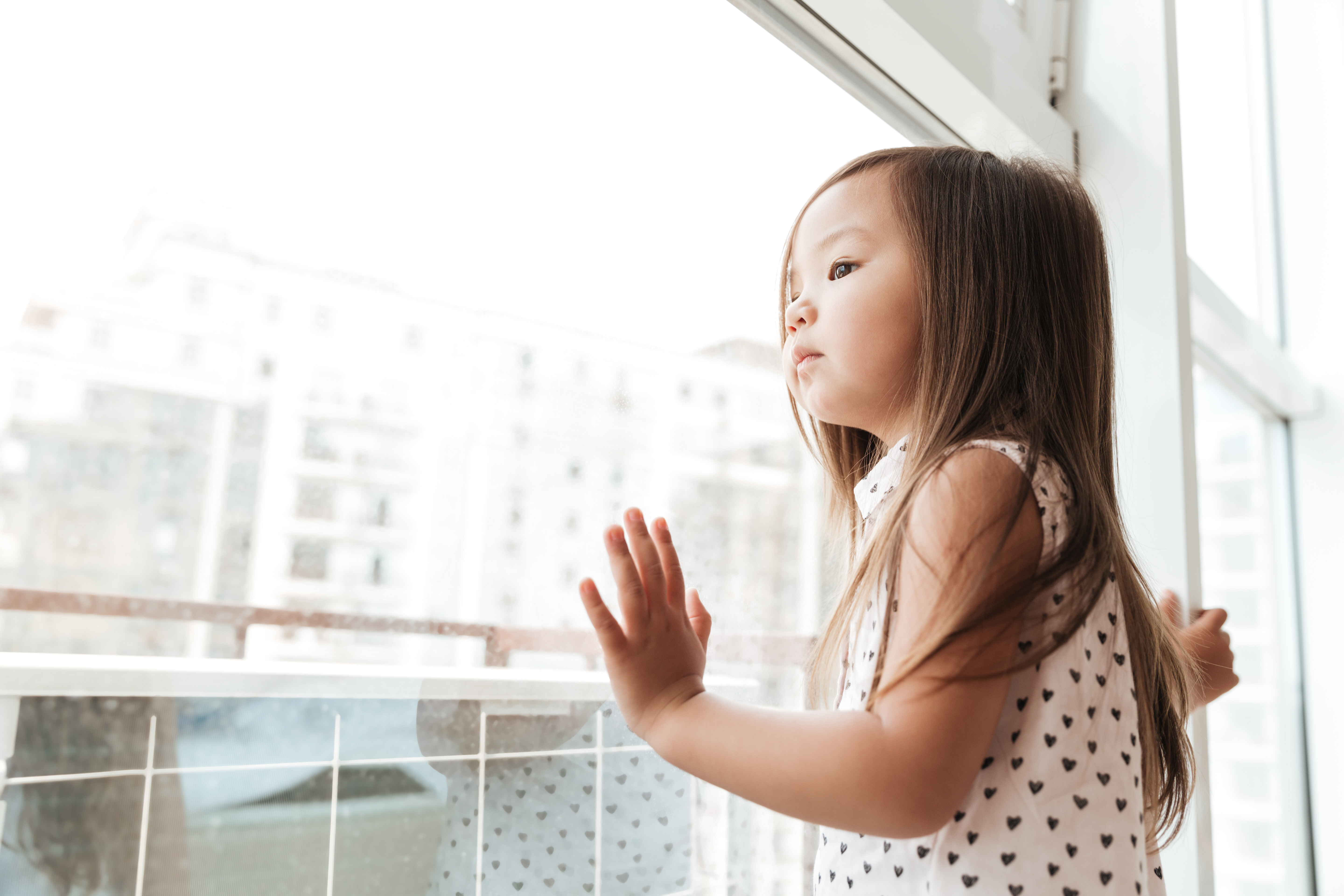 Cleaning the Outside of Your Windows
Most double hung window sashes will tilt in for easy exterior cleaning. If your windows are single pane windows or sliding windows, a soft bristle brush on an extension pole (or a microfiber cloth wrapper around a Swiffer mop) can be used to reach upper window sections.
For second level windows, you don't really need a ladder if you have a garden hose. Purchase a spray bottle that can be attached to a hose (similar to the liquid fertilizer bottles). Add your solution and begin spraying upper level windows with a strong force of cleaning solution. Follow by using the water hose to rinse windows with clear water, before the solution dries completely. 
Interior Window Washing Tips and Tricks
When cleaning interior windows you may want to lay a large bath towel on the floor for protection. Begin your project by cleaning the window tracks where dirt and mud can accumulate. Clean window tracks with a butter knife wrapped in a microfiber cleaning cloth and dipped in a baking soda and vinegar solution will speed up the process.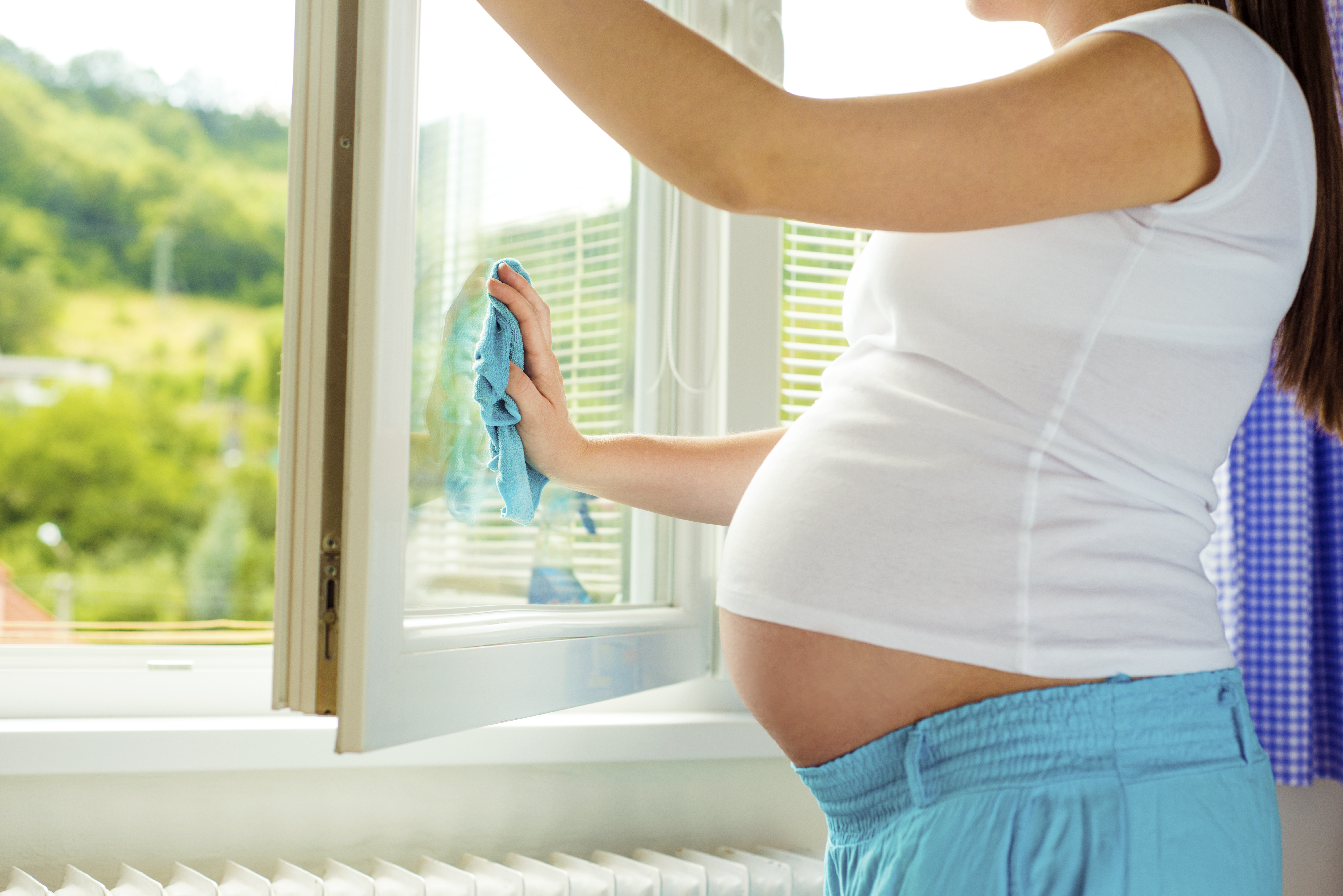 Spray windows and allow the solution to sit for a minute. You can use a sponge, microfiber cloth, or newspaper to wipe the windows from the top to the bottom. Use a separate cloth for a final, streak-free wipe down.
Your grandparents may have used newspaper to wipe clean interior windows. This is still an excellent way to get smear-free windows, as long as the newspaper ink is not petroleum based which causes the ink to transfer and smear. Not to worry, 90% of all newspapers use the cheaper, soy-based ink which does not smear.
Use the bristles of a small brush (like a toothbrush) to get into joints and hardware to remove built up grime. This also a useful tool for cleaning the lower portion of your window screen.
Frame and Window Sill Cleaning Tips
The last steps in cleaning the interior windows is to clean the frame and window sill which will have gathered much of the dirt you've washed away from the glass pane.
You may want to scrub your metal window frame with a toothbrush and your window cleaning solution. If window frames are really grimy, sprinkle baking soda on the frames first (getting into the grooves and corners). Follow that by spraying with your vinegar and water solution, then scrubbing with a toothbrush. Wipe your window frames clean and dry with a microfiber cloth.
Finally, wipe down your window trim and sills with clean soapy water, followed by wiping with a damp cloth, then drying with a clean cloth. Avoid allowing the water to sit on the wooden sills for too long.
Take-Aways
A 50-50 solution of white vinegar and water will leave your windows clean and streak-free

When cleaning windows, also clean the window tracks, frame, and window sill

Allow cleaning solution to sit a minute – but do not allow to dry
If your window frames are rusty or damaged and your windows panes discolored or show signs of mold growth, consider replacement windows installed by RWC Windows, Doors, and More. RWC also provides bathroom and kitchen remodeling, along with door installation and window replacement to homeowners in northern New Jersey.