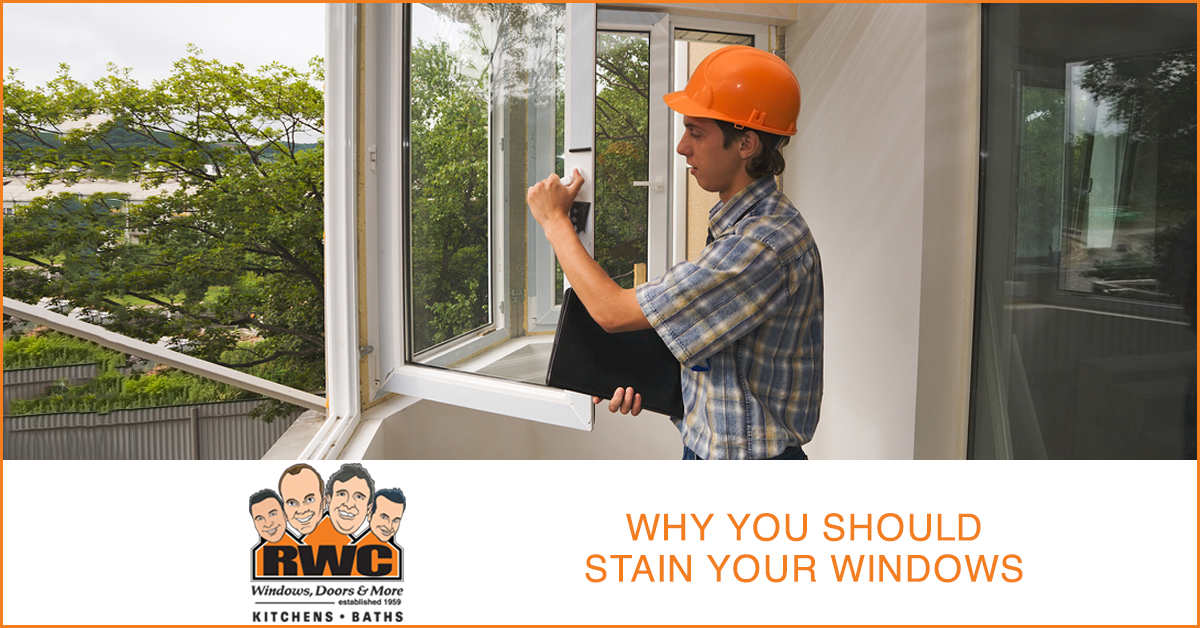 Your home's windows provide natural sunlight during the day and protection from the elements during harsh weather. They also form a vital part of your home that adds cheer and comfort to your dwelling. There are several reasons why you should stain your windows as opposed to simply painting them or leaving the window frames bare.
When Is Staining a Viable Option?
Staining your windows is a great option so long as the frames are made of wood. If you plan a major renovation and you want to match the beauty of wood trim in the windows to the interior or exterior of your home, professionals should prefinish the wood frame before installing the windows. This saves time, energy, money and effort later since contractors apply the stain in a carefully controlled environment, rather than having to rely on weather conditions outside of your home for optimal results.
A professional color match is the way to go when you want the best tone and application technique. Choose whatever color and tone you want because RWC can determine which colors match any elements already present in your home. Staffers prefinish the windows at RWC's facility before installers put them in their final positions in your house.
Why Stain?
Stain brings out the natural beauty of wood without covering up the patterns in the grain. Stain on your window frames may also protect your house from years of deterioration since it penetrates the wood as opposed to simply forming a protective layer on the outside.
Look and Appeal
Stain complements the interior and exterior look of your home, especially if you have wooden features already in place. Match your hardwood floors, doors, furniture, cabinets or any other decorative wood in your home. Exterior stain tones go with colors of brick, siding, decks, roofs and exterior doors.
Consider how stain might improve the overall value of your home when you weigh the cost and how much money to spend versus the return on investment. Stained window frames make the investment worth it when you decide to sell your home, refinance or get a home equity loan because the added look and appeal of wood stain could increase the appraised value of your structure. This is especially true if the stain matches your deck, porch or floors to create an even appearance.
Stained windows add value to your home in other ways beyond making your home look great. Stain can also save costly repairs later.
Weatherproofing and Protection
Stain doesn't peel away from wood in the way paint does, and it also doesn't blister or flake over time. When you add a protective layer on top of the stain, it seals the grain and prevents water from getting into the wood.
Versus paint, stain helps save your window frames from the vagaries of:
Weather, such as rain, snow, wind and mist.
Fading due to sunlight.
Rot from mildew and fungus.
Any or all of these elements may cause you to replace the wood frames on your house sooner rather than later. When you need to replace wooden frames, crews come to your house, take out the rotted wood frames, replace them and then reinstall windows all over again. This process costs even more money beyond your initial investment. Because wood is a natural fiber, you need to take care of it as much as possible. Stain is one of the best ways to accomplish this feat with very little fuss.
Stain may prevent you from having to replace your wooden window frames more regularly, which saves you money over the life of your home. Instead of replacing rotted or faded wood every five to seven years, the proper stain can protect your investment even longer.
Time of Year
Spring and fall are the best possible times to stain wood because of relatively stable temperatures that don't get too hot or too cold. The optimal conditions for staining are above 50 degrees with relative humidity below 85 percent. Summer time in New Jersey may get too hot and humid for window renovations, while winter is most definitely too cold.
Other factors to consider include direct sunlight, rainy conditions and overnight temperatures. RWC's indoor facility removes the stress and worry of staining your windows because the interior facility doesn't come in contact with any of these weather-related snafus that affect the staining process.
The experts at RWC apply the prefinished stain in a climate-controlled environment no matter when you decide to renovate your home. Staffers show you what options you have, the time it takes to complete the job and the levels of protection that stain provides for your home's vital wood components.
RWC has been relieving home improvement stress in New Jersey since 1959. Call us today or visit us on the web for your free consultation from our professionals.