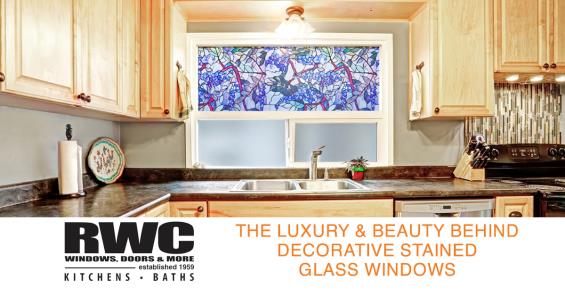 Windows are an essential aspect of home decor, but their full potential is rarely realized. That's because people tend to focus entirely on the frames and the practical properties of the glass within them.
What's missing with the traditional home view is the decorative potential of the glass itself. There are many ways to dress up windows for residential installations, ranging from a simple frosting all the way to staining. Stained glass is especially impressive in the right rooms and positions.
The Beginnings of Decorative Window Glass
Using glass in decorative ways is a practice that has existed for at least 1,000 years. It all started with the invention of colored glass, which has been around almost since time immemorial. Colored glass was first used to make small decorative objects. Later, it became possible to make the glass more durable, and it began to be used for windows.
Stained glass windows were first used in churches and other highly significant buildings, with the first use recorded as early as the 7th century. The concept, however, existed long before that: thin slices of alabaster and other naturally-colored materials were used for a similar purpose back in the 4th century.
Historic Residential and Commercial Decorative Glass
As stained glass rose in use at well-heeled churches, synagogues and mosques the demand for individual homes and businesses were starting to drive with varied versions of the beautiful decorative glass. This led to the rise of leadlights, these had designs that were much simpler than those of stained glass and were often colorless. Still, lead traces were used to create the designs in a manner similar to the stained version and therefore gave the style its name.
Other Types of Decorative Window Glass
As more technology became available other types of decorative glass came onto the scene. One of the most popular of these being frosted glass. Originally, this was relatively expensive because making it involved soaking glass in acid or sandblasting it. Then adding designs, either by etching them in or leaving them as the only plain parts, requiring, even more, time and skill.
Modern Decorative Glass Options
Today, people are far more prone to using decorative glass at home than ever before. This is because many of the options have become more affordable – sometimes substantially so. Window films, a relatively new arrival to the decorative landscape, have put a wide variety of effects within easy reach of homeowners.
One of the most popular effects provided by films is tinting, but the frosting technique is preferred for a more decorative result. Printing technology makes it fairly easy to put a design into a window, so this option is becoming popular. That said, some still prefer handcrafted frosted windows for their artistic value.
Bringing the Beauty of Stained Glass Home
True stained glass still requires the artistic design and assembly of multiple, small pieces of painted glass. Due to the extensive labor and skill that is involved in the construction, a stained glass window is an investment. Cheap alternatives, such as stained glass-style appliques, cannot pass for real and therefore are not preferred.
That said, it is far easier to get stained glass for a home today than it was during the Middle Ages. Increased trading options, improved production methods, and other such factors have dropped the price from cathedral levels and put it into the reach of, upscale homeowners. Therefore, it is being seen in modern homes more and more each day.
Thanks to the expansion of decorative glass options, all of the beautiful styles once restricted to specific buildings can be brought into the home with relative ease. To get ideas or get a quote for stained glass in your home, contact RWC today. We are experts at putting together the perfect residential decor packages.