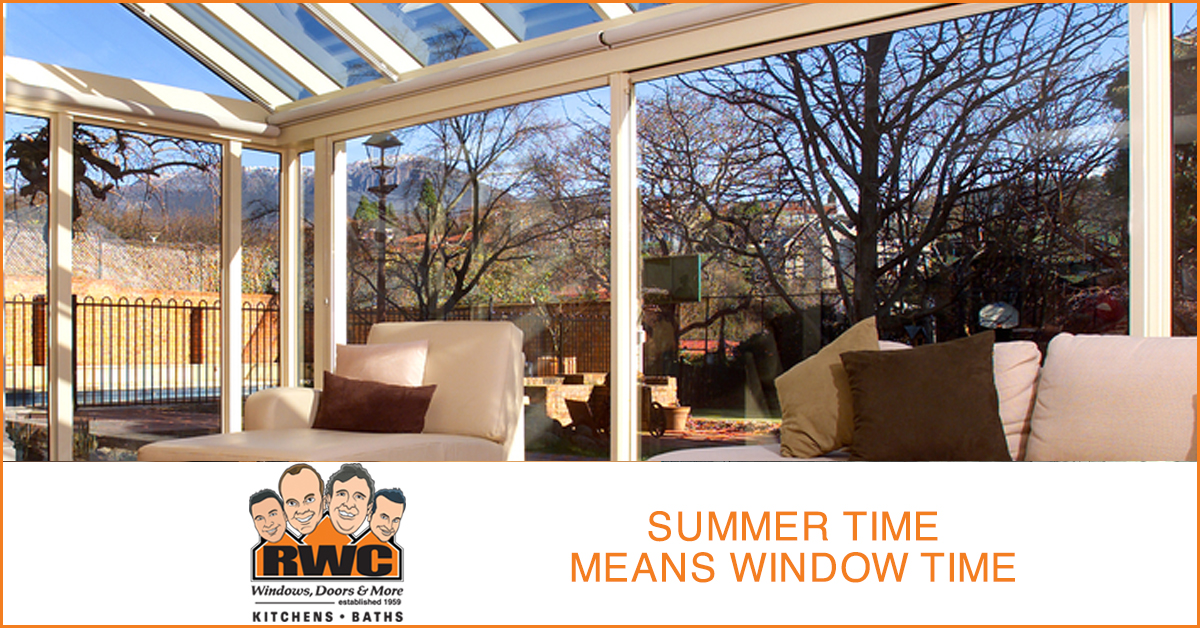 Summer is the ideal time of year to take a close look at your windows to see if there is anything you need to repair. You can start by cleaning the exterior of your windows with a bucket of warm water, mild soap or window cleaner and a sponge. Work your way around the outside of your home, scrubbing each window to remove the winter grime and spring pollen. Once the windows are clean, it is time to inspect each one with a fine tooth comb as you work to identify areas of damage, repair or windows that need total replacement.
What to Inspect
As you begin inspecting your windows, slowly raise each window, paying careful attention as to whether or not the window is hard to open. A key indicator of old windows in need of replacement is difficulty in opening or a window that won't close all the way. As you close the window, hold your hand over the area where the window meets the window sill. See if you can feel any kind of a draft coming through that area. Drafts are another sign that a window needs replacing or repair.
There are additional areas of your window structures that can help you determine the condition of your windows. Here are the key items  you need to look for during your inspection:
1. Rubber Seal Weakness
There is a rubber seal between the window and the window frame. As it wears down, outside water begins to leak through the window. As warm water meets a cold window, the window takes on a foggy appearance. Take the window frame to a glass repair shop to replace the seal.
2. Cracked Glass
Cracks in the glass allow outside air to come through the window and inside air to escape. It results in higher electricity bills for you each month. Contact a glass repair shop to schedule an on-site repair of the glass.
3. Moisture
A moisture problem is present in double-pane windows when you see condensation between the window panes. The protective seal between the windows is no longer stable, so you will need to have a window restoration company repair the problem.
4. Weather Stripping Deterioration
Weather stripping works to keep air and water outside of your window. As the stripping begins to deteriorate, you may notice wetness on your windowsill when it rains outside. A draft may be present as well. A visit to your local hardware supply store for new stripping can repair this issue.
5. Casing
Inspect the casing that runs along the window for any noticeable gaps or holes in the material. You can fill these gaps with a paintable latex caulk from your local hardware supply store.
You should also keep an eye out for worn pieces of wooden window trim that may need replacing. A fresh coat of paint to the trim and shutters can be a great summertime improvement project as well.
The Importance of Window Inspections
Window inspections are an important part of your home maintenance responsibilities. These inspections help you maintain the structural stability of your home, and add value to it at the same time. By pinpointing the windows that are in need of repair or replacement, you work to preserve the natural exterior design appearance of your home.
Curbside appearance is the first thing others notice about your home. Having cracked glass pieces, window panels with discoloration, missing pieces of wood trim  or other visible damage around your windows detract from the overall value of your home. Taking the time to make the necessary repairs or replacements can give your a home a more modern feel as well.
Energy Efficiency
The summer months typically produce some of the hottest temperatures of the year. This requires your air conditioning unit to work twice as hard to keep your home at a comfortable level of coolness. Tiny cracks in window frames allow drafts of cool air to escape outside, which results in a higher electric bill for you each month. You may want to consider adding a light shade of tint to the windows that receive the longest amount of exposure to the sun each day.
Replace old, worn-out windows with newer design to reduce the amount of your monthly electric bill. The new windows will open and close more easily, which alleviates the amount of pressure on each window structure. This alleviation of pressure extends the life of the window, the glass panel and the other elements of a window structure. That works to create a level of energy efficiency in your home.
Any repair or replacement you make to the windows in your home automatically increase the property value of your home. New or updated windows are at the top of nearly every potential home buyer's wish list. Modern windows help you keep up with architectural trends that emerge onto the housing market each year. It's a small investment that will produce great financial results for the most important asset that you own.
RWC has been helping homeowners with home improvements since 1959. Call us or visit us online today to learn how we can help you.