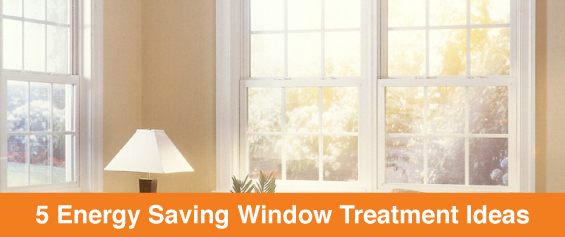 Energy conservation is something that many people want to achieve but are not sure how to go about it. A great way to turn your house into an energy-saving machine is to install energy-efficient window treatments. This simple change can allow homeowners to reap untold benefits. Keep reading to learn about some energy-efficient window treatment choices.
Awnings
Installing awnings over your windows is a fabulous way to conserve energy. Energy.gov states that awnings can reduce heat gain in the summer by as much as 65% on south-facing windows and 77% on west facing windows. Awnings can be installed over just one window, or they can be custom-fit to suit all the windows on one side of the house. Today's awnings are made of synthetic fabrics that are water-repellent and treated to resist mold and mildew, as well as fading. So, they are designed to last a long time. It is important to note that awnings must be ventilated, so hot air does not get trapped around the window. Also, homeowners should choose light-colored awnings that will reflect more sunlight than the darker-hued counterparts. Homeowners who install adjustable or retractable awnings can keep them rolled up in the winter to let sunlight into the house, which can also help to conserve energy.
High-reflectivity films
High-reflectivity film helps block heat gain in the summer months. This product works best in climates that have long cooling seasons because they also tend to block heat in the winter. The effect of high-reflectivity films can vary, and is dependent on a number of factors including to following:
The size of the window glazing area
Window orientation
Climate
Building orientations
Whether the window has interior insulation
Homeowners that choose to go this route are better off purchasing silver, mirror-like films than the transparent, colored ones, as they are more effective. Homeowners should also note that these window treatments do not work well on north-facing windows. There are a few other disadvantages to these window treatments as well.
Insulated panels
Insulated window panels consist of a rigid foam board that acts as insulation. Typically, they can be installed by simply pushing them into place.  They can be sealed with either magnetic tape or Velcro. A bonus to this type of window treatment is that it requires no hardware such as hinges or latches to install. Insulated panels have R-values, which measure resistance to heat flow, ranging between 3.8 and 7. They are also inexpensive. The only downfall of these energy-efficient window treatments is that the homeowner needs some place to store them when they are not in use.
Storm panels
Storm panels can be added to single pane windows to prevent winter heat loss. This type of window treatment can cut heat loss by as much as 50%, which can result in a drastically reduced heating bill for a homeowner. This option is less expensive than investing in double- glazed windows. Further, storm panels can be added to either the exterior or interior side of the window.
Exterior panels – There are two types of exterior panels: single and combination. Single storm panels are meant to be installed in the fall and taken down in the spring. They are generally made from glass, plastic sheeting, or rigid plastic. Combination panels are comprised of two window panes and a permanent screen over the window. The panes can slide up and down for ventilation in the summer. Exterior panels must be custom-made to fit the windows.
Interior panels – Interior storm panels are made of flexible or rigid plastic. They are mounted using materials such as Velcro or snap-in seals. Flexible panels are easy for a homeowner to install. However, they are not as clear as the rigid ones. Interior panels are meant to be installed before there is a need for running the heat in the house and should be taken down before the air conditioner needs to be used.
Window shades may seem like ordinary window treatments, but they are actually an easy and effective way to conserve energy in the home. To be the most effective at saving energy, they should be installed as close as possible to the glass with the sides of the shades close to the wall to create a sealed air space. Shades should be lowered in the summer, especially if they are in direct sunlight. Dual shades that are highly reflective on one side and heat-absorbing on the other are the most ideal. Other types of shades that help a house to be energy-efficient include quilted roller shades, roman shades, and pleated shades.
An easy way to conserve energy in your home is to install energy-efficient window treatments. Making a conscious effort to make even a small change such as installing new window treatments can help homeowners save both money and the environment.
Thanks for reading our blog. If you need to speak with a professional about new windows, please contact us today.