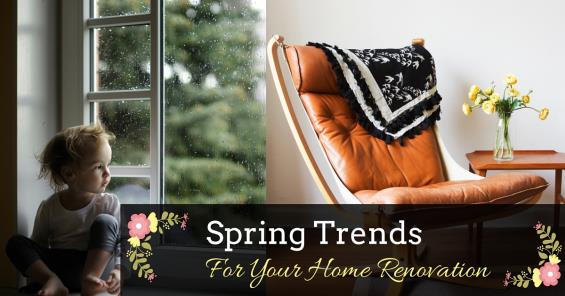 Winter is just about over, and after being cooped up in your home for so long all you can think of is how it's no longer working for you and your family.  Rather than go through the hassle of putting your house on the market, look at the potential it still has for your family along with how you can put that potential to use for you.  Spring is the right time to start thinking about ways you can improve your home.  Most people think about spring cleaning and putting their homes on the market, but what better way to skip that headache by improving the flow and organization of your home with a few remodeling projects?
Your Kitchen
Kitchens are usually areas that can get pretty cluttered throughout the year.  A spring remodel is the perfect way to kick off the good weather.  You can incorporate lots of new and innovative storage ideas in the kitchen with cabinets and an island that are sure to make your spring cleaning a lot easier. Spring is a good time to get started with renovations because summer party season isn't in full swing yet, and you might be able to get in with your contractor before he starts getting really busy for the season.
Your Bedroom
Keeping in the same mind as spring cleaning, your bedroom is another area that can often benefit from some remodeling.  You can improve your closets or en suite master bath to take better advantage of the space that you have available to you.  Installing built-in storage is a good way to get better use out of these rooms, and a different design flow may work wonders for how your home will better suit your needs.
Your Bathroom
No en suite bathroom?  No problem. You can still enjoy a fresh bathroom space for spring with a bathroom remodeling project.  Big shower stalls with rainfall showerheads are a popular trend that people are putting into their homes to achieve spa-like luxury.  Creating a relaxing environment in your bathroom is sure to make you want to stay in your home, and these remodels often add great value to your home's market price.
Your Doors and Windows
Spring is a great time to think about installing new doors and windows.  Older doors and windows may not only be uncomfortable to have in your home because of the drafts that can come from them, but they can also cost you money on your electric bill.  Your heating and cooling costs will thank you for taking the time to put in more energy-efficient doors and windows.  Doing this in spring will make it more pleasant for the installers, and puts you in a good position with your upcoming summer cooling bill.
Your Mudroom
This can be the perfect time of year to update your mudroom or other entry space in your home.  This is the area that is first seen when someone enters into your home, and can often be rather messy.  Look at ways you can redesign the space to make it work better for you.  Expanding the space or putting in storage options can be a good way to better use this area.  Doing this in spring is a great idea because this is the time of year when it really gets put to use, and you may be more open to ideas of how to transform it.
New Additions
Spring is an excellent time to look into adding a new addition to your home.  Add some additional outdoor living space by creating a screened in back porch that can be used all year long.  Please the outdoor chef with an outdoor kitchen that is perfect for hosting parties.  Put in a fire pit that works great on cool spring and autumn evenings.  Create another bedroom to let your growing kids spread out.  Add that extra space for an office or entertainment room to help your family fit better in your current space.  There are a lot of different ideas out there for your new home addition, and this space can really be anything that will help your family be happy in your current home.
Spring is a time of new beginnings, but it doesn't have to be the time to say goodbye to your home.  You can implement some of these spring home renovation ideas to remodel your home and make it better fit your needs.  Then, rather than spending your summer trying to find a new home and selling your old one, you can enjoy your new space.  Not only will you have a new space (or spaces) that you adore and make you want to enjoy your home, but you'll potentially be building in more value for your home when the time is right to put it on the market.
Not sure what springs remodels will be right for your New Jersey home?  Talk with the professionals who can walk you through the process.