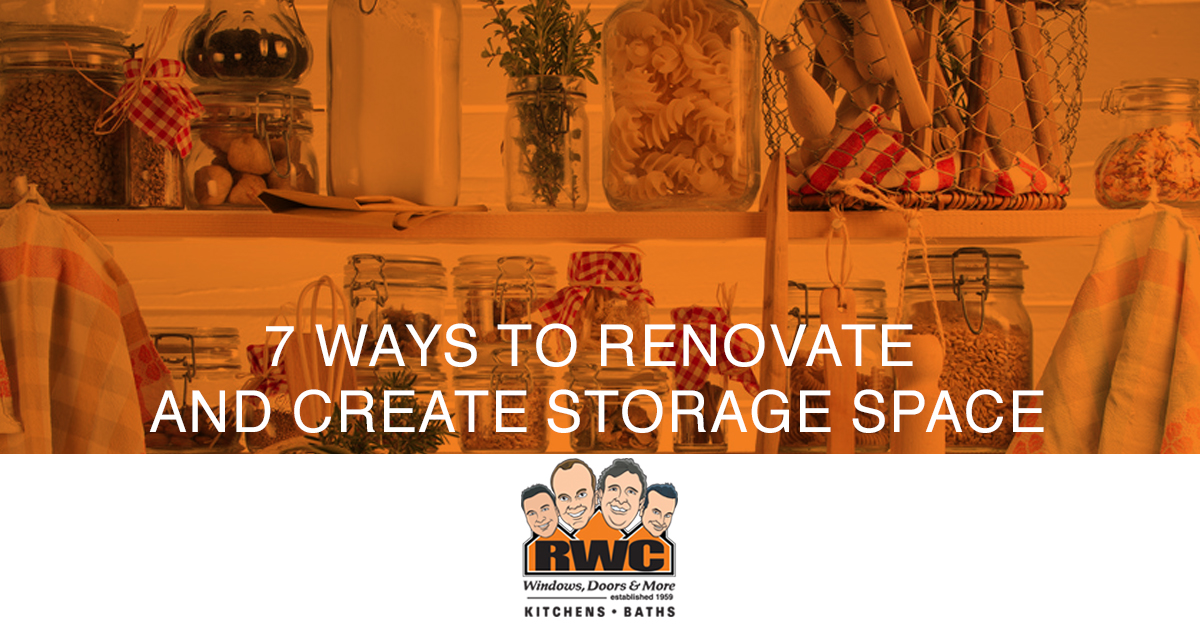 Are you starting to feel like your kitchen or bathroom is too small for your family's needs? Did your other half tell you that if you bring home one more gadget for these rooms that you're sleeping on the couch? Your first response to feeling this way may be that it's time to move, but things might not be that serious just yet. There are plenty of ways that you can renovate your small kitchen or bathroom that will help you to create some serious storage space.
Lazy Susan
The lazy susan is a pretty ingenious idea. It goes into your cabinet and creates a rotating platform for all your things that were in that space. No longer do you have to dig to the back of the cabinet to find what you are looking for, as you can find it with an easy twist of your wrist. This renovation idea may be as simple as putting in a lazy susan or getting new cabinetry that incorporates the lazy susan design in them.
Turn Cabinets into Storage Masters
Lazy susans are not the only way to turn your cabinets into storage masters. There are other ways that you can maximize the space in your kitchen with new cabinets. For instance, there are some cabinets that can incorporate drawers into them. Then, you can pull them out to utilize every inch of the drawer – no more wasted space in the back.
Pot Racks
Pots and pans can take up a lot of space in your cabinets, so try to be creative with their storage. A pot rack on the wall or hanging from the ceiling can be a perfect way to maximize your kitchen storage space. Your pots and pans will be nicely organized in a neat fashion, and all that space can be used for all your other kitchen gadgets and doodads.
Add an Island
It may be time to pull out the big guns, and go about adding an island to your kitchen. This may require a more extensive renovation of your kitchen depending on your space or you may even be able to find a cart that can work as an island. Having a custom island built can be the perfect way to go because you'll be sure that it works just right in your space, and can be built to include the extra storage space that you crave.
Add Storage Furniture
Both your kitchen and your bathroom can benefit from adding storage furniture. Put in storage towers or storage ladders to add some interesting design details along with extra places to put all of your things. Think about adding some little wicker baskets to the space. These can be great for guest rooms to hold towels or other items. Don't forget the walls. Hanging storage, such as new cabinets or just a couple of small shelves can increase where you can store items.
Bathroom Sink Revamp
Your bathroom sink setup may be taking up more space than it needs to in your bathroom. There are some new designs available that can help you to get the most space out of your small bathroom. For instance, they have amazing wall mounted sink pedestals that even come with their own built-in storage space for a small hand towel or other items while leaving the floor clear for other storage. There are also some sinks that are thin and long rather than square to help you maximize your bathroom space.
Hidden Storage
There may even be ways to tap hidden storage spaces in your bathroom that you didn't consider. One way to do this is by installing a full-length mirror that doubles as a storage space. This is multi-functional and works for just about any family. There are also more hidden spaces in your home that go a little deeper. Depending on how your home was designed, there may be spaces on your wall where you can add some extra storage. This requires the help of a professional, but can be a dramatic way of expanding your storage space. It may not be located in your bathroom, but extra space is extra space.
You may be feeling as though some of these projects are a little too complicated for you to handle, or maybe you'd just like an expert opinion on your small spaces. That is where RWC can come into the picture. We listen to what you need and want in your space, examine your current setup, and help you come up with a project that will make your space better.
Our installers are factory trained, and we are able to do just about everything in-house for you. From remodels to new additions, we've got your back. Check out our services today to get you started on the path to a home you adore.
RWC has been relieving home improvement stress since 1959. Call us today or visit us on the web for your free consultation!
Thank you and feel free to contact me with any questions!