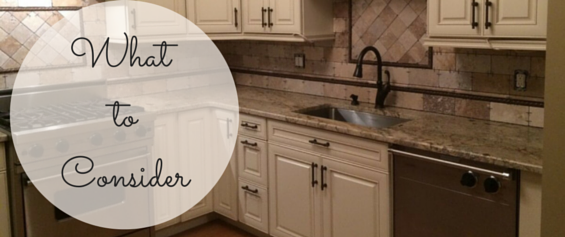 Today's kitchen is not what it used to be. Just a few decades ago, a time existed when the kitchen was a private area. The only person in the kitchen was the homemaker. The rooms were small, cramped, and often unsightly.
Today's kitchen is much different. It is the heart of the home. It is a multifaceted room that serves as your office, your children's art display, and even a place to keep muddy shoes from getting all over the carpet. Needless to say, people go in and out of the kitchen all day long.
Even if this doesn't sound like you or how you use your kitchen, how you use your kitchen is one of the primary things you need to consider when you remodel your kitchen. However, the first thing to consider is why. Why do you want to remodel your kitchen? Is it a space issue? Are the cupboards falling apart or the linoleum wearing through? Do you want to update your appliances?  Whatever the reason, remodeling your kitchen is one of the best investments you can make in a home. Plus it's just fun to make food when everything is brand new, isn't it?
What do you need to consider (other than the why) in the planning stages? Size matters here, especially if you plan on replacing your appliances like stoves, ovens, or refrigerators. You need precise measurements, and if you're going all out and getting things like a farmer's sink, the measurements need to be exact to 1/8 of an inch.  You need to ask yourself other questions, too. What kind of stove are you planning on—countertop or standalone?  Is the oven going to be part of the stove or will you mount one in the wall? Are you planning on replacing the refrigerator? Make sure you have the room to open all the doors.
Another consideration might be who uses the kitchen. Do you need to make it kid-friendly or toddler-proof? Do you have teenagers? How about you? What are your habits? Do you need more counter space or room for more appliances? How about a bar? Plenty of people entertain friends in the kitchen, late at night over a game of cards.
Kitchens don't have to fit conventional molds. If anything, this is your chance to make some neat spaces in the kitchen, like shelves on rollers that pull out so you don't have to squat just to get a pot. Or better yet, use a pot rack! This is your chance to use space that you didn't even know you could use the like inside doors of your cabinets. One of the most typical complaints is people running out of storage space. Here's an idea ~ don't store your beautiful serving dishes. Save the cupboards for cookware and leave the dishes out in the open. This creates an inviting space just asking to be used. Utilize your blank wall space in your kitchen by installing shelves.
Remember to pay attention to detail. There are things you can do to really make your kitchen pop. The right backsplash, plenty of lighting, and stainless steel appliances can make a difference. It's the little things that matter. While you can get a builder-grade kitchen, nothing says, "I put effort into this," like a bit of customization and luxuries. We're talking about a sink that is just a bit deeper, or utilizing corner space with a lazy susan.  Contrast white cabinetry with a dark or neutral floor and countertop.
With all these ideas of what you can or should do with your kitchen, take some time to consider what you shouldn't do. DO plan accordingly. This means that unless it's really in the budget, most people do not need a six burner gas stove. One of the great money-saving ideas is to avoid buying any new appliances—these can always be upgraded later. Don't obsess over name brands when it comes to appliances. Don't buy a super expensive refrigerator and a super cheap stove. DO plan for lighting. Poor lighting can ruin any kitchen renovation.  DO remember that countertops and flooring contain essential design elements. Skipping over these two can place severe limits on the rest of the kitchen. DON'T use cheap cabinetry. You don't need to spend $1000 per cabinet but plan your budget out so you can have beautiful cabinets in your kitchen.
Remember the simple debt rule – If you can't afford it, don't buy it.  Wait if you have to, but don't waste your money on flimsy cabinets or subpar building materials and don't skip design elements like flooring.
All these considerations belong in the planning stages of your kitchen remodel.  Before construction starts and before any materials are purchased, plans can be changed on the fly at no cost to you.  If you're not sure how to get the best return on your investment, consider hiring an interior designer.  Make sure your plan is about you.  Once you have a plan with parts ordered and demolition starting, it can be costly to change your mind.  At RWC, we don't just give you renovation ideas.  We seek to educate you on one the finer points of home renovations so that you can have a place you're proud to call home.
To make the most of your kitchen renovation, contact us at (973) 227-7123 today!