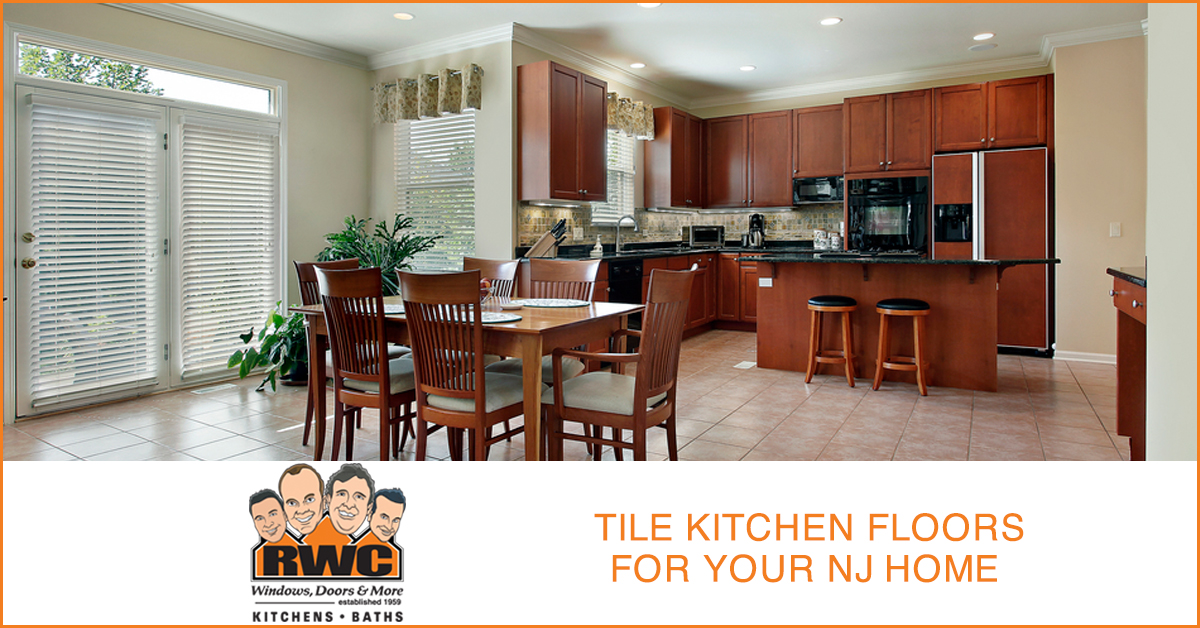 Is your kitchen linoleum ragged, or maybe your wooden floors are scuffed and worn out? These are problems that homeowners never encounter with tile kitchen floors.
Why Does Tile Work For Kitchen Floors?
Ease of maintenance is a big plus for homeowners as tile floors are known for their durability and ease of care. Beyond durability, a tile floor in your kitchen needs no special cleaning solutions, are mostly stain resistant, and spills are easily wiped up.
Floor cleaning routines require nothing more than a bucket of water with a mild cleaner added and a sponge mop. When you have tile installed, make sure that it is sealed so the maintenance remains easy and your floors will always look great.
Ease of Repair
Should your tile floor become damaged, you can replace a single tile or a whole row. Once they are laid down, the repair is virtually unnoticeable. Just be sure to give RWC a call to keep your floors looking their best!
Versatility of Material
Tile floors come in many kinds of materials including:
Vinyl
Ceramic
Porcelain
Stone (Quarry)
Why You Should Tile Your Kitchen Floor
There is not a real estate pro around who can deny that a tile kitchen floor is a sound investment as it increases your home value. Other reasons you should tile your floor include:
If you have your kitchen heated by radiant heat, tile is a sound choice as it more evenly distributes heat in the room
Hard tile floors are non-toxic, just make sure your installer uses a non-toxic grout so that your tile floors stay non-toxic
Tile floors are pet-friendly, both safe and the messes they make around their feeding area or if they have an accident are easily and quickly clean up
Tile floors do not absorb odors or bacteria
Choosing the Right Tile Material
Smart homeowners do their research before setting out to select their tile choice. Here are some things to consider before you choose.
Quarry stone, such as granite or marble are the most expensive tile for flooring there is, but ceramic and porcelain tiles have all the features of natural stone at a far more affordable price.
Some people use less expensive flooring material with a natural stone backsplash and/or countertops.Conversely, some homeowners may choose to use leftover tile as a bathroom backsplash.
Most of the time, those that choose natural stone only use a single matching color for their kitchen flooring. Natural stone is elegant and understated. On the other hand, ceramic and porcelain come in endless colors and patterns.
Adventurous homeowners may even mix and match tiles – only your imagination limits what can be done with a tile floor from the perspective of design.
If your kitchen is on the small side, use large square tile that tend to open up a small space. For larger kitchens tile size doesn't make much difference.
The hardness of porcelain flooring is subject to rating by Porcelain Enamel Institute. Choose a rating of Class 3 or Class 4 for kitchen use.
Water resistance is a very important feature for a kitchen floor. If your kitchen is moisture-prone, choose an unglazed tile with a maximum absorption rate of 0.5%. For glazed tiles choose a tile with a maximum rate of 0.3%.When wet, tile floors may become slippery. If this a concern for your home, check out tile flooring that is textured.
For the best selection of tile in the Caldwell, New Jersey area contact the professionals at RWC. At RWC we have an outstanding selection of kitchen flooring of all types. Our installers are experienced tile technicians that will complete your flooring on time, on a budget, and most importantly correctly.
Call us at 973-227-7123 or contact us now to request a quote.