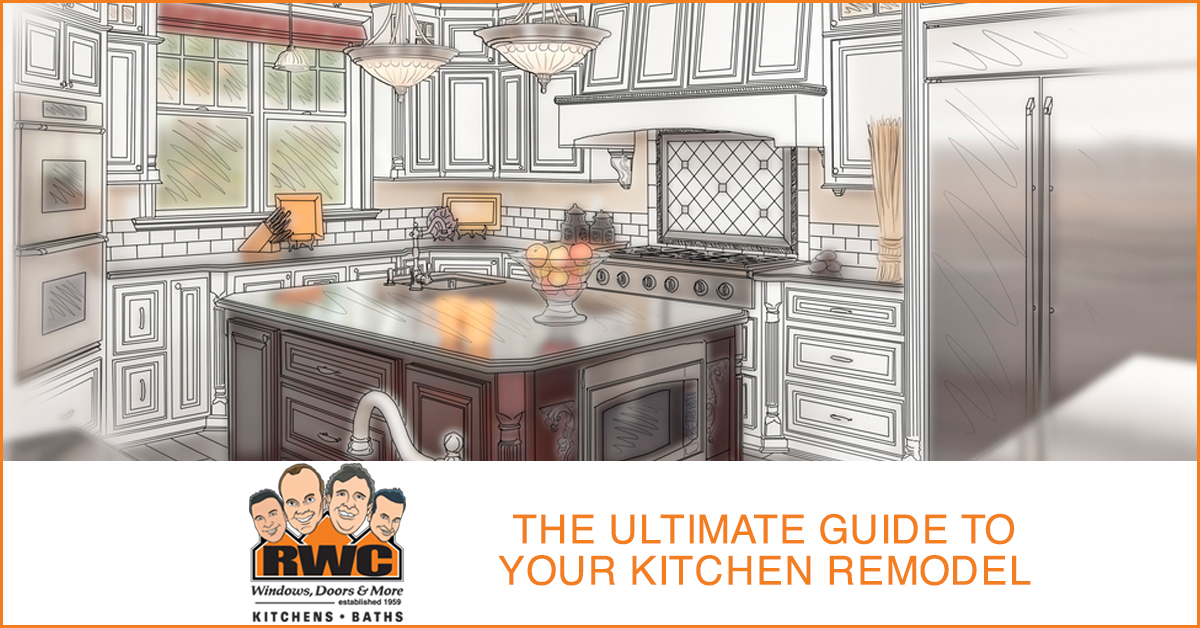 Quick Summary
This guide will walk you through what you need to know when you choose a contractor, set your budget and decide to remodel your kitchen. We will show you how to pick the right ingredients for your kitchen from countertops and sinks to backsplashes and appliances. We'll look at the materials and styles to put together your dream kitchen. This guide will also assist you as you pick a theme or color for your remodel. Choosing your colors can be a difficult choice, but we can show you where to start for inspiration. Lastly, this guide will show you what you can expect when you hire RWC Windows, Doors and More to remodel your kitchen.
Chapter 2: Kitchen Remodeling 101
Chapter 3: The Right Ingredients for Your Kitchen
Chapter 4: Color Me Happy – Picking Your Colors
Chapter 1: Introduction
Making the right decisions when it comes to remodeling your kitchen can be overwhelming. That's why we've pulled from our decades of experience to break down some of the toughest decisions you'll face when you choose to remodel your kitchen.
Chapter 2:  Kitchen Remodeling 101
Why Now is the Time to Remodel Your Kitchen
Whether you are planning on staying in your house for another 30 years, are scouring the marketing and Internet for properties, or recently moved to your — slightly outdated — dream house, there's no better time to remodel your kitchen than now.
Many people find that the kitchen is the hub of their home, where everyone gathers to start and end their days together, for late-night coffee chats with friends and family, weekend game nights, and more. While you'd think that more people would want to make this the most comfortable room in their house, homeowners tend to find reasons to postpone the project, from the time to the cost.
However, families looking to sell their properties may find that an investment in remodeling their kitchen will pay off when it comes time to close. Others may find that the deterioration is unsightly, or may even be unsafe. One of the biggest reasons to remodel your kitchen now may be the government rebates on your taxes that are being offered for homeowners installing energy-efficient appliances and taking measures to make their homes more eco-friendly. With the upcoming governmental changes, anyone interested in taking advantage of the rebates should move quickly.
The 5 Things You Need to Consider Before Beginning a Kitchen Remodel
When you're thinking about remodeling your kitchen, there are few things to keep in mind.
1. How Long Will it Take?
With the kitchen typically being the most-used room in the house, some families find that being without access can be a challenge. Some contractors may try and under-project the length of time it will take to complete the remodel; getting an experienced, trustworthy contractor can help cut down on the pain of the kitchen closure.
2. How Much Will it Cost?
One of the biggest issues facing homeowners who want to remodel their kitchens is the overall cost. A kitchen remodel is one of the largest expenses that many homeowners will experience. It's important to do research into the materials and brands you want to use for the remodel so you can get a better picture of what the remodel may cost overall; once you've done your calculations and set a budget, don't budge. It's important to be prepared for issues that may arise unexpectedly.
You can save on costs by visiting local showrooms — we offer more than 20,000 square feet of products that you can see and touch — to learn more and see the options in-person. Another way to save is by keeping the layout the same. If contractors don't need to move plumbing, gas and electrical lines, you could save thousands.
3. Why Do You Want to Remodel?
What is your end goal of the remodel? If you are looking to sell your property and merely want to upgrade and add value, it's more important to stick with neutral colors and pieces that don't carry emotional attachments. However, if you are planning on making this your forever home, find the pieces, colors and designs that you love and that will grow with your family.
4. Should You Update Some Pieces or Replace Everything?
This goes back to the real reason you are remodeling. If you are planning on moving, a complete kitchen overhaul may not be necessary. If you will be staying, though, starting from scratch might prove to be the better option. Kitchens that have structural, water, plumbing or electrical damage may need to be gutted; otherwise, check the structural integrity of the kitchen components and consult with an experienced contractor.
5. Which Pieces Add Value?
There are certain components that bring a higher return on investment, like cabinets, countertops, and appliances. Look for well-constructed, long-living pieces that come with warranties and guarantees.
Of course, if you are experiencing problems with certain parts of the kitchen, like wiring, plumbing, chipping floor tiles or structural issues, those should be repaired as part of the remodeling project.
What Should You Look For When Hiring a Contractor
1. What Licenses Do They Hold?
Licensing requirements vary in each state. In New Jersey, contractors may be required to obtain a home repair contractor license, depending on how they accept payments. All home repair contractors should be registered with the New Jersey Division of Consumer Affairs.
Home improvement contractors and general contractors in New Jersey must be licensed with the Department of Labor as part of the New Jersey Contractors' Registration Act. This requires that contractors have liability insurance, show proof of their business type, and file a disclosure statement that lists possible violations.
It's also a good idea to look for a contractor who has been bonded, which protects the consumer from a contractor who doesn't complete the job, pay for permits, or fulfill other financial obligations associated with the project.
2. What is Their Experience?
Experience can be a wonderful quality for home contractors. When you're looking to remodel your kitchen, a good place to start is by asking for referrals from friends and family. Once you've done that, narrow it down to the top three. Doing research to see the contractor's speciality areas can make a difference. Just because they did great tile work doesn't mean they will be the perfect contractor for your kitchen remodel project.
Ask for a list of references that includes past and current clients, who have the most recent experience working with the contractor.
From Consultation to Completion: The Importance of an Involved Contractor
When interviewing the potential contractors, find out how much of the work they will complete, and how much will be subcontracted. It's also important to spell out who will be expected to acquire which materials, the hours and details regarding the work being done in the kitchen, and the dates by which the contractor will apply for the required permits.
A good contractor will be able to talk to you frequently about the project's progress.
Allocating Your Budget: What Should Come First
When you set the budget for your kitchen remodel, it's important to factor in all of the possible components. On average, labor costs between 20 and 35 percent of your budget, and it's important to save 10 to 20 percent of your budget for the unplanned situations that may arise throughout the duration of the project.
Rank the rest of the typical kitchen remodeling costs, like cabinets, appliances, windows, flooring, fixtures and fittings, in order of importance. Together, cabinets and appliances usually take up about half of a kitchen remodeling budget.
Add in the indirect costs. Consider the costs of staying in a hotel (if you'll be living elsewhere for the duration of the project), the cost of take-out dinners or the costs of storage units. Once you've set your budget, stick to each line item.
Chapter 3: The Right Ingredients for Your Kitchen
Catchy Countertops: Where Function and Beauty Meet
Countertops are usually the main focal point of your kitchen, and also one of the most important parts as you prepare and serve food from this spot, as well. Choosing the right material is a matter of combining the look you want with the purpose you need, at your perfect price point.
Top Countertop Materials
Granite: Once a high-end item found in pricier kitchen remodels, an increasing number of homeowners are finding that this natural stone meets all of their countertop needs. With a variety of colors and options for cutting that eliminates seams, granite's popularity has actually brought the prices down over the past few years. To care for a granite countertop, use a non-abrasive stone cleaner that maintains the treatment for its full ten or more years.
Solid Surfacing: These solid acrylic, solid polyester, or combination countertops have been popular, affordable options for more than 40 years. They are typically stain- and scratch-resistant, repairable, and customizable, with hundreds of colors and patterns. Newer options include materials that look similar to natural stone.
Tile: Ceramic tile has fallen from popularity as a primary countertop material because it requires slightly more maintenance and upkeep. It's more often seen on backsplashes, islands, counters or other surfaces. When choosing tile, pick out pieces rated for floors or countertops, rather than the thinner, more delicate wall tiles that are more likely to crack.
Quartz: These non-porous countertops are resistant to scratches, heat, staining, acids, and impacts. They are often engineered as a quartz composite, and are a very low-maintenance option.
Laminate: Once rejected because it looked too dated and cheap, laminate countertops are making a resurgence. They are a budget-friendly option; due to the hundreds of colors and designs, laminate offers retro and modern cuts and colors.
Marble: Another high-end natural stone option, marble's innate design is a great way to balance functionality and finances. However, these beautiful countertops are porous, and can be prone to staining or damage.
Butcher Block: Made with a variety of different types of wood, butcher block countertops are both beautiful and functional. They are heat-resistant and, when treated correctly, sanitary.
The Best Countertops
If you want a more contemporary feel, we recommend looking into quartz. When the crushed stone is mixed with resin, it creates a durable surface with a high heat resistance. Otherwise, granite is still a top choice for homeowners.
Super Sinks: Selecting Your Ideal Sink
From stainless steel and copper undermount sinks that can give your kitchen a sleek, seamless appearance to white ceramic farmhouse sinks that remind you of days gone by, there are a wide variety of styles that match the feel you want for your kitchen.
Top Sink Materials
Stainless Steel: The heat and stain resistance of stainless steel makes it one of the most popular choices for many homeowners. It comes in nearly every style, size and shape imaginable. Mirror is one finish type, but brushed or satin finishes tend to be better at hiding scratches and marks from the water. There are also stainless steel sinks with sound-absorbing pads.
Granite Composite: These sinks come in a wide array of natural colors, but many people prefer dark browns, grays, and blacks for the ability hide dirt stains, water marks, and scratches. They have a high durability and low maintenance requirement to keep the sink functioning and looking nice.
Porcelain: While porcelain is becoming less popular in kitchens, it is still an option that many people appreciate for their sinks. It can have a tendency to chip with pointed or heavy objects, and may also discolor. However, it is less expensive than fireclay, which has a similar appearance. Porcelain is available in many colors.
Stone: Natural stone sinks are a beautiful compliment to natural stone countertops. For example, if you choose a soapstone countertop, consider a soapstone sink. While it's a soft stone that may need extra care, it's also got a higher level of stain resistance. Marble, slate, swanstone and sandstone are other natural stone options.
Other materials include enameled cast iron and fireclay, two solid, durable options for anyone who wants a white sink. Copper sinks are antimicrobial and rust-resistant.
The Best Sinks
Manufacturers are typically less important than size and material. Quartz and granite are two extremely durable materials that provide low maintenance requirements, but also also pricier.
For a budget-friendly, low-maintenance sink option, we recommend stainless steel.
Beautiful Backsplashes: Getting the Design of Your Dreams
Your backsplash is a way to add personality and color to your house. Whether you choose the simplicity of subway tiles, pops of color, rimmed in white, or an intricate design, your backsplash offers unlimited possibilities.
Top Backsplash Materials
Tile: Backsplashes made of tile remain one of the top-rated choices. Available in a variety of shapes and colors, you can evoke a number of feelings and atmospheres with the tile you choose. Some people like the clean lines of subway tiles, others prefer textured tiles. Round penny tiles, square tiles, or custom shapes and more bring you infinite options.
Glass: Etched or smooth panels, colorful tiles, and backlit pieces give you a clean, modern feel that can open up a room.
Wood: There are many ways to incorporate wood as a backsplash, from reclaimed and recycled wood to wood from your property. Some homeowners have used antique boat wood, which is already moisture-resistant and can be sanded down and refinished in any number of ways.
Tin: Formerly a popular option for ceilings, some homeowners have found they prefer tin backsplashes for their durability, beauty and reflective qualities that can make a small kitchen feel airy and open.
Stone: Natural stone, like limestone, river rock, sandstone, agate, caesarstone and marble, makes a great compliment to natural elements like stone countertops and wood cabinets.
Metals: Bronze and stainless steel can give kitchens a more modern vibe. Copper makes a beautiful patina when it coats ceramic tiles.
Other options: Mirrors tend to make small kitchens feel larger, and are available in many different finishes. Embossed concrete can create beautiful formal designs. Chalkboard paint can give a fun atmosphere to a family kitchen
The Best Backsplashes
This is a highly subjective choice — you'll know which you prefer, but we love the versatility of tile. Tile is colorful, durable and affordable.
Amazing Appliances: Modernize Your Kitchen
Plug In the Perfect Appliance
What would a kitchen be without the appliances? Stainless steel remains a favored choice, but new finishes like slate and glass are taking off as hardy, trendy options.
Refrigerator/Freezer: There are many different sizes and shape. Some units are side-by-side; others have the freezer at the top or the bottom of the unit. It's important to know exactly how much space you have available, since units come in many sizes, from counter-depth and full-depth to narrow or column-sized units.
Stovetop and Oven: Traditional, freestanding ovens and ranges are still popular options, but there are many homeowners who choose new options like electric, gas or induction cooktops with built-in single or double ovens.
Microwave: Microwaves typically come in three different options: countertop, over-the-range and built-in units. While countertop units are typically less expensive, they offer less in the way of being hidden by cabinetry, and may take up more counter space.
Garbage Disposal: A newer mainstay in kitchen remodels, continuous- and batch-feed garbage disposals are both eco-friendly options for non-compostable food scraps.
Where to Find Color Inspiration
Picking out the colors is like the icing on the cake. You've already chosen the flavor of your kitchen  — modern, farm and shabby-chic are popular options. You've selected the filling, or the cabinets, appliances, countertops and more. Now, make the outside as beautifully delicious as the inside by picking your paint and accent colors.
With a nearly infinite number of colors, though, it can be difficult figuring out where to start.
Pantone Colors of the Year
Since 2000, the company has pulled together a committee to scour the globe for colors that were showing up frequently, in fashion, street art, cars, cinema and more. Each December, the Pantone Color Institute releases its color choice for the next year, the Pantone color of the year; for the first time, the 2016 color of the year is actually two colors: serenity, a shade of pastel sky blue, and rose quartz, a pale pink.
Yes, we know, picking such a trendy color doesn't always lead to longevity, but if you love the color combination, it might be something you'd consider putting on your walls. Otherwise, the Pantone color of the year also makes an outstanding accent color.
Consult a Color Guide
Our on-staff designers can help you pick colors right up your alley. Whether you want a bright and airy yellow, a relaxing blue, or an intense marsala — last year's Pantone color of the year —  we can help you select the best colors for the mood and the environment you want to create in your kitchen.
One great resource is the Adobe color wheel, which lets you see hundreds of pre-designed color sets, and lets you play around to see how up to five different colors will look together.
Your Personal Taste
Trust your instincts. You'll be using this kitchen every day, multiple times. If you absolutely love a specific color, let us know and we will give you ideas about incorporating that color into your budget and products.
Chapter 5: Get Started Today
The Initial Consultation — What You Should Expect
When you meet with a contractor, it's important to select one from the beginning who understands that this is your kitchen, and needs to be functional for your needs. Some contractors may have the habit of coming in with preconceived ideas of what your kitchen should be, and are much better at talking than listening.
Select a contractor who wants to work with you to give you the best value. The first meeting should include crucial details that will set the tone for the rest of the process.
Your dream kitchen. A good contractor will want to hear about what you have in mind for your kitchen, including materials used, layout and what you're looking for.
Your dream budget. Rather than pushing certain products and prices, find a contractor who will keep your budget in mind, and will work with you to maximize your investment.
Your space: The contractor should, from the beginning, take measurements and inspect the plumbing, electric or structure in your kitchen.
Following the initial consultation, it's important that the contractor joins you to select the ideal components for your kitchen. Preparation of a suggested layout can help you make your final decision.
RWC Windows, Doors and More
Since 1959, RWC Windows, Doors and More has been family-owned and operated, and focused on bringing customers the best possible service. Our focus has always been on three areas of service.
Education: We want to make sure that you've got the knowledge to make the best possible decisions for your project. With more than 54 years serving New Jersey customers, we have a wealth of knowledge — and want to share it with you.
Products: Our 20,000-square-foot showroom and design center brings the best from the country's leading suppliers, offering products to fit all sizes of spaces and budgets. Contractors and homeowners have found that the life-sized samples allow them to find exactly the right piece for their project.
Service: Our professionals put your project at the top of their priority list. The contractor and designer assigned to your kitchen remodel will be there every step of the way to explain the process and make sure everyone is satisfied.
Cooking Up the Perfect Kitchen — We're Here to Help
When you're ready to move your kitchen remodeling project to the front burner, we are here to help. Like a top chef, we prepare everything precisely to your standards, starting with an initial design consultation when our design and project management staff members schedule an appointment at your home. We'll sit down and learn about your wish list, a basic budget, and will tell you about the construction process and timeline. After our consultation, we'll also take measurements and pictures, and will look at structural, plumbing or electrical issues that might play into the final design and layout.
We'll then meet up at our in-house design center, where you'll choose your products. Your designer will walk you through the process to help you make sound decisions for both the construction process and your overall budget. Your designer will then give you a three-dimensional color drawing of your kitchen, we review and sign the product contract, and then serve you up the kitchen of your dreams.
If you've been cooking up plans for a new kitchen for a while, call RWC Windows, Doors and More today. We're excited to work with you to bring your vision to life.