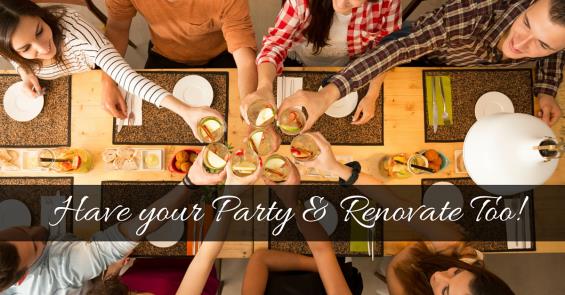 Your kitchen may be missing some vital cooking components due to your current kitchen renovation, but that doesn't mean that the party has to stop. You can still host a killer game night, party, or other fun gathering. Hosting during a renovation just means that you have to find the right snacks that will not require you to use a microwave or oven, while keeping your guests in the living room rather than the kitchen.
Takeout is an attractive answer for party hosting, but that bill can get rather pricey with having to buy food for all potential gests. Takeout is not the only answer to your food woes. These fun recipes might just help you to keep your guests fed while keeping your party bills low.
Cheese Spread
Picking the right cheese spread and crackers for your get together can be easy with all of the amazing cheeses offered by your local grocery store. Go with a traditional cheddar cheese ball and townhouse crackers, or go wild with something more exotic. Dress it up by adding different flavors or textures to your cheese spread offerings. One fun combination is taking a log or brick of goat cheese and adding your favorite jam for that little extra zing. Add some gourmet crackers, and your guests will not even know that you were worried about what to serve without the full use of your kitchen.
Prepare a Charcuterie Board
Charcuterie boards are all the rage at parties and are a great way to skip using kitchen appliances. It may sound difficult, but it is basically a meat tray. You will want to find some tasty cured meats, add some breads, jams, and spreads, and you're good to go. Some meats to think about using for your board include cured sausages, pate´, whole muscle cuts, and lard, such as fatback, that you thinly slice. Add some homemade bread, toast or crackers to go along with these meats. The jams and spreads will work well in conjunction with the high salt content of the meats, and will be a nice contrast in taste.
Tart little pickles are another great add-on for your charcuterie board. Don't forget some artisanal cheeses as well. Be creative when finding your pairings to see what will taste great together. Put your choices out on a cute cutting board for that perfect effect.
Prosciutto, Melon, and Mozzarella Skewers
Mix some sweet and savory with this easy recipe for skewers. You will just need to take a melon, like a cantaloupe, and create little melon balls. You will want to use lemon or lime juice to help keep these looking their best. Wrap a piece of prosciutto around the melon and put it on the little sword skewer or toothpick, and then add a mozzarella ball to the end of it. Arrange these in a pretty pattern on your serving dish, and you're ready to go.
Hummus Dip with Pitas
Guests that are looking for ways to eat healthy will love this option, as chickpeas are very healthy. You can find commercially produced hummus or mix up a quick batch of your own. Add chickpeas, tomato, garlic, water, salt and pepper to a blender and mix it up into a smooth paste. Once everything is mixed well, put the hummus in a bowl. Then, cut up some pitas and serve.
Some people may prefer their pitas to be more like chips. Since you don't have access to your stovetop, it may be easier to pick up already crisped pitas, but soft ones are just as delicious with your hummus.
Peanut Butter Pie
Don't forget dessert! Your guests will love this no-cook peanut butter pie that you can make without the use of your kitchen. You will need peanut butter, powdered sugar, sweetened condensed milk, cream cheese, whipped topping, pre-made crusts, and chocolate syrup for a topping. Graham cracker crusts work well for this type of recipe. You will combine the peanut butter, sugar, condensed milk, cream cheese, and whipped topping. Then, pour it into the crust. Add some chocolate syrup to the top of it, and you're ready to wow your guests.
Achieving your dream of having the perfect kitchen in your home doesn't mean that you will have to put your life on hold during the renovation. You can still have amazing parties with food that your guests will love with some careful prep and planning. You may still have to get takeout if you are planning on offering a big meal, but remember that there are plenty of recipes out there that can be used to supplement your food choices to limit the amount of food you need to order.
Alternatively, you can choose to go the potluck route. Have your guests bring in some of their favorite dishes to add variety while you provide the snacks.
Contact us at RWC at 973-227-7123 today to talk about how we can help you get the perfect kitchen for your needs.