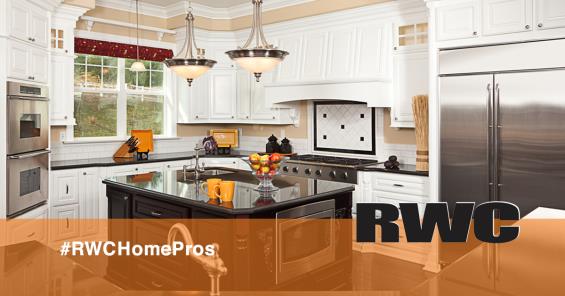 "Out with the old" is a common saying for the new year, but it rings hollow if you find yourself looking at old appliances, floors, and countertops. Instead of trying to feel fresh with old things, how about you give your home something new that you will love? Renovate your kitchen by getting rid of your old things and replacing them with newer more efficient stuff:
1. Appliances
Most types of appliances have good durability, but that doesn't mean that you really want to keep them forever. Their finishes get worn out, their styles can become dated, and sometimes, the ones you have just no longer suit your needs. If any of these things are true, it's time to get rid of your old equipment.
The range/oven is a good start for replacement in many cases. Exposure to years of heat and grease can really destroy the look, and it is one of the most style-sensitive large appliances as well. Not only is the style important, but the size is an important factor to consider. If you have ever spent the holidays fighting to get a roast and all of the fixings to fit inside your oven, change it now so you won't have to deal with that problem again.
2. Lighting
You don't have to want fancy lighting to want a change from what you currently have. If your kitchen has shadowy spots or areas of glare, consider getting new fixtures to lighten up the area. Of course, once you decide to change the lighting, it is always good idea to check out your options on the upscale side. Lighting doesn't have to be basic and you can make it unique to your home.
3. Countertops & Backsplashes
These two elements work together, so they should be considered at the same time. This helps to ensure that they look great as a unit.
Granite is still king when it comes to a good grade countertop. The rock itself is extremely durable, and the modern finishes are tough enough to stand up to actually being used. Some care is needed for the finish, but it's nothing too onerous. However, the beauty of the granite is what makes people really love this material for countertops and tiles.
One of the best ways to ensure that the backsplash will look as good as the counter is to have the backsplash made of the same material. This maintains the overall look and feel of the area and allows it to match perfectly.
4. Sinks
Kitchen sinks are typically placed within the countertop, but they're not limited to this position. They can also go in kitchen islands, bar counters, and other such places. The sink itself can be the popular stainless steel, which won't discolor when used to soak dishes and can also stand up to scouring and disinfecting. What you really need to pay attention to is the faucet, this fixture often makes the difference between a basic sink and one that is very impressive.
5. Cabinets
Most people first decide to get new cabinets when their old ones look worn. However, this isn't the only reason to replace them. Say "out with the old" to cabinets that are too small, have poor shelving design, and ones that otherwise don't fit your needs.
When choosing cabinets, remember that there is a wide variety of placement options for them. They can go up on the wall, under the counter, or even within kitchen islands. Some of these places, especially the islands, may look better with a different style of cabinets than the ones that are used for the rest of the room.
6. Flooring
The floor is one of the kitchen's most prominent areas, and as such, it should be treated as a true design element. Choose a pattern that looks great, is waterproof, and that won't be dated next year. Then you'll be able to enjoy it for years to come.
Renovate With RWC
Whether you want to bring in a single new element, update a few, or do a complete renovation, our designers can create the perfect plan for your kitchen. Just contact us here at RWC in West Caldwell, NJ, for that new design or for installation of your choices.