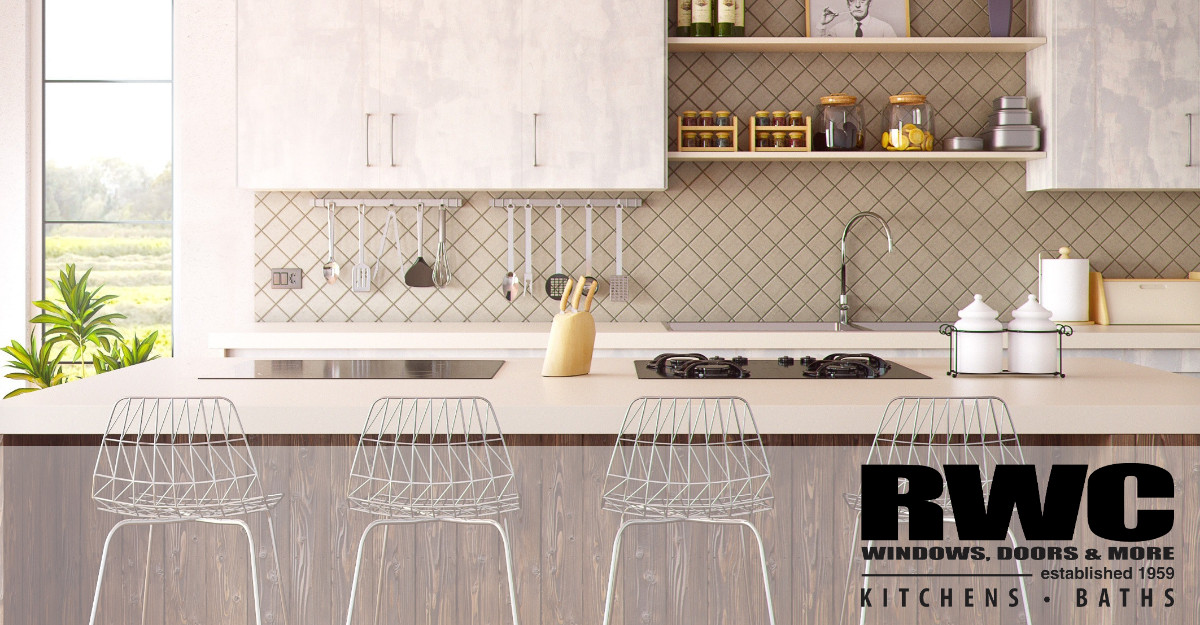 With each new year, kitchen and bathroom designers will take advantage of new materials, new colors, and new interior styles that keep homes looking fresh and modern. The current 2019 kitchen trends include fixtures with a vintage vibe, open shelving, and contrasting textures to create layers of visual glamour. But the newest kitchen trends 2020 will feature a more unified look that is minimalist, tidy, and embraces clean-lines and muted tones.
Kitchen Color Trends 2020
The first step in laying out a kitchen renovation involves choosing a color palette that fits the family's style and supports the personality of the new interior. Your color schemes will encompass not just the floors and walls, but also your countertop material selection, cabinetry, backsplash, and window treatments. Current kitchen color trends are highlighting color pop or unexpected paint and color pairings.
The idea with color pop is to keep with the warmer colors for your kitchen finishes, but add an interesting color element such as painting your island base a deep blue or emerald green, choosing red appliances instead of stainless steel, or pairing white painted accents with wooden cabinetry. Hints of color can be added with brightly upholstered bar stools, a colorful backsplash, or a contrasting ceiling color.
White is a classic kitchen color, but adding color pop from the many tones and hues of green will be trending in 2020. Also consider shades of turquoise, avocado, or lemon.
2020 Kitchen Cabinet Trends
The best way to invigorate your kitchen is with a kitchen cabinet replacement project. If you have a tight kitchen renovation budget, you can always repaint dark brown cabinets and replace the hardware with hidden handles, handle cut-outs, or low-profile handles. For a minimalist look, and for homeowners that don't like an accumulation of stuff, glass cabinets are trending. This look increases a kitchen's simplicity and encourages order.
Current kitchen trends are also taking advantage of sustainable materials like bamboo or repurposed materials. Vintage plank timber are being used to create custom kitchen hutches and unique shelving solutions. But, it is bamboo that offers striking kitchen cabinet options for a fresh and contemporary kitchen. The material is moderately expensive, has a beautiful natural hue, and is a very durable and hard wood choice.
Warm and nuanced finishes like brushed gold, soapstone, and granite, are more popular for 2020 over dark or highly polished finishes.
The Double Island Takes Center Stage
Installing a kitchen island with a natural stone countertop is still one of the most popular kitchen trends that will last. Since kitchens are becoming larger and provide a gathering space for family and friends, the double island is a great way to use of floor real estate for a good use. Double kitchen islands can be of different shapes or sizes, space apart – or it can be two identical islands next to each other. Use your double island to cook large meals, entertain guests, or serve double-purpose for homework, office work, and game night.
Larders are Must-Have
Our final kitchen trend to look for in 2020 is homes that have created space to install a larder – a standalone cupboard that stays cooler to store staples and keep food fresher, for longer. Historically, basement areas would hold the homeowners excess canned and jarred goods. This transitioned into kitchen storage cabinets, and today homeowners are installing a full-height, larder to reduce kitchen cabinets without losing storage capacity.
Larger families may consider a walk-in larder, which is similar to a walk-in clothes closet. With the popularity of bulk grocery shopping to save money, a larder can be a great investment. Partner with a professional kitchen design and installation service to create your one-of-a-kind larder that can also be used to store wines, cheese, cookbooks, and oversized pots.
Take-Aways
Kitchen cabinet trends to avoid
The white 'shaker'-style door cabinets

Highly polished and reflective surfaces

Open shelving – choose glass cabinets instead
Kitchen cabinet trends that will last
Muted, natural stone countertops

Large kitchens for family and entertaining

Pops of color with appliances, backsplash, or accent painting
For all your 2020 kitchen remodeling ideas, choose RWC Windows, Doors, and More as your one-stop solution serving West Caldwell NJ.