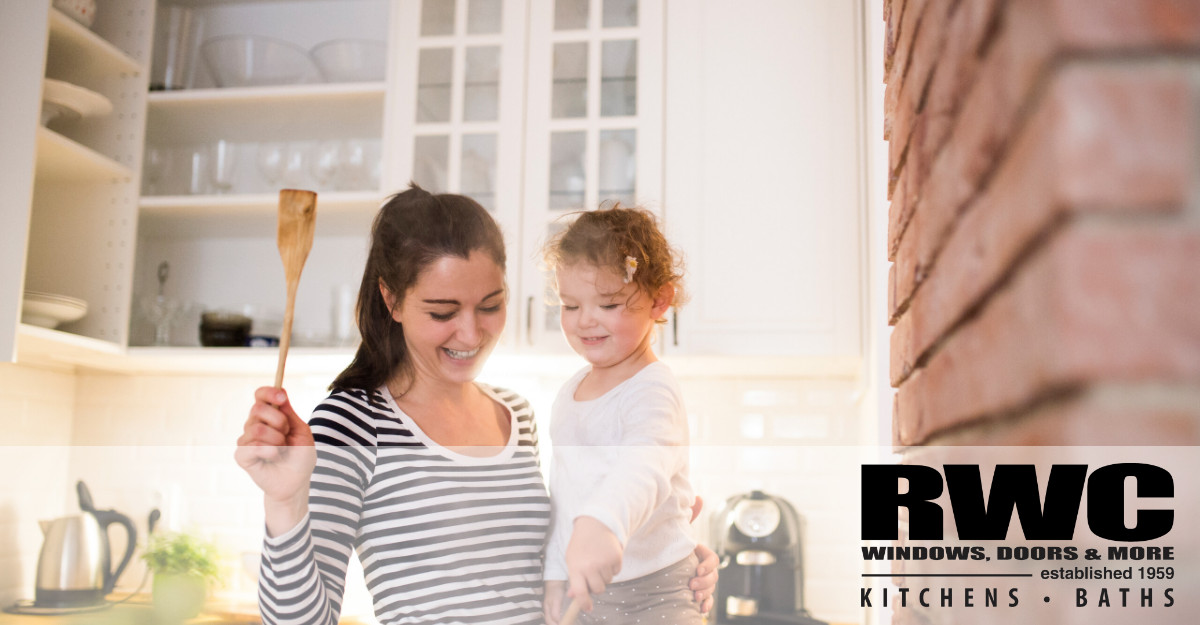 Today's modern and highly efficient kitchens have moved far from what our great-grandmothers would have experienced. A 1920s kitchen did enjoy the benefit of being connected to a municipal water system and natural gas lines, but most homes didn't have a refrigerator or closed cabinetry. An insulated ice box for perishables and pantry shelves for staples were the norm. Here, we will examine a timeline of industrial age innovations by viewing kitchens through time.
Before we take a look at kitchen trends over the last 60 years, here are some kitchen trends to avoid 2019, according to design experts:
Too much white is out – while colorful backsplashes are back in.

Instead of marble or granite countertops, opt for concrete or quartz.

Stainless steel appliances are too hard to keep clean, while black stainless is trending.

Instead of open spaces, blend the kitchen with the home using glass door panels.
Now, let's dive into the kitchen trends of the past!

The Colorful 1960s Kitchen
The 60s were a time of freedom and liberation. Women wanted brighter kitchens in fun shades of green, yellow, or blue. Floral wallpaper in the kitchen was considered suburban-chic and open space for entertaining friends in the kitchen became popular. A side-by-side refrigerator inset into the cabinets and an electric countertop mixer would have topped the wishlist of a 1960s homemaker.
A Relaxed 1970s Kitchen
The 1970s saw well-planned kitchens that were sleeker and more relaxed than the 60s – with white walls and neutral flooring. Warm woods replaced painted steel as the material of the day. A modern, high-end 1970s kitchen would have the oven built-into the wall, the countertops would be laminated, and the avocado green or harvest yellow appliances would add flair and distinction to the kitchen decor.
1980s The Cook's Kitchen
This was not only the age of Rock-and-Roll, but also of European contemporary styled kitchens in American homes. A 1980s kitchen would be efficient with oversized seating nooks and hanging pot racks integrated with the light fixtures. Creatively decorated backsplash tile would highlight the heavy wood cabinets, but the trend of watching celebrity TV cooking shows demanded a variety of kitchen gadgets, cookbook shelves, wine racks, and Cuisinearts.
Spacious Kitchens of the 1990s
With the rise of the Internet, the 1990s saw kitchen styles double as entertainment centers with massive, open-spaces and oversized island benches. This was also the time when double door refrigerators and other state-of-the-art appliances were especially popular. Colored Formica countertops were paired with oak cabinetry, while vinyl flooring made kitchen clean-up fast. You could expect to see a bread maker, a George Forman Grille, and a halogen countertop cooker grace the kitchens of a 1990s family.
2000s and the Modern Kitchen
The turn-of-the century kitchens benefited from a widest range of new materials, new products, and new ideas more than any other decade. Cooks enjoyed countertop Sous Vide machines, electric steamers and juicers that were inexpensive as well as decorative. We saw the introduction of the polished concrete floor, a variety of architectural materials including marble, wood, copper, brass, and stone, along with skylights, large picture windows in the kitchen, and creative tile backsplash options.
Kitchen Trends 2019
Today, kitchen trends run the gamut of contemporary, modern, and traditional design styles that include gutting out the existing kitchen and replacing it with the gourmet kitchen of your dreams. Darker stone countertops are replacing the highly polished or creme color options, walls of vertical storage allow a place for everything, and today's appliances are often beautiful statement pieces that are integrated with the home's smart automation systems. Other 2019 kitchen trends include linear lighting (pendant hanging), antique fixtures manufactured with gunmetal, pewter, or brass patina. Finally, homeowners today are more open to mixing styles, like adding a touch of vintage furnishings in a contemporary setting, or a throw-back color scheme from the 1960s brightening an ultra-modern or industrial look.
Kitchen Trend Take-Aways
A 1960s kitchen is cheerful with cabinets brightly painted and appliances that matched.

Natural wood was plentiful in a 1970s kitchen, but the trend was to use non-matching colors and patterns.

In the 1980s, it was all about competitive cooking in the kitchen with the latest electric countertop appliances.

The 1990s introduced the kitchen as an entertainment area with lots of open space and plenty of seating

The 2000s saw induction cooktops and high-speed ovens introduce a new level of kitchen efficiency.

Today's contemporary kitchens are refreshing, minimalist – but packed with design style and innovative materials.
Rigid kitchen styles and steadfast design rules are no longer the norm. Contact the RWC kitchen design and installation experts to add a bit of retro class from any decade of kitchen interior design style.