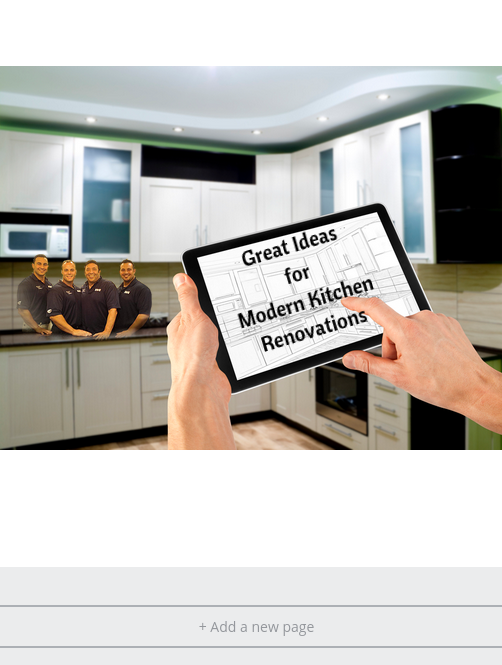 There's no doubting that the kitchen is the most used room in a house. Everyone gathers there for meals, busy parents prepare meals there, and for some reason, during parties, it's where crowds love to congregate and socialize. The kitchen gets so much use, so it's easy for it to get stale over time. When that happens, a new kitchen renovation can be the answer to any homeowner's dreams. Creating an updated, modern kitchen can be fun and exciting, but many people aren't sure where to start with such a large project. Here are some ideas to get your creative juices flowing.
White kitchens are currently all the rage. Although many people associate the color white with starkness and boredom, a white kitchen with just the right accents exudes subtle class and style. In order to achieve this look, choose white cabinetry with brushed silver hardware. A large island in the center of an open-design kitchen should have a white countertop made of a higher-end material such as quartz. But, the bottom of it should bring a pop of color to the room. Try choosing a distressed shade in the color palette with which you chose. Use shades of that same accent color on the walls as well. Finally, make sure the light fixtures are all pure white. The white counters and cabinets will stand out, and the soft pops of color will give just the right amount of personality to the room.
No-nonsense Whimsy
For those looking for a kitchen with a little more oomph than a white kitchen, dark wood grain cabinetry is timeless and never goes out of style. Choose updated, sleek hardware to complement the cabinets. Stainless steel appliances provide a professional, no-nonsense look. Add some color to the kitchen by choosing brightly colored tiles for the backsplash. Choosing a bright chartreuse shows visitors that although you're serious about your cooking, you have a fun side, too.
It's all about the Backsplash
If you're trying to be more budget conscious and sticking with your old oak cabinets and granite countertops, treat yourself to a new, modern kitchen faucet. Faucets have come a long way in the past few years. Pick something bold, but still functional.  It's quite likely that the backsplash is the decorating feature you can have the most fun with. Feel free to go crazy with it. Choose medium-sized tiles in an array of colors. You can choose two or three shades of the same color and one contrasting color that makes a bold statement. Then, have them arranged however you like, to create your own unique statement.
Modern chic
For an edgier look, go ultra-modern in the kitchen; have a breakfast bar fashioned in the middle of the kitchen. Choose a sturdy granite or quartz top that provides plenty of room, plus a water source on one side. On the outside, place some bar stools. Try some with a triangular leg stand and a copper seat, to offset the more neutral tones in the rest of the kitchen. Go with light colored tiles that give the appearance of brick and top it off with some open shelving to house everyday items that will need to be reached for often.
Let there be Light
It has likely never been said that a kitchen had too much light. It's always a good idea to bring more light into a kitchen. One way to do so is by utilizing the space overhead. If there aren't rooms over the kitchen, consider having some beautiful skylights installed. No matter the size or shape of the kitchen, bringing in extra light from above will always improve the space. Choose some modern, updated designs with several shorter windows separated by wooden beams.
Good things come in small packages
Homeowners who have smaller kitchens are not exempt from having an updated and modern kitchen. The key to updating a small kitchen is to use light colors and finding creative ways to make space. Smaller kitchens are the perfect location for white or light wood cabinetry. Also, using open shelving at the end of a breakfast bar can create the perfect nook to house cookbooks. Consider having a peninsula installed, since having a large island is likely out of the question. Installing glass-front cabinetry can give the illusion of space, plus it's a nice way to highlight beautiful china.
Kitchens come in all shapes and sizes. Updating and modernizing kitchens isn't confined to any particular type or style of kitchen.
Homeowners in New Jersey who are looking to give their kitchen a facelift, should contact RWC. Our helpful staff can help give you the kitchen you've been dreaming of. We've been relieving home improvement stress since 1959!