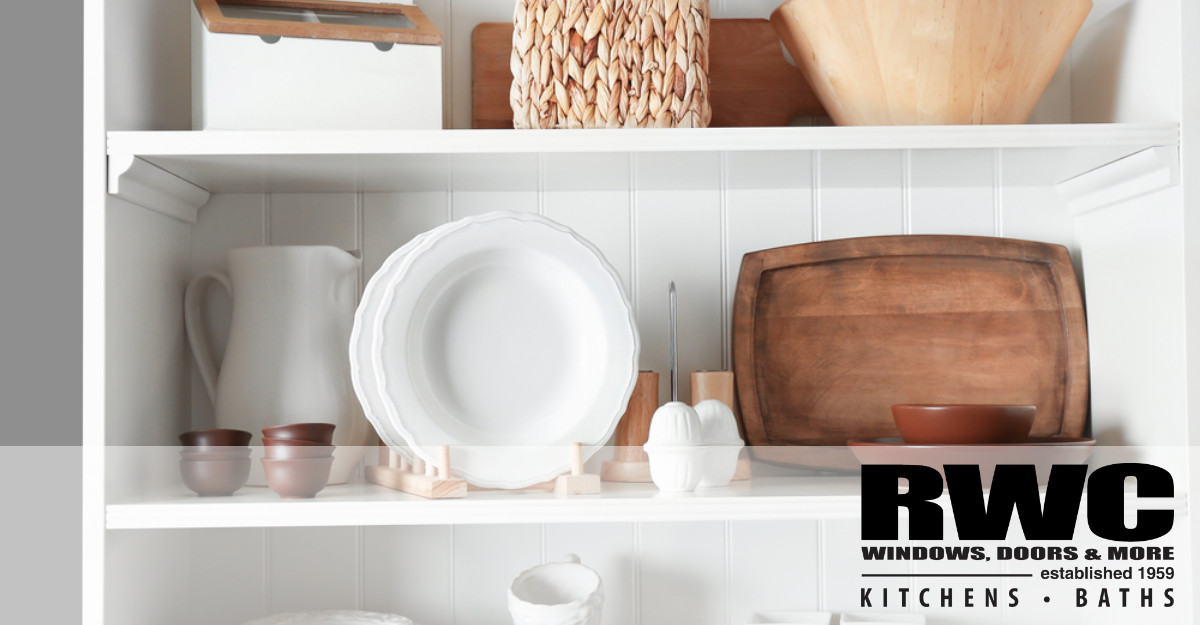 Open shelving has become a popular kitchen design trend in remodeling. The concept allows you to keep your most used items within easy reach or conveniently store everyday cookware. There are no fast rules on how to use your open shelving display. Cookbooks, everyday dishes, elegant stemware, spices, herb plants, delicate China, and unique kitchen decor are all made more special when neatly arranged in the open – on sturdy shelves without framing or a door. A few types of open shelving styles include:
Floating Shelves – feature hidden support braces; shelves look as if they are floating on the wall
Hanging Shelves – will hang by rope or other method attached to ceiling supports
Divider Shelves – are mounted between the ceiling and a lower surface
Freestanding Shelves – glass, wood, and metal shelf systems purchased as a unit
Cubby Shelves – small shelves recessed into the wall or corner mounted units
The Kitchen Open Shelving Trend

History of
Open Shelving
Open shelving is not a new concept. Before cabinetry was made affordable, kitchens made room for items wherever there was empty space. A shelf or two could be placed over the kitchen sink and along the walls for quick access to pots, pans, and dishes. Prior to the 1920s, large and small homes would have a small area set off from the kitchen to serve as a food pantry. Rows of open shelves would hold canned or jarred fruits and vegetables along with bags of stock items, such as flour and sugar.
Mid-century homes, dating from 1930 to 1960, also saw a rise in kitchens with hanging open shelves. This is where pots and pans were stored for easy access, and often also as a display of the cook's pride and joy. Today, open shelves are making a dramatic comeback with open shelves being used in many different ways to keep the kitchen space open and airy.
Open Shelving Display
Styles
Open Shelving as a Divider – Open shelves can be mounted above a kitchen breakfast bar to act as both a room divider and storage space. After children have left the home, some homeowners repurpose the breakfast bar to serve as a display area for exquisite serving ware which is often oversized and hard to place in standard cabinets.
Kitchen Minimalist Decor – The modern kitchen is efficient and streamlined. Heavy, closed cabinets stuffed to the brim are the opposite of everything associated with a minimalist decor. If you are upgrading your kitchen to a modern decor, keep closed cabinets below countertop height and consider replacing above cabinet storage space with open shelving.
Reduce Clutter – Open shelves will likely force you to purge your kitchen, or at least find unique ways to store those kitchen items that are rarely used. Let's face it, it is much easier to keep years of accumulated kitchen items if they are hidden away in closed cabinets. Open shelving is one way to reduce kitchen clutter and keep only those things that are truly useful or beautiful – and put them on display for a creative solution to drab kitchens.
Hanging Heavy Duty Open Shelves
For kitchen renovations, you will find many big box products for open kitchen shelving, but beware of installing these shelves yourself. If they are not properly installed and attached to a wall stud or beam, the cantilever weight can bring down the entire shelf and rip the drywall out in the process.
The point of attachment for open shelving must be accurately spaced and absolutely level, for obvious reasons. The right type of anchoring bolts must be used to prevent the shelves from pulling away with increased weight. It's best to have a professional install these shelves to preserve what is placed on them and protect the integrity of your kitchen walls and ceiling.

Takeaways
Open shelves are perfect for storing extra pots and pans, displaying your treasured kitchen gourmet items, or creating an attractive spice display

Open shelves can be an artistic way to decorate and stay organized

Kitchens with open shelves are brighter and lighter
RWC provides bathroom and kitchen remodeling, including design along with door installation and window replacement to homeowners in northern New Jersey. Contact us today to start planning your project.