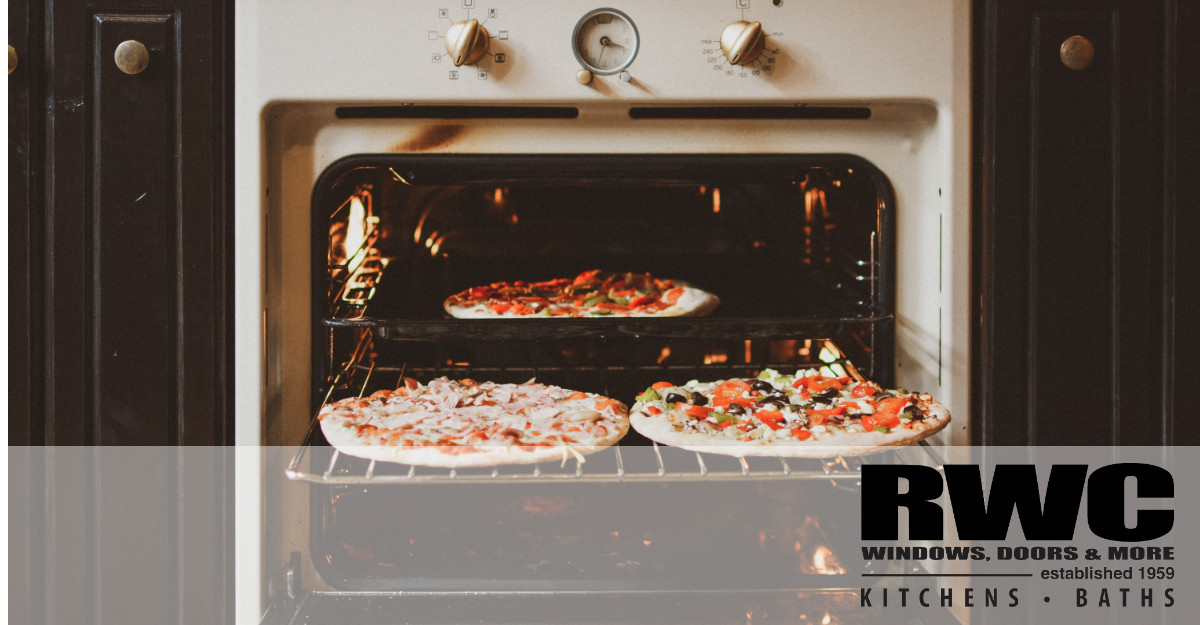 Have you been assessing your kitchen appliance budget recently? If you're wondering how to choose kitchen appliances that are ideal for your home interior, you might feel stuck between price, brand, quality, and size. These four attributes can make a major difference when you're choosing kitchen appliances, but some elements are more important than others. With this in mind, explore the best appliances in 2020 for your kitchen (and what you need to consider before you make a purchase) with our kitchen infographic below!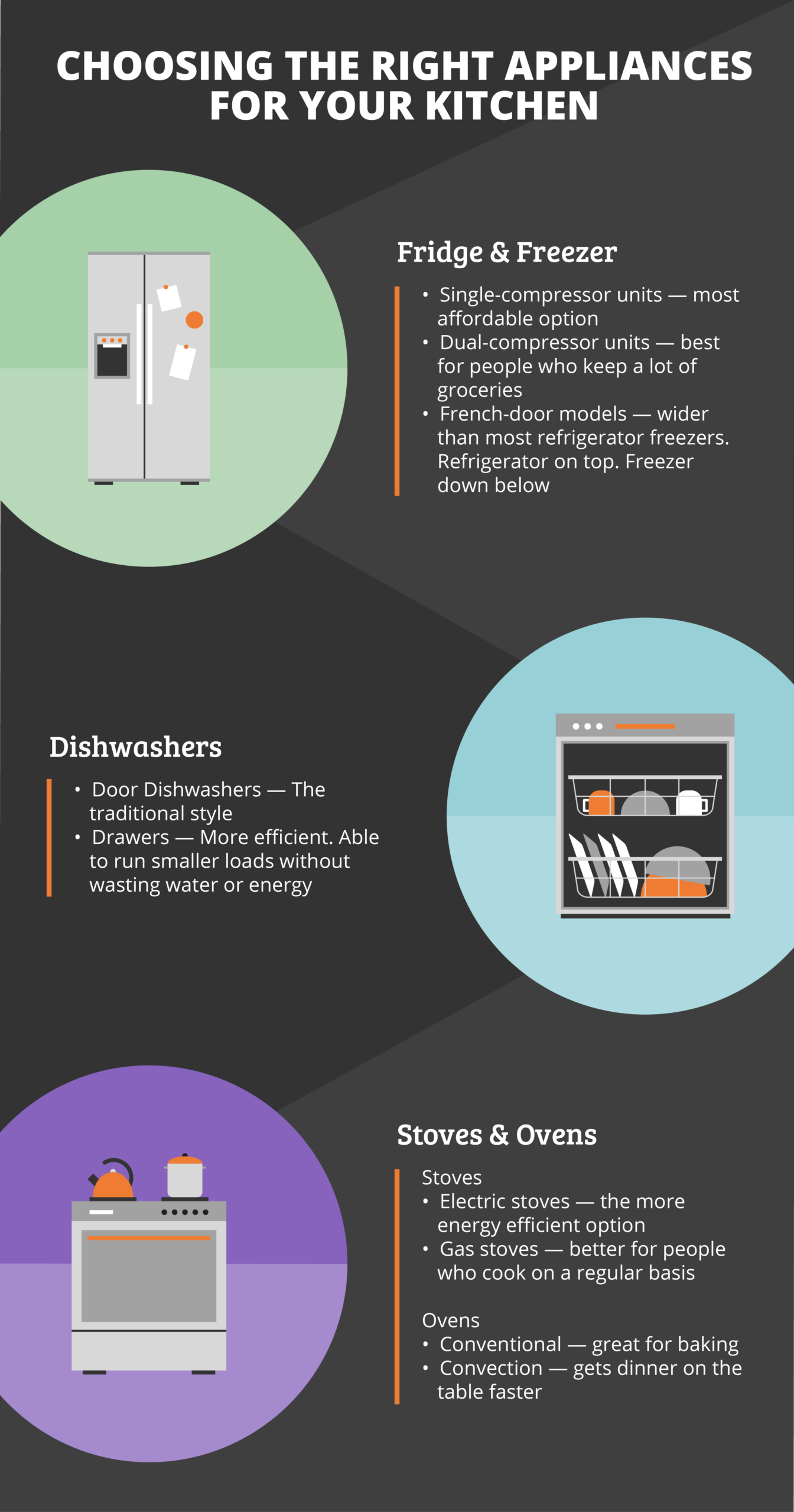 Fridge & Freezer
Do you keep a lot of groceries, or do you only buy food when you're ready to cook? This could be the determining factor for many different questions you'll need to answer when you're shopping for a refrigerator and freezer.
Dual-compressor units

are best for people who keep a lot of groceries. Although these units cost more, they're more likely to keep food fresh longer.

Single-compressor units

are the most affordable option.

French-door models

are a very popular styling decision, as are French-door refrigerators (on top) with freezers down below. Both of these modern kitchen ideas tend to be wider than refrigerator-freezers that only have one door for each unit. The most costly options have completely separate refrigerator and freezer areas. Be sure to measure your space before you go shopping! You don't want to fall in love with a model that won't fit in your space.

Water & ice dispensing

can come with or without water purification. The units that offer purification are more expensive than those that don't offer this feature, but they're also more in-line with what shoppers are looking for these days.
Dishwashers
If you're tired of doing your dishes by hand—or if you simply don't want to be forced into this habit—dishwashers can be a lifesaver. 
Doors versus drawers.

Traditional dishwasher doors are still the most popular, but dishwasher drawers are becoming more common because they're more efficient and can handle smaller loads without wasting water or energy.

Kitchen versus elsewhere.

if you're installing a dishwasher in your kitchen, you'll probably want a full-size unit, up to the space you have in your kitchen, of course. In bars, basements, and other places where you might be doing dishes, consider installing an economy-sized dishwasher to handle your glassware.

Size

. As with all other major appliances, make sure you've measured your space before you go shopping. Dishwashers won't leave a lot of wiggle room once you get it home, so you want to make sure it fits right the first time.
Stoves & Ovens
Whether you cook all the time, or just a few times a year, your stove and oven will be your best friends in the kitchen—but only if you're choosing appliances wisely.
Gas, electric, or induction?

The choice is personal, but many people who cook on a regular basis prefer gas. That is, of course, if their homes or condos can accept gas hookups. Gas loses about 40% of the heat when it goes from the burner to the pan, however, which is something to take into consideration. Induction burners, on the other hand, lose the least amount of heat of all the options, making them the most efficient.

Gas Ranges: BTUs.

If you're shopping for gas ranges, talk to the salesperson about the BTUs of the ranges you're interested in. Chef-quality ranges start at around 9,200 BTUs and go up from there, but you may not need that much power if you're just cooking for your family.

Gas Ranges: Flame.

Ask how long you can maintain a simmer without the flame going out.

Ovens: Conventional or Convection?

Convection ovens circulate heat with a fan, enabling food to cook more evenly so you can get dinner on the table faster. They're not always great for baking, though. If you do a lot of baking, you might want to stick with a conventional oven. Pricier models will enable you to enjoy the best of both worlds, either side-by-side or stacked on top of one another.
Are you renovating or remodeling your home in New Jersey? If so, our team of modern kitchen remodeling experts at RWC Windows Doors & More will be happy to help you pick the best kitchen appliances for your money. Reach out to us so you can tap into our expertise and love for all things home-related, we have over 60 years of experience with kitchen remodeling in NJ!