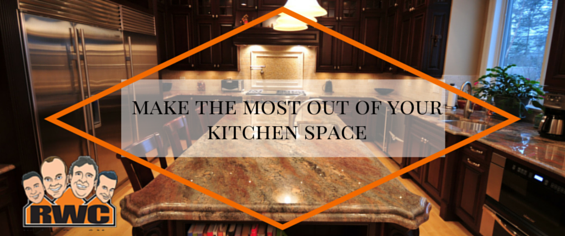 A kitchen can be made or broken by its functionality. Homeowners who do not make good use of the space they have in the kitchen are doomed to be frustrated by it every day. Read below to discover some great ways to make the most of your kitchen space, regardless of its size.
The corners in a kitchen can easily become wasted space. Corners can also provide solutions for creating usable space. Some ways to make corners work for you include:
Corner sinks are great ideas, especially in smaller kitchens. Corner sinks free up counter space while improving the aesthetics of the whole room.

A corner range can help save space.

Installing floating shelves can create extra storage space.

Creating a corner pantry can turn a previously unused corner into a space that is used every day.

Creating a corner eating area can freshen up an unused corner.

Corners are also great places to add some odd-shaped storage options. There are several cabinets that are specifically designed for corner spaces.
Don't discount using the ceiling to create space in a kitchen. Hanging a pot rack can open up lots of cabinet space that can be used for other items. Hanging a pot rack will put your most-used pots and pans where they are easily accessible, which will save time as well as space. Also, using a pot rack will make it easy to see the cooking vessels, so it is easy to find just the right tool for whatever job needs to be done.
One of the biggest complaints people have about their kitchens is a lack of storage space. Solve that issue by not storing serving pieces. Save the cabinet space for cookware, bakeware, and items that need to be stowed away. But, keep your beautiful serving pieces out in the open where they can be enjoyed by everyone. Cookbooks can be displayed as well. Also, add a few green plants to the area to add some color and visual interest.
4. Use the inside doors of cabinets
Part of utilizing the space in a kitchen in the best possible way is to think outside the box. The inside of a cabinet door can provide the backdrop for many helpful tricks to better utilize kitchen space.
Attach a corkboard or magnetic board to the inside of a cabinet to create a place to hang messages or grocery lists.

Attach a few wooden strips with some hooks to store measuring cups.

Attach a chalkboard for writing reminders, measuring equivalents, or even recipes.

Attach a pegboard to hang kitchen utensils or pots and pans.
5. Install rolling shelves
The backs of cabinets can be scary places where kitchen paraphernalia of all kinds go to get lost. Installing some simple rolling shelves can solve that problem. Rolling shelves are easy to find at big box stores and are fairly easy to install. This type of shelving is great because they sit on casters that fit into tracks. Since the shelves roll out, even the stuff that is stored way in the back of the cabinet can be brought to the forefront when it is needed.
Walls are another overlooked space in the kitchen. Take a look at spaces that look wasted or unusable. Install some shelves in those spaces and use it to store objects such as glasses or use them to display vases or pretty serving ware. You will beautify the space as well as gain additional cabinet space.
7. Use hooks
It is amazing how helpful hooks can be. Simply installing hooks can create a lot of space that would otherwise be lost. Hooks can house plastic or metal baskets that can be used to hold small but necessary items such as sponges or spices. Cleverly hidden hooks that are placed on the inside of the cabinet beneath the sink can store dishwashing gloves. Larger hooks can be used to hang spoons and spatulas. Hooks are easy to install, too.  Some hooks require a small screw to hang it on the wall, but many just adhere to a surface by exposing a sticky strip on its back.
8. Make the island work for you
Islands are great additions to a kitchen. They provide extra counter space, which can be a saving grace in many kitchens. However, islands can do so much more. Islands that include a sink provide an extra water source in the kitchen. Islands can also be used for storing cookbooks or other items that need to be used in the kitchen.
A kitchen that makes good use of its space can be a homeowner's dream.
If you are in the West Caldwell, New Jersey area and need help making optimal use of your kitchen space, contact RWC to find out how we can help you.