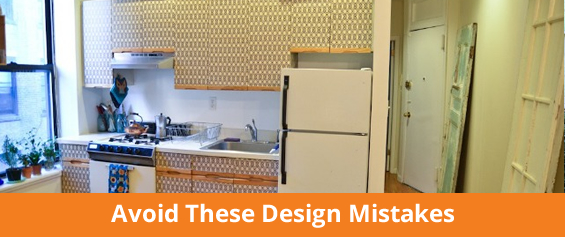 A well-designed kitchen can be the perfect cornerstone to a well-designed home. The more you love your kitchen, the more time you will want to spend there. This can lead to more home cooked meals, more family bonding, better health, and a general positive impact on your life.  But, when redesigning your kitchen, there are lots of ways that things can go wrong. If you aren't careful, your dream kitchen redesign project can turn into a nightmare, costing you a fortune or resulting in a less inviting kitchen than you started with.
If the anxiety of tackling a kitchen redesign has you worried about getting started, you aren't alone.  But, all of the common mistakes you can make in your kitchen redesign can be avoided with a little foresight and planning.  Here are the top five kitchen redesign mistakes, and how to avoid them.
1.  Planning as You Go
Think about all of the functional elements in a nice kitchen.  Countertops and storage space take up a lot of room, but let you utilize your kitchen effectively.  Dishwashers and high-end refrigerators will give you modern convenience, but at premium dollar for top models. The little details, from small appliances to appropriate decor, all make a huge difference.  With all of these variables and factors in play, one of the worst mistakes you can make in a kitchen redesign is planning as you go.  To avoid this mistake, take a lot more time than you think you need laying out a very detailed plan for what you want your kitchen to look like.
2.  Forgetting the Golden Triangle
The "Golden Triangle" is an element of kitchen design to help you be very strategic in the layout of the elements of your kitchen that you will use the most; your sink, stove and refrigerator.  When redesigning your kitchen, think about how these three parts of the room will work together.  Make sure that you can access your sink while someone else is at the stove, to allow for multiple users.  And, make sure that your refrigerator door will be able to be reached quickly from your stove top, so you can get to supplies with minimal effort.  Forgetting about the "Golden Triangle," and not being intentional about how you lay out these three key kitchen elements, is a mistake you will most likely regret every time you cook.
3.  Skipping a Consultation
If you don't have the time and energy to invest into your kitchen redesign as a DIY project, there's nothing wrong with that at all.  Kitchens have a lot of moving parts that all have to work together perfectly, and since you use your kitchen so often, it's a project that has to get done quickly as well as effectively.  Keep in mind that any good contractor or interior designer should provide you with the opportunity for an in-person kitchen redesign consultation to talk about your goals for the space and your budget.  If you skip an in-person consultation, there's no way you can be sure that you and your hired help have a similar vision in mind for your kitchen space – which is a mistake that will cost you a whole lot of money to repair down the road.
4.  Opting for Bright and Catchy Flooring
Kitchens are the perfect place in your home to express creativity with flashy colors and designs. A bright and vibrant kitchen color scheme will make your food prep feel more fun and cheerful.  But, keep the bright colors on the walls: one of the biggest mistakes you can make in redesigning a kitchen's color scheme is opting for colorful flooring.  That's because no matter how beautiful and vibrant your bright white or yellow floor tiling looks today, kitchens must contend with constant spills, high foot traffic, and a lot of other "messy" opportunities that will have your bright flooring looking drab rather quickly.  If you are set on bright flooring, just keep in mind that it will take a lot more effort to maintain and won't look vibrant forever.
5.  Sticking with Convention
Since kitchens are highly functional, there are a few things your kitchen will need.  But, that doesn't mean you have to follow an assigned template in your kitchen redesign.  Don't make the mistake of lacking courage and sticking with conventional layouts: the more you experiment, and give yourself room for creativity, the more possibilities there are to design a kitchen that you never imagined you could have. Just remember to consult a professional, and you should feel comfortable throwing convention out the window.
RWC has been providing top quality home renovation services since 1959, and all of that time in the industry has taught us a few things that you can't learn overnight. Investing in our staff's education, putting customer service first, and offering unparalleled product selection is a winning formula for any remodeling, redesign, or renovation project.
To hear all of our thoughts on your redesign ideas, and get our advice on any potential pitfalls you could be headed for, contact us today!