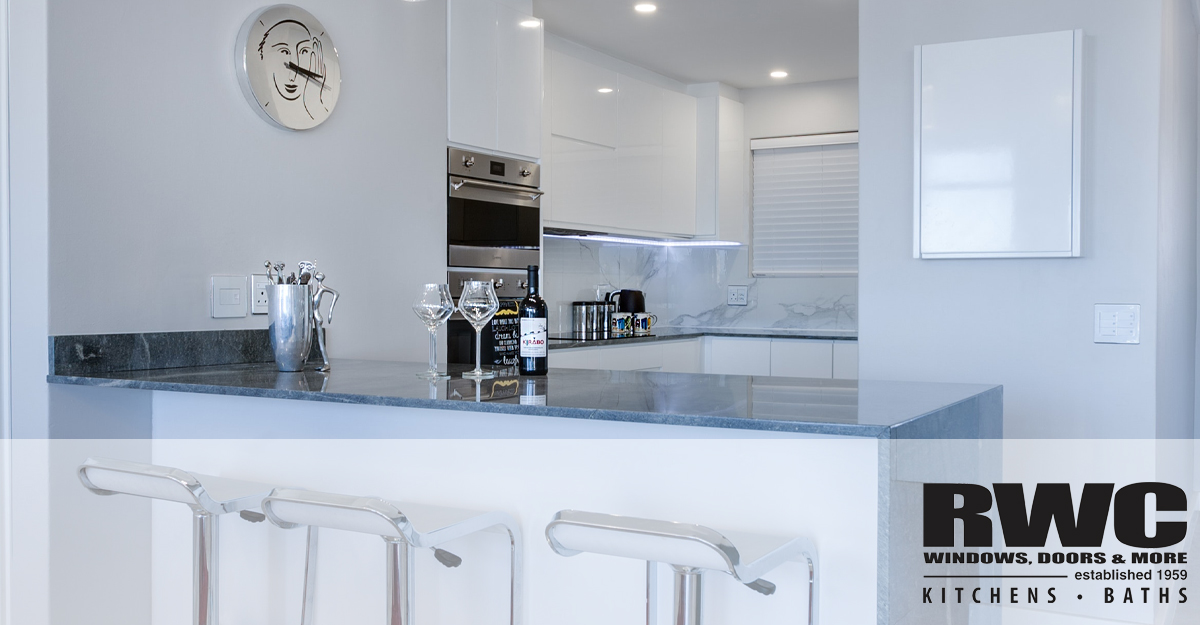 While white surfaces, tile, hardwood, and chrome are unlikely to ever go out of style, you have many more options available for your kitchen remodel design plans. If you're looking for Kitchen remodel ideas on a budget, there are lots of ways to breathe new life into the most important room in your house without breaking the bank.
If you're interested in some fresh kitchen island remodel design ideas, the latest trends and the experts at RWC Windows, Doors, Kitchens and Baths have got you covered. Here, we've compiled some of the latest and greatest kitchen design ideas along with some kitchen design pictures to help keep you inspired.

Kitchen Remodel Ideas 2020
Kitchen designs are as diverse as they are captivating. Some styles require complete renovation, while others can be created with a few strategic touches of color. Here are some of the best kitchen style ideas we've come across for the current year.
Marble Countertops
Marble is classy, clean, and always brings a touch of class to any room. Bold, white Carrara marble is always a solid choice. But quartz might be more your style if you're a wine drinker. Engineered marble is more affordable, and can look as good as the real thing if you're working on a budget.
Larder Cabinets
This classic shelving option was originally designed to help preserve perishable food before refrigeration was commonplace. But modern larders can be used to store food for the long term and help keep your electricity bill reasonably low. Larders can be fitted with window panes for a view of what's on the menu, and they are an excellent palette for adding a splash of color in exciting proportions.
Handmade Tile
There's nothing more inviting than handmade tile flooring. The modestly irregular patterns show that more work went into your flooring than is required to simply roll out tile. It's a great way to get the old-style home feel that makes any kitchen so much cozier.
Reclaimed Wood Cabinets and Framing
Reclaimed wood has been very popular in recent years, and 2020 is no exception. This seasoned building material has the look and feel of care-worn old-style homes. But best of all, it's stronger and more resistant to the elements than new lumber.
Wallpaper
Some people think of wallpaper as an easy out. But it's affordable, easy to match with paint colors, and comes in any style or theme you fancy. Best of all, wallpaper is easier to change than a marble or tile backsplash.
Stylish Plate Racks
If you're proud of your dish-ware, plate racks are an excellent way to show them off. Better still, they make dish drying less taxing, and are, therefore, more sanitary than stacking freshly washed plates in a cabinet.
Mixed and Matched Metals
Metal features and surfaces are always a reassuring thing to see in the kitchen. With their cleanliness and permanence, metal surfaces are a comforting thing to have in the kitchen. Best of all, most metal colors and textures are visually friendly to one another, which means you can mix and match them safely.

Takeaways
Metals are cleanup-friendly and are amenable to mixing and matching

A larder is great for added storage, food preservation, and for adding a big block of color

Marble and hand made tile can be homey, austere- or a mix of the two
To learn more about exciting 2020 kitchen trends, get in touch with the kitchen experts at RWC Windows, Doors, Kitchens and Baths. With nearly two decades of experience, they are sure to have the kitchen style you're dreaming of.