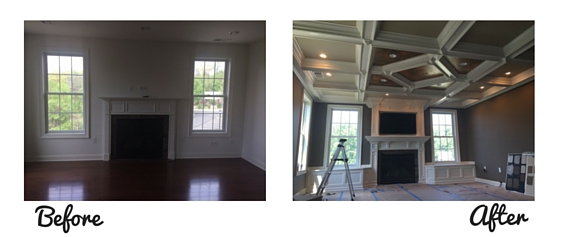 It's not every day that we get to work on a project like this and we are extremely proud of the outcome. We'd like to share our journey by providing you with a photo gallery and detailed descriptions of the renovation.
This job was completed in conjunction with master carpenter, Ken Prehart, and Terriann Loverde, who is the Owner of Personal Space Interiors and an incredible interior designer. With Terriann's immaculate design skills and Ken's artistic ability and dedication to his craft, the job took on a life of its own.
The customer asked that the RWC team design and build custom coffered ceilings in the kitchen and dining room. They also asked that we build a floor to ceiling fireplace surrounded by a mantle and window seats.
So you have an idea of what we started with, here is a before picture of the kitchen and fireplace before we started building:
We definitely had our work cut out for us.
As you can see, the ceiling is flat and the mantle is bare. Here's a close up:
Custom built columns were installed at the entryway to the home with wainscot paneling throughout the house, which tied all of the rooms together.
We built the mantle and window seats around the fireplace and left just enough space for a flat screen television to rest neatly inside:

In the end, the customer and RWC couldn't have been more impressed with the final result.
"Creativity and vision at its best" says Joe Giampapa of RWC.
If you like what you see, or have any questions about how to get started, feel free to give our friendly staff a call – we've been relieving home improvement stress since 1959, and we'd love to help you!