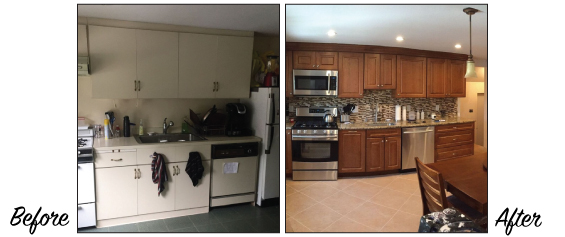 We've been in the home improvement business since 1959 and know the importance of attention to detail. That's why, when we saw an opportunity to completely renovate a kitchen in Closter, New Jersey, we approached it with a willingness to work hard but also take time to achieve quality results. Throughout our project, we fully remodeled this home's kitchen by stripping the old kitchen and putting in new cabinets, countertops and flooring.
Project Details
Before we began renovating this kitchen, the overall color scheme made for a somewhat drab and unappealing appearance, as the dark tile floor seemed uninviting. Furthermore, there was no sense of unification between the cabinets, counter, and floor. Thankfully, we were able to tackle this problem by selecting all-new materials that coordinated better and gave off a more open and light-filled appearance to the kitchen.
We began the project by consulting with the owners of the home to see what they wanted out of their remodel, as well as making our own assessment of what needed to be done. Then, we worked to carefully plan out what our new design would look like before beginning to dismantle the furnishings that already existed. Then came the hard labor – taking everything apart, and putting it back together again in a more satisfying and aesthetically pleasing way. Finally, we smoothed everything over and evaluated our progress to see if we had achieved our goals.
About RWC
RWC Windows, Doors & More is a family-owned, New Jersey-based home improvent business that has been helping people replace and renovate entire rooms, doors and windows for over 57 years. The basis for our success is the education of our customers, careful and quality product selection, and unparalleled service. We always strive to select the best materials for our clients, and are available for consultation at any time. Our goal is always to work with our clients to help them realize their home improvement dreams. Therefore, we are open to suggestions and will also provide our best advice that we feel will help you the most with your home.
If you like what you see or you're interested in visiting our West Caldwell, NJ showroom for a free consultation, give us a call, contact us online, or simply stop on in!