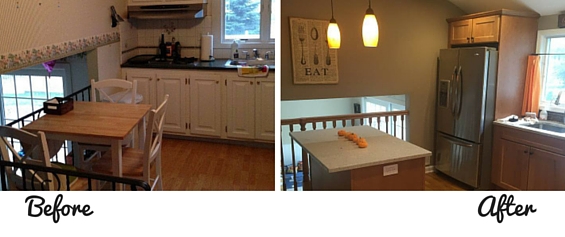 When this customer from East Hanover, NJ came in with architectural plans to remodel their second floor kitchen, living room and dining room, we jumped at the opportunity.
Our goal was to make the space open, flowing and continuous, however, it was one of the more challenging designs to create.
Execution and forward thinking were key.
The client requested that we rebuild the rooms so that she could see her children playing on the first floor, while she remained in the kitchen. How fun! And so it began…
We closed off the stairway from the kitchen and finished it off with newly stained and finished oak railings.
Ta-da!!!  …
After pulling up the carpets, we exposed the original oak flooring which was sanded, refinished, and in some spots, replaced.
We added color compliments to the cabinetry to match the newly finished railings and flooring, and finished it off with new stainless steel appliances, under mount sink, recessed LED lighting and granite counter tops. This brought everything together!
Joe Giampapa of the RWC team says,
"We are extremely thankful and proud to have been the ones to take the lead on this project and yet again bring the homeowner's dreams and wishes to reality."
Another flawless job from the company that's been relieving home improvement stress since 1959!

If you like what you see or you're interested in visiting our showroom for a free consultation, give us a call, contact us online, or simply stop in!