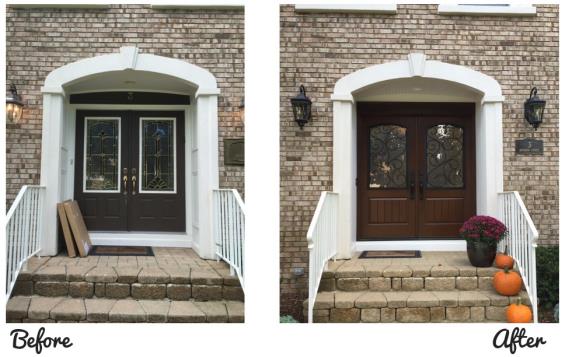 These beautiful double doors belong to a residence in Wayne, New Jersey. We are proud to be able to share this project with you and hope that you enjoy this photographic journey of the renovation.
From beginning to end, we knew this would be a challenge, yet one that would yield elegant and rewarding results. We've been relieving home improvement stress since 1959, and love when we're introduced to anything out of the ordinary. Double door redesign and  installation not only improve curb appeal but allow for easy access through a striking entranceway. Here are some pictures, from start to finish, so you can see the transformation. To start we'll show you the detail of the original tread and trim:  
This is what the interior detailing looked like before we began…
We began the process for removing the doors and existing trim so that we could change the color. Outdated trim was removed and updated pieces were tested and approved, then finally installed after our team was finished with the stain.
Now the entrance was ready for the new doors to be installed.
And above is the end result. At first glance, it may seem as if the updates were minor but once examining all of the hard work that goes into this kind of job, you may develop a deeper appreciation for the aesthetics of your own front entry door. We suggest that you consult the experts when tackling any major renovation and would be happy to give you a free consultation in our walk-in showroom or simply over the phone, if you like what you see.
Call us today or visit us on the web and let us make your home improvement dreams a reality!