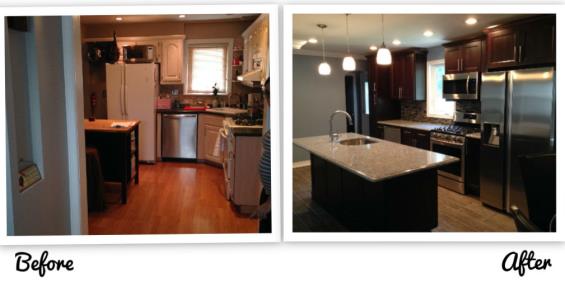 When arriving in Clifton, NJ, the first thing we realized was the fancy scribblings above the doorway that read, "We may not have it all together…"
We were excited to help the family finish the fragment with, "…but together we have it all".
This kitchen desperately needed a re-modeling, and RWC was more than happy to take on the project.

Although the original dimensions worked as a kitchen, it was obvious that the family needed more space. With an adjacent dining room, we knew the best idea moving forward was to go ahead and knock down that wall! It was time to turn two rooms into one – making it a dining room/kitchen combo that for both aesthetic and practical reasons, made much more sense.
And so it began…
We removed the wall separating the kitchen and the dining room without hesitation. Next, we installed cabinets against the back wall. We then moved the refrigerator, oven and dishwasher. It was all starting to come together.

The last step was to rebuild the center island and relocate the sink inside of it. We are proud of the results and so are the homeowners! For a free consultation or just to say hello, give us a call at 973-227-7123. RWC – been relieving home improvement stress since 1959!