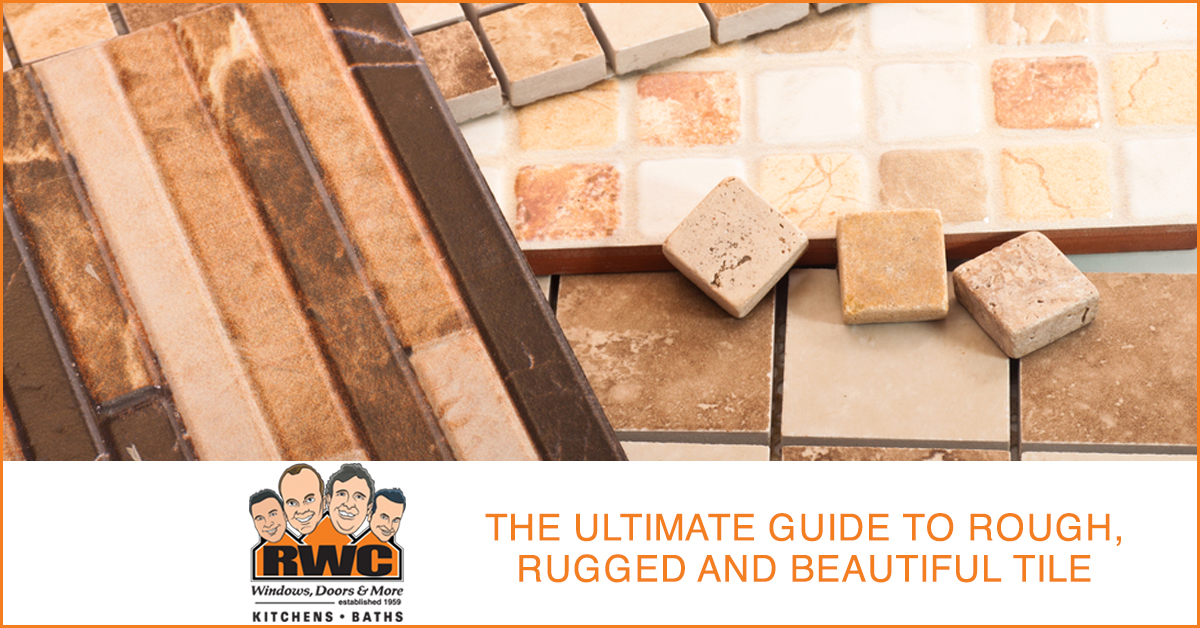 Quick Summary
The ultimate guide to tile discusses everything involved in your decision to renovate a room in your house with tile flooring versus keeping the floor you already have. Perhaps you simply want a different look. Maybe you want to update your kitchen or bathroom with something more modern. Maybe your old flooring is wearing out and you want something that lasts a long time.
If you're considering tile for your next home improvement project, look no further than this ultimate guide to tile to get you started.
Quick Links
INTRODUCTION – TILE: ROUGH, RUGGED AND BEAUTIFUL
ADD SOME COLOR TO YOUR PALLETTE
NO COLOR DOESN'T MEAN LACK OF BEAUTY
MAINTAINING EVERY TYPE OF TILE
CONCLUSION – HOW RWC WORKS WELL WITH TILE
Introduction: Beautiful, Rugged and Rough Tile Flooring
Tile is a beautiful way to add a touch of class to your home. Tile can brighten a room, make it cozier and completely change the feel of your kitchen or bathroom. There's no more drab paneling, no more splits in the linoleum, and no more hard scrubbing just to get up one stubborn spot. Modern tile can take years and years of wear without dulling its appearance. Rugged beauty aside, the reasons for a professional tile installation are endless.
Practical Reasons to Install Tile
There are many practical reasons to install tile flooring. Tile lasts for many years, and manufacturers usually have a warranty that lasts decades based on normal use. Tile is relatively low-maintenance compared to other floor types. Wood floors may need occasional coats of floor wax, plus you have to watch out for scratches, nicks and dings. Linoleum or thin vinyl rolls require floor cleaning at least once per week to maintain. That can get cumbersome if you have mobility issues or if you're too busy in any given week.
Tile usually just needs vacuuming or dusting and that's it. There are no waxes to prevent buildup or any special chemicals to enhance the shine of the floor. All you have is the beauty of the tile and a once-a-week vacuuming or sweeping for maintenance. You can literally stand back and admire the tile flooring without worrying about how to maintain it.
You have many practical, daily reasons to invest in high-quality tile for your kitchen or bathroom floor. However, tile can enhance your home in creative ways that you might not expect.
Other Reasons for Tile
Investing in beautiful tile increases the resale value of your home if you decide to sell, refinance or take out a second mortgage. Keep copious amounts of notes and official documents during the install so you know precisely how much it cost. If you decide to sell, a real estate agent can take into account your investment and raise the price of the home based on the money you spent, plus the appraised value of the improvement. Do the math to find out how floor tile can increase your home's value depending on where you live.
Floor tile is nontoxic, so long as installers use nontoxic grout. You don't have to worry about allergies you get from carpeting chemicals. Some types of tile are made from all-natural stone materials, so you have the beauty of Mother Nature right in your own home.
Where Do Tiles Go?
Tiles typically go on floors, but they can also go on the walls. Flooring tile works best in areas that may get wet, such as a kitchen, bathroom or even a patio. A few downsides are that tile can be cold because it has no insulating properties, and that tile reflects noise in a room rather than absorbing it. You might find yourself walking in house slippers on a cold day or talking softly so your voice doesn't carry.
Tile patterns and colors on the floor may differ from that of the walls, depending on the effect you're looking for in the room. Tile protects the floor underneath from water damage, especially in bathrooms. Tile creates gorgeous patterns in showers that look great and keep the wall behind the tiles waterproof and safe from mold, mildew and rotting.
On an outdoor patio, tile creates a sturdy surface over the layer of dirt or wood underneath. The grout forms a waterproof seal so water can run off of the exterior patio easily in the rain, thereby preventing any standing water and water damage that plagues outdoor areas made of wood. A simple sweep of a broom keeps dirt, debris and leaves off your tile patio.
How Much Does Tile Cost?
The cost of installed tile depends on two main factors: materials and size. Some materials may cost more than others, depending on how installers obtain the tile. A larger project that covers more square footage costs more than a project with less. A kitchen floor may cost less than an entire bathroom remodel. You also have to factor in the purchase of any new appliances, hardware or plumbing updates that go along with your tile installation.
No matter what you decide, there are many types of tile from which to choose.
Chapter 2: Types of Tile
Tile comes in many forms, shapes and sizes. Larger pieces of tile might be easier to install, and, therefore, your labor costs decrease. Smaller pieces might take longer to put down.
Popular types of tile include:
Porcelain
Mosaic
Vinyl
Travertine
Natural Stone
Slate
Ceramic
Marble
Take a look at each type and see which one may work best for your newly installed tile floor.
Porcelain
Porcelain tiles are a type of ceramic tile. These usually come in squares between 2 and 6 inches wide. Porcelain is a very tough material, and it's popular with homeowners because of the limitless color choices that come from manufacturers.
Mosaic
Mosaic tiles form patterns from smaller pieces. Mosaic tiles can be made from pebbles, small stones and colorful pieces of varying sizes. Because most pieces are less than 1 inch wide, mosaic patterns work best for smaller rooms and smaller projects. Mosaics can fit together as squares, rectangles, triangles, hexagons, octagons or any combination of those shapes. Mosaic tiles form a unique pattern found nowhere else, so this type of flooring makes your bathroom or kitchen one-of-a-kind.
Vinyl
Vinyl tiles are very heavy and work well in basements. Vinyl comes in all kinds of colors and patterns, including types that look like natural wood. Vinyl tiles might be easier to install because they are rectangular.
Travertine
Travertine is a natural stone type of tile floor that comes in huge squares. This style is popular in the American Southwest and Southeast, where the climate is warmer. This tile is very heavy, and it should only go on a ground-level floor. These tiles look great in a living room or hearth room. You might see these types of tiles in hotel lobbies or office buildings as you walk in the front entrance.
Natural Stone
Natural stone tiles are squares or rectangles made from cobbled-together stones and pebbles. Unlike mosaics, these tiles are larger and easier to install because they arrive from the manufacturer as bigger pieces.
Slate
Slate is a type of rock hardened by nature. The tiles look like they have natural edges, rifts and valleys along the top edge of each piece. Slate normally looks gray or black, and it comes in squares. Slate is fantastic for entryways and porches because the natural crevices resist slippage.
Ceramic
Ceramic comes in many decorative forms, and it's very popular with homeowners for its durability, color choices and its cost. Ceramic tiles are usually square and several inches in length.
Marble
Just like countertops, all-natural marble floors can be very expensive and very heavy. Marble might be hard to match, but the beauty of the reflective, polished surface is unmatched in any other type of tile. Marble floors also have higher maintenance compared to other types. The marble must be sealed by a professional, and you have to clean up spills immediately because liquids may stain the porous material. The colors and patterns of marble can form a truly special floor that everyone notices.
Chapter 3: Add Some Color to Your Palette
Tile, whether it comes from natural sources or a kiln at a factory, comes in all kinds of vibrant colors. All-color tiles leave your entire design with a colored pattern and very little white. An entire floor might be shades of brown, blue, red, black, green or whatever colors you prefer. You can create a pattern all of one color, or you can have complementary colors as well.
Color Schemes
Why choose colors? They brighten a room. They change the feel of the decor. Yellow reminds you of sunshine, particularly if you're in a bathroom without a large window. Blue might seem soothing and relaxing as the ocean. Green brings a touch of outdoors with the color of leaves and grass in the early summertime. The choices are endless, and you don't have to go monochromatic thanks to how colors work together.
The Color Wheel
Decorators and designers use the color wheel to determine which colors go well together. When you look at a color wheel, hues on opposite sides complement each other. Similar hues, such as all of the greens, blues, browns or reds, tend to complement each other as well.
Analogous colors, or ones close to each other on the wheel, have similar shades. For example, yellow-green, yellow-orange and yellow all go with each other because yellow brightens those shades. On the other hand, complementary colors create differences at the opposite side of the wheel.
Complementary Colors
Complementary colors create contrast without clashing. Green and purple are on opposite ends of the color wheel. Light green might complement a dark shade of purple due to one common color: blue. Purple contains blue and red mixed together, whereas green has yellow and blue. Remember, every color of paint comes from just three primary colors: red, yellow and blue. Every other color comes from those shades.
The overall color scheme of your floor tiles can also take into account the decorating in the rest of your house, the furniture within a room, or the style of your house. If you have a Victorian house, you might choose an exotic mosaic or natural stone as opposed to slate or travertine. If you have wood-stained trim or dark wooden cabinets in your kitchen, then you might consider shades of brown, tan or white for your floor. Just because a room already has color, that doesn't mean floor tiles have to include a particular color pattern.
Chapter 4: When You Want Some Color
All-color tiles contain shades or hues of one color. Partial-color tiles expand your decorating choices by subtracting color from the pattern within the tile.
What Is Partial Color?
Partial-color tiles balance a particular hue with white. A good example comes from marbled tiles that have white with brown. Although brown or earthy tones are popular choices for partial-color tiles, you can find these styles in just about any shade. The white in the tiles brightens the room while adding a little bit of color that's pleasing to the eyes.
Designing a Partial-Color Floor
A partial-color floor has an extra design step. Rather than go with monochromatic tiles that can go anywhere on the floor or walls, partial-color floor tiles need to follow a certain pattern. Installers try to match the sides of each tile so the pattern looks aesthetically pleasing. This is especially true with natural stone, marble or slate tiles. Partial-color tiles usually have neutral tones that complement a wide range of decorating styles. You still have a third design choice that doesn't use color at all.
Chapter 5: Lack of Color Doesn't Mean a Lack of Beauty
Tiles can still be beautiful without any colors whatsoever. Minimal colors tend to rely on patterns to create gorgeous designs. Minimal colors in the tile can mean a few things.
What Does Minimal Color Mean?
Minimal color means you get very few, if any, color variations from one tile to the next. It could also mean you have all-white tiles, or shades of neutral tones throughout your room.
Neutral Tones
Neutral tones can be white, gray, ivory and black. These colors go with any other colors, hence the designation of "neutral." Minimal colors and neutral colors serve as a blank slate for the rest of the room's decorating scheme, whether you want to have a huge sink, cherry-colored cabinets or stainless steel kitchen appliances. When you have minimal colors, you might consider placing more tiles in more places.
Chapter 6: Tile, Tile Everywhere
Tile offers a great way to re-do a floor or even an entire room. Why would you want to tile your walls and your floors? You have a few reasons as to why tile looks good on more than just the floor.
Why Tile on Floors and Walls?
Tile has insulating properties. It keeps hot or cold in the room where the tile sets. Therefore, it prevents any heat or cold from seeping into the walls and getting into the room with the tile. If you take a hot, steaming shower, the tiles may stay a bit warmer afterward. Tiling the walls means you have easy maintenance, just like you do for the floor. All you need is to dust every once in a while.
When you run the heat, the floor near the vent stays warmer for a longer period of time, so you get a little bit of radiant heat. You can even save on your heating bills by purchasing an under-floor radiant heat unit that keeps your tiles warm in the winter. This type of heating system uses less energy than a furnace, and you can turn the heater off and on as needed.
Why Tile in Multiple Rooms?
Tiling multiple rooms in the house has several benefits. Rooms adjacent to the tiled walls remain quieter because tiles reflect sound. Not only does your tiled room have better sound quality, but it keeps sound out from other rooms as well.
Decorating Motifs
Tiling more than one room creates a decorating style for your home. The master bathroom might have flowery patterns, while the child's bathroom could have green and blue for an ocean scene. You can have mosaics in every room with tile, and each mosaic can form a pattern that means something to your family. The design possibilities are endless when you add more tiles to more places.
Chapter 7: Maintaining Every Type of Tile
Maintaining your tile floor depends on the materials in your floor or wall. Regular, ordinary maintenance isn't that big of a deal. Every once in awhile, you might consider going the extra mile to bring out the shine and beauty of your floor.
Types of Tile Maintenance
When you maintain your tile properly, you can keep the same-as-new look for decades. Because tile is made of hard, stone-like materials, it can last for 25 to 50 years. Some manufacturers even have warranties on the workmanship, but not if you drop something on the tile and crack it.
Basic tile maintenance for everyday floors and walls starts with cleaning the floors every week. Sweep or vacuum the floors so they don't get dull from layers of dust, grit or lint. When your floor needs a little extra care, you can use liquids for cleaning, but be very careful with this.
Cleaning
Instead of a sponge mop for floors, use a rag or a chamois mop. Change the water every so often because dirty water dulls the shine of the tiles by leaving a film. Use mild dish soap rather than floor cleaners you find in the store. Tile floors generally don't need waxes whatsoever.
For walls, especially in the bathroom, clean any stains you see as soon as possible. This is especially true in bathtubs or showers where soap scum can build up over time. Wipe down the walls of the shower and/or tub once a week to prevent any buildup in those areas.
Natural stone might be harder to clean compared to manufactured ceramic or porcelain tiles simply because natural materials absorb water. Clean marble, slate, pebbles and stone with extra care, and dry up any water as soon as possible so it doesn't leave any stains or watermarks.
Stains
Stains are tricky to handle. Use a non-abrasive cleanser, such as a dish soap or a tub/tile cleaner, in a non-conspicuous area to make sure your floor maintains its color before you tackle a stain on the floor with a cloth. If you don't want to use any cleansers at all, a baking soda paste works wonders, especially on white tiles. Try hydrogen peroxide for blood, coffee, tea or juice stains.
Just like cleaning, natural stone tiles are harder to keep stain-free because they absorb more liquids. No matter what kind of tile you have, clean stains as soon as possible.
Cracks
Cracks can form on any tile, usually because something has fallen on it. How you deal with cracks depends on what you have. Professionals can fix hairline cracks in tiles by trying to match the original color. If tiles have patterns in them, the cracks may be harder to match with the color scheme. Installers can replace chipped tiles by replacing the damaged one.
Consider felt feet on your bar stools, kitchen chairs or any other furniture that sits on the tile. This may prevent damage to the tile and to the furniture if a leg or a corner abruptly strikes the tile. You can always put a small throw rug down to protect the tile or cover up a crack. Despite the drawbacks and possible cracks, floor tiles are still the way to go for beautiful kitchens and bathrooms.
Chapter 8: Preparing Your Home for Tile
Before an installation happens, a contractor comes out to plan the layout and design of the floor. He will explain what goes on when he arrives with the materials, how long the project should take, and what homeowners should expect.
How a Contractor Prepares Your Floor
The first thing a contractor does is remove the old flooring to get to the subfloor. The subfloor is the support mechanism that holds the flooring in place. A subfloor can be plywood, boards or planks, depending on your type of floor.
Before he lays down the tile, the contractor secures backer board to the subfloor. Backer board creates an even surface for the ground and tiles. Otherwise, your floor may see some uneven areas as tiles dip up and down. Once the backerboard is sealed and ready to go, the installer places the tiles.
What You Can Do to Get Ready
As a homeowner, the installer may tell you what you must do before he comes to work on the project. Here are some things you should do ahead of time:
Move any furniture out of the way
In a bathroom, turn off the water supply to the sink and tub/shower before moving the sink
In the kitchen, move the kitchen island, if you can.
You shouldn't have to move your kitchen cabinets
Later on, if you get new cabinets, consider tiling underneath them
Make sure the room is well-lit, or the contractor might bring some work lights
Now that you know what it takes to get some floor tiles installed in your home, it's time to get the process started.
Chapter 9: Conclusion–How RWC Works Well with Tile
A licensed and experienced contractor or installer that knows how to install tile floors in the kitchen, bathroom and any other room you want is the way to go when you want the job done right the first time. If you have an idea of what you want, or you need help with every step of the process, RWC can help. Our experts point out the latest styles, pros and cons of various types of tile, color schemes, maintenance tips and what our techs do once they are in your home. We'll know and recommend the best type of tile for your kitchen or bathroom floor after hearing your ideas and wants for your soon-to-be renovated space!
Just like any other large home improvement project, the first step is planning.
Design Consultation
The experts at RWC make an appointment with you to examine exactly what you want and how to accomplish it. We go over the look of the room and show you what it might look like once it's done. Then we work up the details in our office before proceeding to the next step.
Proposal
RWC staffers come back to you with a proposal in hand that documents precisely what happens and how much it will cost. Every detail is included in the proposal, so read it over carefully and contact us with any questions. It's your home and your investment, so we work for you. Tell us what you need and we'll deliver on a high-quality project.
Comprehensive Services
RWC completes the entire project from start to finish, and all you have to do is prepare your room for the job. We take out the old flooring, prepare the subfloor and then install the tile. We give you tips on how to care for it and value service after the sale.
If you ever have any questions, talk to your project lead. They will guide you through every step of the way. We want you to be confident in your home improvement project, and it's our job to instill trust with our customers.
Let us be your tile flooring company. We have more than 55 years of experience in home improvement, and we're ready to serve you in the best possible way. Contact us today for a free consultation and a price quote.