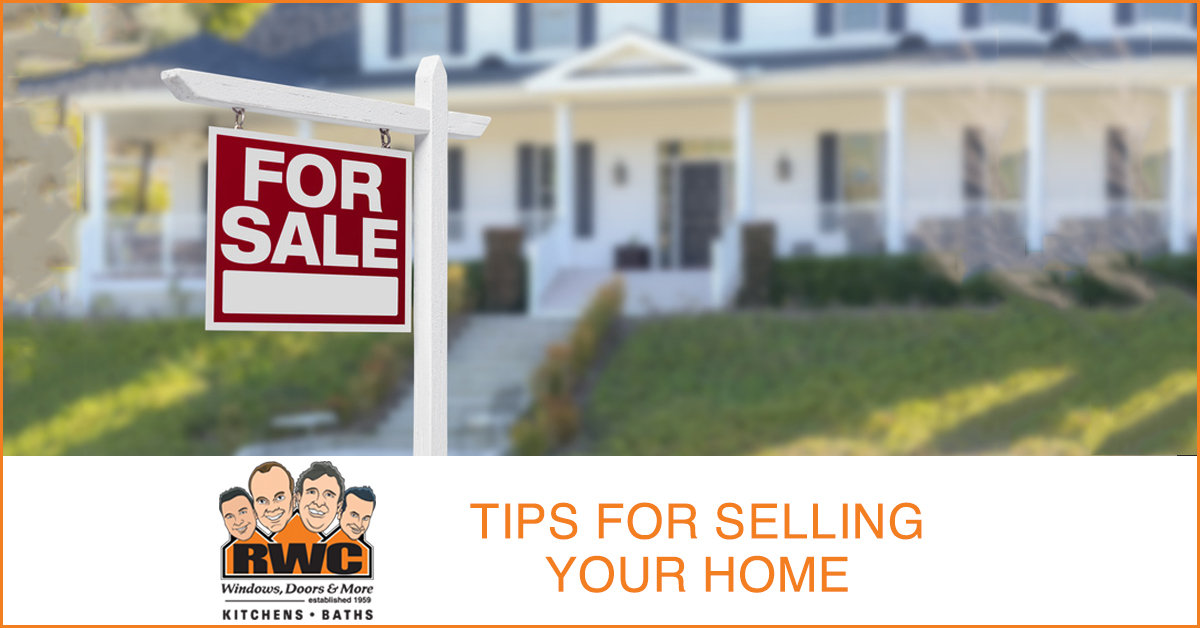 Selling a home produces angst in many. The mere thought of the to-do list and the seemingly endless waiting sends even the strongest to nestle back into an existing home. No need to be frightened. Tackle the challenge with the following tips for selling your home.
Step Up Your First Impression
Experience in life proves that first impressions matter. Selling your home is no exception. Pulling up the drive, walking up the walkway, and approaching the entry door sets an expectation for buyers. No second chances are given to make a first impression. Simple projects improve your home's curb appeal. Upgrade the front door. Install a new mailbox. Spruce up trim. Position brightly colored flowers by the front door and revitalize the landscape. Arrange outdoor furniture for a home-like feel in the yard.
Repair the Quirks
Some of those nicks and scratches may remind you of days-gone-by. However, home-seekers want to accumulate their own quirks and dents, not live with yours. A home in good condition attracts buyers. Consider asking a friend to walk the layout of your home with open eyes and honest words to notice repairs that you have become accustomed to over time. Repair time worn damage on walls, floors and other surfaces. Replace the tricky door knob that awkwardly turns.
Not So Extreme Makeover
A fresh look for the interior of your home provides buyers with a fresh start. Look for simple updates to create a modern style, such as replacing lighting fixtures or sink faucets. And, if nothing else, paint. Neutral, clean wall colors empower potential buyers to work from a blank canvas, writing themselves into the story of the home. Your favorite Caribbean Dream color may drum up ill feelings for others. Subtle colors over those evoking strong emotion sell better. When updating, keep current styles in mind, but be cautious to avoid what is trendy.
Selling Your Kitchen
Experts say that you are not selling your house, but your kitchen. Families gather here, and much of life revolves around the kitchen. Wisely spent focus on the kitchen reaps rewards in the sale. In fact, you are likely to return 85 percent of your kitchen renovation money. Do heed the caution to avoid over-upgrading. Paint and cabinet hardware replacement prove the quickest and least expensive changes. One high-end stainless steel appliance boosts buyer interest.
De-clutter
Clutter leaves us feeling weighed down and gives the illusion of smaller, cramped spaces. This impression will not attract buyers. Now is the time to purge every area of your home. Give away, throw away and pack away all that is not an immediate need. Clear, flat surfaces bode well for selling potential. Removing knickknacks and excess furniture creates clean, open spaces. Emptying closets, at least by half, highlights storage. This process also greatly assists in keeping the house ready to show and prepares you for the move when you sell quickly.
Spring Clean
There is no experience quite like walking into a freshly cleaned, immaculate house. No buyer wants to think about the list of cleaning to-dos before move-in day. Give your house a deep clean or hire a cleaning service to do so. Get out that proverbial toothbrush and scrub every nook and cranny, including grout and cabinet interiors. Wash or inexpensively replace curtains. Put on fresh bedding and place new towels in bathrooms. A good full-out scrub could even make you want to stay.
Let the Sun Shine In
Oh, how the sun's rays can energize us! Use this fact to energize your house for a successful sale. Buyers have noted plentiful light as a feature they look for in a home. So, make way for the light to enter. Brighten rooms by removing or minimizing curtains. Be sure that your windows sparkle clean. Cut or replace outdoor landscaping that blocks light from entering the home. And, consider replacing lamp shades and upping light bulb wattage for added interior light. Bright and cheery is a feeling that sells.
Remove Yourself
While photos and family heirlooms create the home you adore, these personal items mark the house for you, not the buyer. There is no need to mark your territory when you desire for it to be someone else's. Try this exercise: Imagine you are moving out. Remove all things that you want to take with you to your new home. If buyers see photos of your family and memories of your trip to Cancun around every corner, they will not picture themselves in this house – no matter how beautiful it is.
Since its beginning, RWC Windows, Doors & More has provided customers a unique home improvement experience. Our family-owned and operated business believes in customer education, product selection and unparalleled service. RWC works to match your thoughts and desires with our knowledge and experience within every project. Offering services from small upgrades or renovations to large-scale structural changes, RWC produces satisfied customers.
RWC has been relieving home improvement stress since 1959. Call us today or visit us on the web for your free consultation!