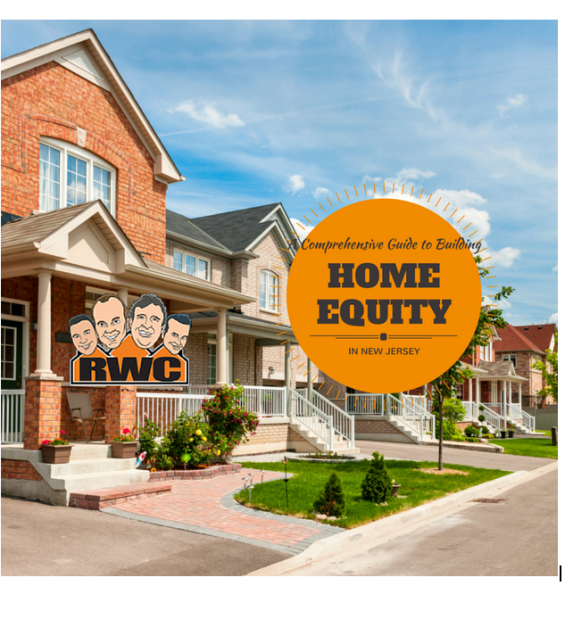 Since the housing crisis of 2008, the real estate industry has been in a slow, steady state of recovery. One of the benefits of homeownership is the value of owning property in order to build equity. As the housing market improves, it's important for homeowners to take advantage of any and all advice to increase the value of their home. This is not only for those looking to sell, but for anyone who wants to increase their credit rating and borrowing power. A valuable property can pay out dividends in a variety of ways, so the more value you can add to your home, the better. We'll take a look at everything from simple upgrades and repairs to major renovations and remodeling. Any steps you can take to increase equity are steps in the right direction.
If you want to work with talented and knowledgeable professionals in the New Jersey area, look no further than RWC Windows, Doors & More. We will work with you to determine what products and work schedules will best serve your needs and we are always trying to find the ideal match for your remodeling dreams. Our headquarters are filled with products from leading industries that will help you locate the right game plan for your home's renovation.
With more than 54 years of experience in the home improvement and contracting industry, we are dedicated to educating our customers in what tasks will best serve their home improvement needs.
Chapter 1: What is Equity? How can you build it?
The definition of Home Equity is what the house is worth if it were to be put on the market today. Your share of this equity is equal to how much you owe on the house. Typically, in order to purchase a home, many people have to take out a loan. Thus, until you have paid the house off completely, your equity will not be 100%. The best way to figure out your share is to subtract the amount you owe from the value of the home. This is called separating the amortization, or how much you've paid, from the home's appraisal, or estimated value.
For example, if you still owe $100,000 on a home appraised at a value of $240,000, then your equity balance is $140,000, or roughly 58% of the total value of the home. The greater this percentage, the better, as it allows you to borrow more and increases your total net worth.
The best part about increasing equity is that the amount owed is generally a fixed number, while the value of the home can increase. Thus, if you still owed $100,000 on your home, but it's value increased to $300,000, you now have 67% of your home's equity, without paying off any more of the principal. It is for this reason that adding value to your home is one of the best investments you can do, and can pay hugely in the long run.
While there are many factors in determining the value of a home, some of which being out of your control (i.e. the value of other properties in your area), there are plenty of ways that you can increase your home equity on your own. From simple home repairs to new additions to the house, there is always something you can do to add value to your property.
There are three main areas that you should focus your attention on when deciding what to upgrade and fix. These are the kitchen, bathroom(s), and front entrance. These are the main sections from which appraisers and home buyers look at and draw value. If you can turn these into visually striking and valuable areas, then you will add tremendous value to your equity.
Some factors to consider, in general, are the following: creating space, adding light, upgrading old fixtures, and creating a sense of homogeneity throughout the house. If your kitchen is ultra-modern, but your bedrooms and living room are 19th century, then this coordination can ultimately leave a wrong impression and reduce the overall value of the home. This also applies to color schemes; mismatched rooms and colors can further decrease the perceived value of the home.
There are other aspects of your home that can increase its value. One particularly useful way to do this is by increasing your storage space. More storage space provides both add-on to the square footage of your property and gives various living spaces within the home more depth. If your property was built more than 30 years ago it is likely that it is lacking in proper storage and closet space compared to more modern homes. Keeping that old fashioned flair without sacrificing the ability to store more is sure to increase the overall attractiveness, and thus value, of your property.
For the purposes of this article, we'll go from the smallest and easiest repairs to the most intensive and costly remodels. According to the annual "Remodeling" Cost vs. Value report, the biggest returns on investments within the Mid-Atlantic region are some pretty straightforward fixes. These include replacing your front door with a steel door (94% ROI), upgrading your garage door (84% ROI), and adding a backup generator (77% ROI). We'll start with upgrading your appliances, and then move on to painting, flooring, landscaping and finally remodeling.
Our professional team at RWC Windows, Doors & More has perfected the art of raising your home equity. No other renovating and remodeling service in the greater New Jersey tri-state area will serve you better. We consider our customers family and we ensure that you will receive the most bang for your buck when contacting our team.
Chapter 2: Upgrading/Fixing Appliances
Plumbing
While certainly not the sexiest of home upgrades, plumbing is one of the most important. The functionality of your home is tied directly to both the plumbing and electrical system. Keeping them in working order and up to safety standards will be necessary when approaching any remodeling or renovation job. By ensuring that both of these systems are working in pristine order, you can make sure that appraisers and home buyers have a good impression of the value of your home.
Two projects that should be your primary focus are the water heater system and the bathroom. However, before tackling any major plumbing upgrades, it will be important to get a professional to come and inspect your system. They can let you know what needs fixing, what takes priority, and give you an estimate of the total cost. It's important to get a professional opinion before diving into any home upgrade.
Most homes have an older, outdated water heater, which can lead to expensive water bills and, in the case of some families, a severe lack of hot water when needed. Upgrading the water heater is a simple and effective way to add value. Many heaters sold today are vastly more energy efficient than ones produced even a decade ago, so replacing it can both save on utility costs as well as bring peace of mind. If possible, you should look into tankless water heaters, as they are the biggest trend right now and will ultimately pay back much more than you invest. Without relying on a bulky tank, you can get hot water faster and more efficiently with a tankless heater, which will save you money. In addition, potential home buyers will love the added benefit of never running out of hot water.
In the bathroom, there are simple fixes you can do to upgrade the space. Replacing showerheads, faucets, sinks, and toilets can go a long way to building value in this high traffic area. Bathrooms are one of the most valuable assets a home can have, so the more you can upgrade it, the better off you'll be.
Making sure all of your plumbing maintenance is up-to-date will help you in many other renovation areas in the long run. When looking to update or renovate your bathrooms you should always consult the plumbing needs first. Let the professionals at RWC Windows, Doors & More help you with this step, as a professional outlook on these areas will help you avoid costly and time-consuming mistakes. We offer only the best service and guarantee we will help you locate your exact plumbing needs, that way you can avoid paying for updates and fixes that you do not really need.
Electrical
Along with plumbing, updating and modernizing your home's electrical system can go a long way towards building equity. Again, this isn't going to be the most dazzling way to add value to your house, but it is one of the most important and cost-conscious. The areas of focus should be outlets, lighting, and appliances. Making sure that all three of these are up to date and as energy efficient as possible will go a long way towards adding value. Always seek professional help when accessing and installing your home's electrical system, as it requires a safe and knowledgeable approach.
Like with plumbing, it's best to consult a professional before starting any major electrical upgrades; not only for your safety, but to make sure that you're updating the right things. One of the biggest issues is making sure that your system is up to code. Many older homes don't have modern outlets or switches, and this can lead to problems. Make sure that your outlets have ground fault interrupters. These prevent a power surge and make sure that the breaker is switched off in the case of one. Additionally, you want to make sure that you have sufficient outlets for your power needs. Older homes are built with a reduced power supply in mind. However, with today's modern electronics and home entertainment systems, it's important to make sure that your house can handle the influx of energy. For example, while older houses generally needed a standard 60 amps of power capabilities, most modern homes need up to 200 amps of power in order to run high-end air conditioners, computer equipment, high-definition televisions, and other luxury items.  While upgrading your entire home wiring system can be expensive, it will be a better investment, in the long run, as it will be one less thing to worry about for potential buyers.
Once you make sure that your system is up to date, the next step will be to upgrade both your light fixtures and appliances. As stated before, adding lighting to your home, either artificially or naturally, is one of the key items that will increase your properties worth. Designing your lighting so that it evokes the time period or style of the property can be particularly appealing to those appraising your property's worth. Even something as simple as updating your light bulbs can not only save you money on utilities, but also create a better lit and thus more valuable, space. Thankfully, power saving light bulbs can be adapted for almost any light fixture, modern or classical.
As far as lighting goes, you want to make sure that you have enough light, and that you showcase it in a proper way. Once again, if you have modern appliances but an old, dingy chandelier, it will create disharmony in the space. Ceiling fans, recessed lighting, and modern fixtures work together to create a functional and well-lit home, which is attractive to homebuyers. Additionally, having dimmer switches can create perceived value, as it allows you to adjust the lighting to meet your needs.
Heating and Cooling
While heating and air are not necessarily the top features that buyers look for, having a central heating and cooling system can increase the value of your home, especially in the Jersey area. Anybody living in New Jersey is familiar with the patterns of weather going from one extreme to the next. Having proper climate control in your home is something that many people on the East Coast will find both valuable and enticing.
Generally speaking, you want your HVAC system to be no more than 10 years old. If your system is older than this you will want to consider installing a newer unit. Always consider the cost versus value of a new system when looking for potential replacements for an older unit. Energy efficiency is the key aspect you will want to consider. There are many affordable systems available and our team will help you determine which one will best suit your individual needs.
Before you update or install an HVAC system, it's imperative that you make sure your home is as well insulated and sealed as possible. If you install central air but have a drafty house, then you are wasting money as it escapes through the cracks and openings. Replacing your siding, roof repair, and window replacement are essential to make sure that any heating or cooling system will work with maximum efficiency. In addition to saving you money on utility bills, it will add value to the home. One of the biggest ways to enhance the equity in your home is to make sure that maintenance and upkeep are kept to a minimum. A leaky roof will negate the benefits of a brand new bathroom.
Once you have made sure that your home is well sealed, there are certain things to consider with an HVAC system. If your home doesn't already have one installed, then it will be a significant addition, which can mean major cost. While it will certainly add value, in the long run, you need to take into account the layout of your home and decide whether a central system will be worth the expense. For smaller homes, furnaces and air conditioners can be enough to add comfort without breaking the bank. Additionally, ceiling fans and windows can be properly utilized to allow for better air flow, thus reducing the need for a full A/C unit.
One of the more important factors in considering an HVAC system is the inclusion of an air purification system. Allergies and pollutants are a major concern for many people and will be something a potential homebuyer will consider. Adding a purification system can not only make sure that you have a healthier home, but will automatically add value in the long run.
Adapting your units to run off of green energy can be a trendy and cost-effective route to increasing your home's value. With many unexplored energy sources to tap into, such as geothermal heating, the sun, and wind power, there are a variety of options to consider. This quality will be seen as a particularly special aspect that your home holds over other properties, and will be a good qualification to increasing your home's overall equity.
Overall, if you do nothing else to your home but upgrade and modernize its mechanical and plumbing systems, it will not only reduce your maintenance costs, but it will make your home far more valuable. Many prospective home buyers purchase with certain remodels and renovations in mind beforehand. Thus, you want to make sure that they won't have to worry about expensive repairs or upgrades, ensuring that you can get the maximum value of your home.
Chapter 3: Painting
While it's true that you can't judge a book by its cover, something can be said about judging a house by its appearance. Homes with outdated decor or colors can turn buyers off and reduce the overall value of the home, even if it has modern conveniences. One of the easiest and best ways to change the aesthetic of a home is painting it. This home equity increasing option is one of the most affordable and accessible ones available. Homes that have dirty, cracked and peeling paint are perceived as unkempt and potential risks. Adding a fresh coat, even just on the trim, can go a long way towards enhancing the appeal of your home.
Your doors, especially the front door, are one of the main areas you should attend to when painting. Keeping the front entrance to your home fresh and beautiful will significantly increase your home's worth. Always consider the overall design structure of your house when deciding on a color. Considering the color choices of other homes in your neighborhood can provide a good reference point as well. Currently, there is a large trend toward brightly colored doors, as they appear both inviting and charming. Many design blogs currently obsess over such doors, so in many cases this provides a smart design choice.
While it's important to stick to neutral colors, you don't want to have a drab and boring look to your house. It's also imperative that you choose colors that match or complement each other; you want to avoid clashing as much as possible, as disharmony can negate the benefits of a new paint job. Additionally, with neutral colors it can be easier for a person moving in to repaint if they wish too. This color scheme allows for a sort of "blank canvas" for new home owners. The combination of being both visually appealing and flexible is what makes the neutral color scheme such a great investment.
In addition to the obvious aesthetic appeal, painting has several other benefits. Outside, it can help protect against the elements (a major factor in the Jersey area) as well as boost curb appeal. Inside, it can help prevent mold and dust, as well as cover up any stains, nicks and scrapes that have built up over the years.
Before painting, like with any other remodel, you need to know what you're getting into, and preparation is crucial. Once you have decided your color scheme, you need to make sure that you are getting the proper type of paint. Nowadays, there is a critical difference between outdoor and indoor paint. Even if you are using the same color on both surfaces, you can't use outdoor paint inside as it contains harsher chemicals and pollutants, called Volatile Organic Compounds (VOCs). Conversely, you can't use indoor paint outside as it will not be able to stand up to the harsher weather and abuse.
Use of low or non VOC paints also increases the green, eco-friendly quality of your home. This will help increase home value in areas that are more environmentally conscious and friendly. Buyers with young children, allergies, or just general chemical sensitivities will also see this as a major positive. With this option you will both help sustain the environment and your health. If your property is in a more eco-friendly area of New Jersey this will provide even more potential value-increasing capabilities.
In addition to finding the proper type of paint, you need to plan ahead and make sure that you are fully prepared. The most important thing you can do before a major paint job is making sure that your surfaces are clean and smooth. If you are using different colors on adjacent walls, tape is imperative to ensure that you have clean, crisp lines. A messy paint job is almost worse than no paint job.
Whether you do it yourself or hire professionals, it's also important that you clear the area being painted, and patience is key. Make sure that you have drop cloths and plastic so the paint doesn't ruin your floor, and ideally you need to use a coat of primer to ensure a full bodied coat of paint. This also requires that you wait between coats, and you need to keep in mind that the paint will dry a lighter shade than what is applied.
When painting outside, it is almost always easier and better to hire professionals, as they can get the job done a lot faster. They are also prepared with the proper equipment and tools to get it done effectively. However, if you do decide to paint the exterior yourself, in addition to the basic prep, you will want to add some type of paint sealer on top of the coat. While exterior paint is already formulated to handle the elements, adding a sealant will ensure that you won't have to touch up or repaint for years to come.
Chapter 4: Flooring 
Like painting, changing and upgrading your floors is a great way to increase value while adding aesthetic appeal. Before you get started, however, you will want to take the time to decide what type of flooring will work best for you, as well as what will add the best value to your home. Flooring is the first thing your toes touch in the morning and you want to ensure that your day starts pleasantly.
The biggest debate when it comes to floors is hardwood vs carpet. While both have their benefits and downsides, what it ultimately comes down to is the feel of the space. Obviously in the kitchen and bathroom laminate or tile is required, but when it comes to living spaces; the living room, bedrooms, basements, it can come down to personal preference. Hardwood has a bit more of a sleek and sterile feel to it whereas carpet can have a warm, homey feel that may be better suited to your needs.
The benefits of hardwood floors are numerous. They are easier to clean, they are more durable and last longer, and they add more value to your home. Additionally, you have more options as far as design, as it's easier to move furniture on, and you can change the look with area rugs to get some of the benefits of carpeting. With these benefits in mind, however, it's also important to note that there are some downsides. It's a hard, cold surface that is prone to scratches and dents. However, when investing in hardwood flooring it is an intelligent move to seek out scratch-resistant material. This will make the already smart investment even more useful. Additionally it is louder and reflects noise, rather than absorbing it, although some of that can be alleviated with area rugs. Finally, it requires more frequent cleaning, as dust and hair can collect pretty fast, especially in homes with pets.
If you want a soft, inexpensive surface, carpeting can be the way to go. It's cheaper to install and replace than hardwood, and it can add a warm, inviting feel to a room. It's quieter and helps insulate the house, which can be necessary for winter. However, it is prone to stains and requires deeper cleaning, even if less frequently. They also don't last quite as long as hardwood, so they will need to be replaced more often.
While there is no right answer when it comes to flooring, it most likely will come down to how you use the space. A dining room would be best suited for a hardwood floor, but a living room or family room may be better with a carpet, especially if you have small children.
Most likely the answer is that you won't have just one type of flooring for your entire house, but a mix of both that meet your needs. Floors are a huge part of your home's appeal, so make sure that they are well maintained and kept clean, and they can add tremendous value to your property.
Chapter 5: Landscaping
The severity of your landscaping needs will naturally be tied to how big your property is, but regardless of size, maintaining and upgrading your yard can be a huge step towards increasing your value. From basic lawn maintenance to adding walkways and a deck, it's important that you put as much care into the exterior of your home as you do the interior.
First and foremost, your attention to the landscape should be in proper care and maintenance of your lawn and foliage. Considering that this is what prospective buyers look at first, it's imperative that you present a good impression with a well-trimmed and maintained lawn. If you have bushes and shrubs, it's important to prune and manicure them so that they don't overwhelm your property, and that they don't look out of place
Another important step to adding value through landscaping is the use and implementation of trees. Trees not only can help you save money, but they can add real value to the overall price of your home. A single tree can be worth several thousand dollars in the long run. The benefits of trees are numerous: they add significant curb appeal, they provide shade in the summer and windbreaks in the winter, and they absorb runoff and sewage waste, keeping it from the storm drain.
In addition to the savings on utilities and increased market value, trees help clean the air around your home as well as provide stress relief. According to a study by Texas A&M University, being around a tree for mere minutes a day can significantly reduce stress levels.
When choosing a tree for your home, there are several things you need to consider. First and foremost, you want to make sure that you choose a species that is native to the Jersey area. These are much easier to maintain and will ensure that your property blends in with the local flavor. Additionally, this will help protect it from invasive vines and other plants. Speaking of which, it's also important to consider the appearance of the neighborhood foliage. While it has been shown that trees can increase the value of homes adjacent to them, if you stand out too much, then it could have an adverse effect on your property value.
Keeping the symmetry of your foliage in mind is very important. Creating a space that is visually stimulating through its symmetry can add a lot of value to your property, but one that is off-center or awkward can decrease it. In those cases uprooting or fixing plants to correct mistakes is a hassle. Save yourself time by planning out the growth and end goal of your foliage with knowledgeable individuals.
In addition to trees, there are other landscaping projects that you can do to increase value. Outdoor lighting is another item that can have a tremendous impact on the look of your home. Even something as simple as porch lighting can create a positive, inviting effect on your property, which is something that potential buyers really look for. According to the North American Housing Board's Annual report, 41% of homebuyers listed outdoor lighting as an essential need.  It also adds security, illuminating slick walkways and wards off potential burglars.
Another addition to your yard can be walkways and trimmed pathways. If you do not currently have a walkway from the sidewalk to the house, adding a simple stone path can go a long way towards making your home more inviting, thus adding value to prospective buyers. Additionally, adding stone pathways and constructs in the backyard can increase the appeal, as long as they fit the overall theme of your yard. Too many structures and decorations can diminish the value of a yard. The key is maximizing your space and your utilization of that space. You want your yard to feel open, but you also want to ensure that it holds a practical option as well.
Fences are one area that many people neglect when laying out their yards. Your choice of fence style is of utmost importance because it frames the artwork you have created in your living space. Installing or replacing fencing can be an expensive and time-staking task, so you should always plan your fencing to compliment any current or future yard design plans. Finding the fence style that works for your tastes will bring out the details you have put so much time and effort into creating.
Finally, adding well thought out terrains and walkways to your property can add a sense of variety. Areas that include gravel, bodies of water, sand or otherwise can provide many different uses. Those with children or pets will particularly benefit from such terrains. Additionally, a well paved driveway can be a useful investment. Avoid concrete and go with black top if at all possible, as it is the most popular choice and the easiest to maintain.
While landscaping can increase value, you don't want to go too far in the opposite direction. It's important to utilize your space effectively and efficiently. One of the most common mistakes is the addition of a pool. For moderate climates like California, a pool could be a welcome addition. However, in the Jersey area, pools are less likely to add value, as they can quickly become a money sink, requiring a lot of maintenance in the offseason. Decks, however, can be a substantial investment, as in the mid-Atlantic area a deck addition can have upwards of an 80% return on investment.
Chapter 6: Remodeling
If you are truly serious about creating value for your home, and you can secure the funds to do so, home remodeling can be one of the best ways to get a higher price when it comes time to sell. From knocking down a wall to adding a whole extra floor, remodeling can transform your home into something spectacular. With the endless range of possibilities available it can be helpful to get an outside perspective. Here at RWC Windows, Doors & More we pride ourselves on our ability to suggest the most aesthetically pleasing and worthwhile remodeling investments for customers both new and old.
As always, it will be crucial to consult a professional before getting started with any remodeling projects. Because there are usually wires and insulation hiding behind walls, you want to make sure that you know what you're getting yourself into before you commit to any project. At RWC Windows, Doors & More, we have remodeled hundreds of homes and will work with you to ensure you get the highest return possible on your investment.
When it comes to remodeling, there are several projects that have a high rate of return on investment. Remodeling the kitchen (reasonably), adding a bedroom, and adding a bathroom will always prove to be smart and valuable remodels. These are the focal points of a house, and they will resonate with potential buyers. An investment in remodeling will not only increase your property's worth, but also make your living space a more pleasant and comfy place to live.
Kitchen
While the kitchen is the main thing that prospective buyers look at, you don't want to go too heavy on remodeling this. A house that has an ultra-modern kitchen that doesn't fit with the rest of the house will be valued less than one with a modest kitchen. Homeowners can expect to recoup between 55-70% of the costs. For homes that are in desperate need of an upgrade, that amount could be higher.
Things that potential home buyers are looking for are: upgraded and energy efficient appliances, storage, sturdy and long lasting countertops, lighting and flooring. If you can focus your remodel on these areas, you can easily create a kitchen that will add lasting value.
With kitchens it is all about effectiveness and energy-efficiency. You can keep the appropriate look of your home, whether it is modern or retro, without sacrificing these qualities. Keeping appliances and fixtures eco-friendly and energy-conscious will save money, increasing the home's overall value. There are many resources available to help you find the right style appliance, which is also efficient and fits your needs.
Some tips before you remodel:
Keep appliances and lights close to existing wiring to avoid complications or increased costs. Laminate countertops are cheaper, but they can diminish value over time.
Add lights that fit with the overall feel of the kitchen. Color balance and harmony are more important than ultra-modern technology.
Adding simple storage solutions, such as hooks for pots and pans, can go a long way.
Bedroom
Adding a bedroom is one of the most surefire ways to increase your home's value, as it increases your pool of potential buyers with each room you add. However, be sure to not overextend the amount of bedrooms with regard to the number of bathrooms. A four bedroom house with only one bathroom could be a potential turn off for buyers.
While it may be necessary to expand the floorplan of the house in order to accommodate a new bedroom or bathroom, it will not always be the case. In order for a room to qualify as a bedroom, there needs to be a closet. If you have a den or extra room that isn't serving any purpose, adding a closet could turn it into a living space, thus increasing your home's potential. As long as you have the space for the closet and reasonable space for a bed, then you can turn a den or laundry room into a bedroom easily and more cost effectively than creating an addition to the house.
Re-inventing bedrooms to fit an overall "house theme" can also provide a good investment. Giving your house a harmony and overall aesthetic appeal helps to increase the wow-factor of your living space. Additionally, the more versatile a room is, the better. If a bedroom can function as both a sleeping/living space and an office, for example, it will add value to your home. First impressions are extremely important when both appraisers and potential buyers are checking out your property, presenting them with a property that will stick in their mind helps to insure its worth.
Bathroom
No homeowner or potential buyer will lament the over-abundance of bathrooms. Unless your house has more bathrooms than bedrooms, adding a bath can always add value to a home. While it may not always be cost effective to create a whole new bathroom, even just creating a half bath or three-quarter bath can increase value. Adding a half bath to a bedroom can instantly add value to a home, at a fraction of the cost of adding a full bath somewhere else in the house.
The difference between sizes is a half bath has a sink and toilet only, three-quarters has a stand-up shower, and a full bath has a bathtub or full-size shower. As far as return on investment, a half bath typically yields about 60%, while a full bath is typically around 50%
Attics/Basements
These are the great untapped renovation spaces. With a tendency to be both spacious and "blank canvases," these areas beg to be remodeled into more functional spaces. Basements can be great for providing a second living room, game room or additional tenant space. Attic spaces work in a similar way, but due to their high ceiling space they can also be a great area for artistic intentions. Whether you are looking to display or make art, attics provide an often ideal space for doing so. Additionally, both spaces can be great for creating "guest areas" for the homeowners who love to host.
While many remodeling investments will pay for themselves, there are quite a few common ones that simply are not worth your time or money. When renovating, it is of the utmost importance that you stay educated about such investments and the professionals at RWC Windows, Doors & More can assist you in making the right decision.
There are four specific home remodeling investments that simply do not bring back the investment intended in most cases: home office remodeling, sunroom additions, master suite additions and garage expansions. While all of these can increase the comfort of your home, they are not necessarily selling points in many areas, particularly in the New Jersey area. Expansions are often too costly to justify the price, as you could simply add on areas or renovate more important ones for similar price ranges. In the case of sunrooms, you can instead add light to existing rooms, as you want the entire house to be full of light, not just one specific room. Finally, home offices can be irrelevant to some buyers. An investment in a home office installation or renovation will rarely add value to a house.
Chapter 7: Selling Your Home
Once you have reinvigorated your property into a beautiful dream home you will be ready to put it on the market. When it does become time to sell your home, you can either consider selling it yourself, called For Sale By Owner (FSBO) or you can use a realtor. Both options have pros and cons and it is important that you research thoroughly before coming to a conclusion. When selling yourself you save the cost of realtor services, but you may take much longer to actually sell your property. Ultimately, it comes down to finances when making this crucial choice.
For Sale By Owner
The benefits of this option are that you can save money on the cost of a realtor, which usually comes in the form of a commission based on the price of the house. For people who are industrious enough and who are motivated to sell their home, selling it themselves can be a simple and rewarding solution. However, there are several drawbacks: first it requires a lot of time and effort; selling your home can be a full-time job. Second, it requires intimate knowledge of real estate law and securing the proper documentation. In New Jersey, you are not required to use a real estate agent, but you are required to use a real estate attorney in order to make sure your sale is legal and binding. Third, you are limited to your selling options, as Realtors typically have a network of sellers and clients that could potentially be interested in purchasing your home.
Because of the intense workload, the amount of FSBO sellers has been trending downwards to roughly 13%, since its peak of 19% in 1997, according to a study by forsalebyowner.com. However, if you have the patience and wherewithal to sell your own home, this could be a viable and lucrative option.
Understanding the state of your neighborhood and the demand to live there can be an important factor in the decision to sale your property yourself. If you live in an area that is not currently at the height of its popularity it can often be a mistake to try and sell the property by yourself.
Realtors
If you don't mind paying a 6% commission on your home, trusting the sale of your house to a realtor has a slew of benefits, with the only real downside being the price. Realtors are there to take the time and effort required to sell a home and have a network of lenders and legal advice to make sure that all offers are valid and legal. Additionally, they can even be better salesman, leading to a slight bump in price when it comes time to close.
In addition to this realtors offer a variety of services that are hard to handle without the proper experience. They know the exact pricing that will help you sell your home for an ideal amount. Realtors often advertise your home through well-known and successful sources. Sketchy offers are frequent when wheeling and dealing on the home market and realtors know the exact signs to look for in order to avoid any illegitimate offers. Finally, they can let you know of any additional renovations or housework that needs to be done before putting the house on the market.
By securing a realtor, you are ensuring that your home will be sold as quickly and efficiently as possible by someone who is trained and dedicated to doing so. If the thought of putting up a commission is undesirable, it's not only important to take into account the amount of hours you'd have to spend doing everything yourself, but also that a realtor may have tricks or strategies that can ultimately increase the closing price of the home, meaning you can make more money regardless. Simply put, realtors will often save you time and money. Unless you are able to sell your house quickly you may lose money by not going with a realtor who will be able to find a buyer in a time efficient manner.
Conclusion
No matter what you choose to do, building home equity is one of the most important and financially responsible things anyone can do. It offers you financial stability and increased net worth, and it can ultimately be one of the most rewarding investments you make in your life. Additionally, the projects you will undertake when preparing your home for the market will increase the comfort of your living space, making for a more satisfying day to day existence for you and your family.
With the economy rebounding, and property values increasing, it is becoming a much more stable and lucrative time to add value to your home. Whether you make simple upgrades or major renovations, investing in a property will be a great way to secure your financial future. In today's housing market it is imperative that properties look their best, so take the first step toward a more beautiful home today.
If you are ready to start increasing your home's value, this is an ideal time to invest. At RWC Windows, Doors & More you will experience a "unique" home improvement experience that simply cannot be found anywhere else. Come down to our showroom to view hundreds of products from nationally leading brands. It is the perfect place to gain a thorough understanding of the possible services we provide. This also provides an excellent space to educate yourself about home improvement tasks; our professional and courteous team will be happy to assist you with any questions or concerns!
Creating a dream home that will increase the value of your property is a personal undertaking and we understand that every individual will want a different approach. No matter what you are thinking about in regards to your living space we can help. Dedicated and impassioned, our team loves talking with new and old customers in order to help them reach their final decision.
We have served the tri-state area around New Jersey since 1959 and we take pride in our assignments. Allow us to relieve you of the time-intensive and stressful tasks of home improvement. Embrace the difference that RWC Windows, Doors & More can provide and join our "Family of Customers" today!