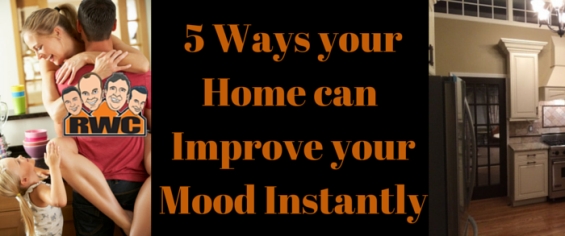 Redecorating a room is always a great idea for giving a facelift to an old and tired space. But, it has other benefits as well. Different design elements can also have a profound effect on your mood. Design elements such as paint color can literally affect how you feel. Following are just a few examples of how home décor can affect the mental and emotional well-being of the inhabitants of a home.
1. Sun exposure
Although sun exposure isn't a design element in itself, the amount of sun exposure the interior of a house receives can be greatly dependent on the location of design elements within the rooms of the home. Exposure to the sun can be a positive factor in brightening one's mood. In fact, sunlight is a known factor in reducing depression in people. The natural sunlight that streams into a room contains endorphins and serotonin, both which positively affect a person's mood. It's not hard to increase the natural light in a room.
One trick is to decorate with large mirrors that reflect light. There is a multitude of decorative mirrors available on the market, so any homeowner should have an easy time finding mirrors that fit into their existing décor.
Window treatments are also an important factor for increasing natural light. Remove heavy drapes that can absorb sunlight and replace them with light and airy curtains that allow sunlight to enter the room. If you still desire some privacy, consider adding some shutters to the windows, as they can be easily controlled by you or anyone else in the home.
2. Color your world
Painting in an inexpensive and relatively quick way to change the look of a room. The colors you choose to paint the walls of your house are important factors in determining mood. In the bedroom, go with a favorite color, preferably one that is vibrant. If it needs to be toned down a bit, consider painting only a few of the walls, or perhaps, just the upper or lower halves of them. Don't forget to add some accent pieces in complementary colors to enhance your add even more. Replace boring old bedspreads and sheets with bright new ones that match the wall color. Also, look for lamps, pillows, and blankets to complete the look.
Another way to use color to boost mood is to choose soothing colors that replicate the effect of sunlight. These colors can soften the appearance of the walls and will make it feel like the sun is shining in the room, even when it isn't. Earth tones and soft blues work well for this effect.
3. Liven it up
There are few elements that can brighten up a mood like a living creature. So, it stands to reason that having living, thriving plants as part of a home décor can provide an emotional boost. Plants provide both light and energy to wherever they are. There is just something about bringing the outdoors inside that is calming and soothing. Having plants in the house can give you the feeling of the warmth and comfort of spring and summer, even during the colder months. Studies have shown that houseplants can lower anxiety levels, reduce fatigue, and boost mood. Flowering plants help to bring a pop of color that helps to motivate individuals as well as improve mood. In addition to having plants inside the home, try to arrange a significant amount of time in rooms that have views of nature. If possible, arrange furniture so you are looking over forestry or water.
4. A better life through better light
Proper indoor lighting can often be overlooked, but it is an important element in improving your mood. Inadequately lit rooms can make you feel closed in and sequestered. Dim light can contribute to foul moods and depression, so it is important to make sure every room is adequately lit. Make sure there is plenty of overhead light as well as light that emits from floor and table lamps. Not only will you be able to see more effectively, it will provide a serene and comforting feeling that will result in an improved state of mind.
5. Accessorize
Just like wearing jewelry can perk us up, home accessories can help to bring cheer inside the home. Adorning a home with fun accent pieces such as vases and picture frames can not only turn a dull room into a haven, it can bring a smile to your face as well. Choose accessories for the home that are fun and bring a smile to your face. There are so many options to choose from; you can't go wrong.
Everyone's home should be their safe haven. It is important to feel happy whenever you are there. Making a few easy alterations to the decor can go a long way in helping you achieve an improved mood whenever you look around your home.
For more ideas and for a free design consultation, give us a call at 973-227-7123, or simply visit our West Caldwell, NJ showroom!
RWC – "Relieving Home Improvement Stress Since 1959".