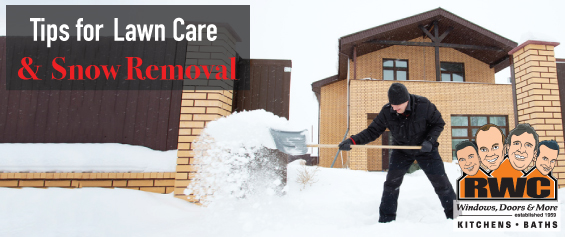 As the cold winter weather continues, you will soon find that your lawn is inundated with snow and ice, making it difficult to care for your landscape and maintain your home's overall appearance. You may be tempted to simply leave the snow where it is (carving out a path to your front door and through your driveway, of course). However, doing so may leave you a much bigger mess to deal with come spring. Instead, care for your lawn and work on removing snow throughout the winter, not only to help reduce the impact on your lawn after the snow melts, but also to increase the appeal your home has to potential buyers (even if you are not currently putting it on the market).
Following these five tips throughout the winter can help you improve your home's property value, whether you are just moving in, starting a remodel, or putting your house up for sale.
1. Protect Your Plants
Most plants (especially those not specially modified to survive deep frost and snow) cannot survive the winter without help. Therefore, it is important to take steps to protect them so that you don't have to deal with completely replanting your garden or landscaping in the spring. For example, This Old House recommends driving tall stakes around plant beds near paths and driveways so that you know where to stop shoveling.
Furthermore, it is a good idea to envelop particularly sensitive plants in a protective covering (such as a burlap sack) to keep them warm and shield them from snow. Mulching is also one of the most effective safeguards against frost. Protect plant roots with a thick layer of bark, straw, sawdust, peat moss, leaves or even grass clippings.
2. Plan for Spring
You may not be thinking that far ahead, but flowers and other plants that will bloom in the spring should really be prepared several months in advance. For example, spring-flowering bulbs such as tulips or daffodils should be planted before the first frost of the season to ensure that they survive the rest of the winter and are ready to blossom in spring. That way, you are not greeted by a barren lawn once the snow melts, but instead can experience (and show potential home buyers) a springtime color explosion!
3. Aerate and Dethatch
Keep your lawn as healthy as possible by aerating and dethatching it to improve its ability to absorb water, air and nutrients. Aerating your lawn involves perforating the soil with small holes, which will alleviate soil compaction and help roots grow more deeply. Dethatching removes the buildup of thatch that grows as grass blades and other dead plant pieces accumulate underneath the visible surface of the lawn, and helps new grass shoots grow once the snow melts in the spring.
4. Don't Forget the Front Door
Your front door is often the first thing that people see when it comes to your house (whether they are real estate agents, potential buyers, or just passers-by on the street), after scanning your lawn and patio. During the winter, maintain your front door by wiping away the grime left from rain, snow, and sleet, and consider investing in a more decorative front door if you have a somewhat plain one. RWC provides a number of door services including front entry door replacement.
5. Be Proactive
Taking steps to tackle your snow removal and lawn maintenance before they become an issue will help save you time and keep your home looking the best that it can. For example, use a snow melter (such as a liquid magnesium chloride blend applied with a garden sprayer a few hours before a storm) before snowfall in order to minimize cleanup later, and make sure that your lawn is in peak condition – even when you are not there to maintain it.
Ultimately, the steps you take to care for your lawn (especially deep in the throes of winter) will reflect back on your home's property values and curb appeal. Whether you are just starting on building your dream home or are looking to put it on the market, staying on top of your lawn care and snow removal will have countless benefits down the road. Our goal at RWC Windows & Doors is to help streamline the renovation and remodel process as much as possible – we have proudly been helping New Jersey homeowners "relieve home improvement stress" since 1959.
We offer a variety of products and services to help you relieve home improvement stress including decorative glass, doors, kitchen and bath renovation, pre-finishing, windows, and the installation that comes with each. Whether you are looking to purchase a new front entry door or upgrade your kitchen design, RWC can help you through every step of the process.
Call us today to speak with one of our friendly and knowledgeable professionals! We've been improving home improvement stress since 1959! Let us help you build your dream home.