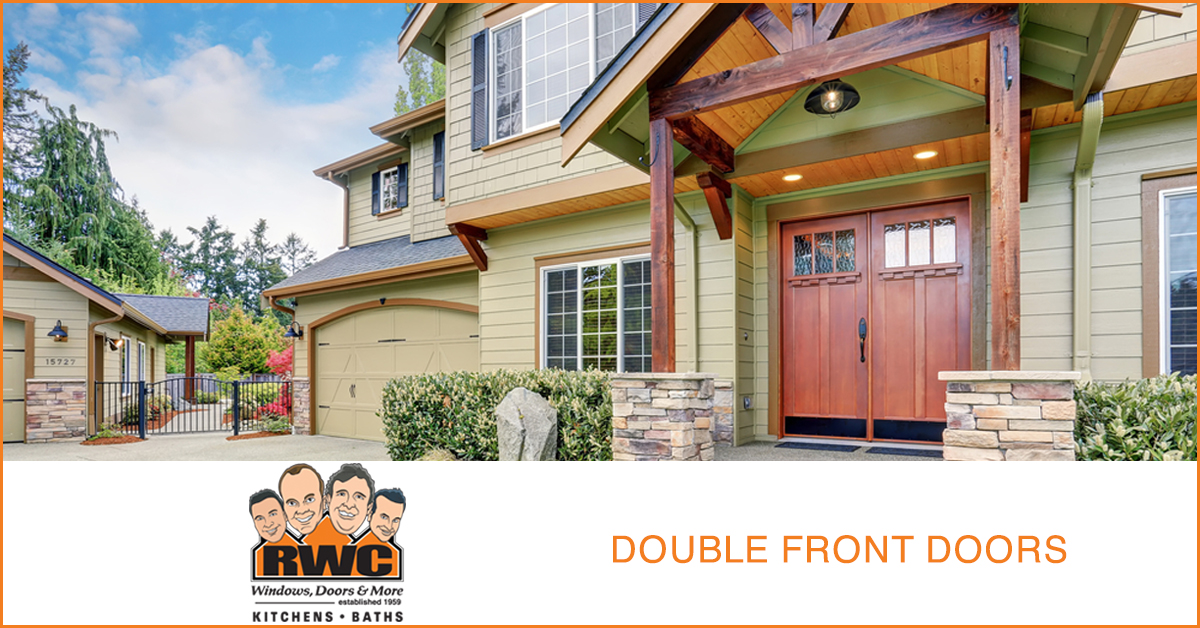 Quick Summary On Double Front Entry Doors
The endless array of images scrolls across your Pinterest screen. Double front doors in woodgrain, brilliant white and sleek black. Some are contemporary, some craftsman style. And, you wonder at the possibility of incorporating this grand, welcoming feature in your home. This article will offer a few more images for inspiration, including before and afters, plus all the information you need to pursue this project.
Reasons to install double front entry doors, and if your entry supports such as a remodel, will be reviewed. The types of double front entry doors, style and color options let you know the choices consumers have regarding this feature. And, an overview of installing this double front entry doors with information on identifying reputable companies for both product and installation gets you started off right.
Enjoy the read and the dreaming, and may you soon walk through your gorgeous new entry.
Introduction: Before and After
Finding a Reputable Door Company
Conclusion: Happily Ever After
Introduction: Before and After
Perhaps, as you approach your home after work one evening, it strikes you that your front entry has gotten lost in the expanse of your home's exterior. While the front door welcomes guests, you wonder at the hospitality extended by a seemingly too small door. But, you figure it is what it is. After all, the project looms too large to consider.
But, what if you let yourself dream just a bit? Would a double front entry door add greater curb appeal and an air of hospitality to the home you love? Maybe you have scoured the Internet for images of how homeowners have done just that. Photos, such as this peek at a real-life transformation with the help of RWC, inspire more ideas. Could this be a possibility?
Whether your dream is to go from a single door to a double door or update double to double, the expertise of professionals simplifies that seem too great fantasy into reality. Yes, this is a possibility.
The truth stands that your front entryway proves to be an outward expression of your personality. Also, this aspect of a home's exterior indeed welcomes guests. In fact, the front door remains the focal point of the home. Double front doors make a bold statement and add a stately, classic quality.
In considering this update to your home, be certain to understand your limits. While handymen run throughout American households, Consumer Reports recommends hiring a professional to install doors, even of the same size. If the door is larger or smaller than the existing entry, if you are moving from a single to a double style or if sidelights flank the door, a contractor is best for the job.
Why Double Doors?
Double front entry doors naturally draw the attention of people, but that does not prove that it's fit for your home. What are your reasons for taking on such a project?
Widen the Entryway
While it may seem too obvious to state, double doors widen entryways. A broader entry allows for more natural light throughout the seasons and greater flow of air in warmer temperatures. These qualities may cut down on the need for electricity through lighting and air conditioning. Also, a more naturally appealing space results from the light allowance of double doors.
Improve Access
Entry into a home becomes more accessible with a double front door. The loading and unloading of various items flow more smoothly through the widened passage. Think about the benefits when it comes to furniture purchase and moving. The dimensions of a loved couch become less urgent with double doors as compared to a single entry. Plus, the savings on knuckles and preservation of door frames bode well for homeowners.
For those with medical or physical issues, a double front door makes for ease of access. Wheelchairs, walkers, hospital beds and other ambulatory equipment are well accommodated by a wider entrance. This feature creates user-friendly access for family members and extends greater hospitality to guests.
Enhance Curb Appeal
One click of the television remote brings endless evidence to the value of curb appeal. As previously mentioned, double front doors give a house the look of a grand home or mansion. In other words, this feature elevates the proportions of a home.
Also, symmetry proves to be a natural attraction. Many of us may not be aware of why the twin doors draw our attention, but we know they just look better. The principle of symmetry comes into play here. Finally, double front doors create the Illusion of space.
Offer Energy Efficiency
Looking for EnergyStar ratings, which require testing and certification, these doors offer consumers assurance of quality products when considering energy efficiency. The EnergyStar website provides even more detailed information. Old doors replaced with these updated versions save energy and dollars.
However, energy efficiency primarily remains a product of door installation less than it is on the door itself. In fact, most air loss occurs around the door, not through it. Also, the surface area of a door measures small in comparison to the exterior of the house as a whole. While steel and fiberglass offer more insulating value, tighter fitting frames, efficient cores, and insulating glass are of greater benefit in this regard. With that said, fiberglass front doors make a great choice for homes.
In light of this, be sure the door frame fits securely. Less than an eighth inch between the door and frame reduces drafts and heating bills. A professional installer offers expertise in these savings.
Address Security Considerations
Regarding safety, tests, again, reveal that the door itself does not deter burglars. Entry materials do not vary significantly in strength, not enough to make much difference. The door jamb proves to be the focal point of break-ins. Bolstering locks and strike plates increase security. The length of mounting screws and deadbolts reinforce the door as well. Installers ensure a secure fit into the frame. And, consumers should choose high-quality locks and hardware to increase security.
Assessing Your Entry
Before taking their imaginings too far, homeowners must face the reality of the space currently available in their homes. A few considerations as to the possibility of double doors in your entryway are in order. A professional contractor also helps determine plausibility while addressing your wants and needs.
Will Double Doors Work in Your Entryway?
In truth, not all entryways are configured to support double doors. Some basic measurements will get you started on this assessment. The typical single door entry measures 36 inches. A 42-inch entrance or five-foot double entry doors (two 30 by 80-inch doors) offer a standard double door size. Standard door height tops 80 inches. And, newer homes with higher ceilings accommodate eight-foot doors.
Consider the following questions before purchasing a double front door:
Do I have the needed exterior wall space to install?
Once installed, is there adequate room for the swing of the door when it opens?
Does the opening of the door create ease of movement in the interior entryway or does it prove awkward?
Can an Entryway Be Changed to Accommodate Double Doors?
If space permits, entryways can be reconfigured for double doors. Door choice may play into this reworking. Also, while doors are traditionally set to inswing, they can be reversed if preferred or needed. Hinge placement may help accommodate interior needs as well. Again, a professional design and installation company like RWC can help with answering this and other questions for a homeowner's unique space.
What Interior Space Considerations Exist?
When considering a double door, a few interior considerations are worthy to be within the plan. Laying out measurements in your current entry while looking at the following is helpful:
Again, the size of the door and the space available.
The location of staircases.
Entry to other rooms off the main entry.
Access to closets.
What Can You Do to Prepare for Double Doors?
Before the installation of double doors, homeowners can prepare in the following ways:
Choose the door material, style, color, and hardware.
Remove furniture, rugs, wall hangings and other personal items from the space.
Leave the rest to quality professional installers.
Types of Double Doors
In choosing the door material for your home, several options exist. Natural wood, fiberglass and steel remain options for homeowners today. Pay attention to warranties as the details may vary according to the material.
Natural Woodgrain
Authentic and high-end wooden doors prove to be the look other materials attempt to imitate. Solid wood doors rank best at resisting wear and tear in tests, according to Consumer Reports. This material is the least likely to be dented and scratches repair easily. However, as with all wood surfaces, these doors require regular painting or varnishing. Also, termites and moisture present potential issues when purchasing wood products.
This relatively inexpensive option offers a range of characteristics depending on wood species. Pine, oak, knotty alder and mahogany make beautiful front entryways. The grain, color and sap content of each piece creates a unique front door appearance.
Fiberglass
Fiberglass makes for a practical choice for a double front entry door. This material resists wear and tear with less deterioration from the sun, moisture, and termites than wood. And, fiberglass mimics the look of wood with less maintenance. Both paint and stain adhere to this surface, giving customers a choice. One disadvantage is that this door can crack under severe impact.
With minimal drawbacks, fiberglass remains popular in today's remodels. The moderate price, dent-resistance and minimal upkeep make fiberglass an attractive choice for consumers. And, two finish options cater to a buyer's preference.
Textured fiberglass
The wood-grain look is achievable with textured fiberglass. Grains and knots mark the surface of this option similar to natural wood products. Plus, edge treatments on some doors breed even more authenticity.
Smooth-skinned fiberglass
For those that prefer a flat surface without grain, smooth-skinned fiberglass proves the favorite. A sleek finish results with this type of product.
Steel
Representing half the market, steel doors are inexpensive, secure and weather-resistant.  A more affordable price point compared to wood and fiberglass draws consumers to this option. Steel also offers energy efficiency. However, the inclusion of a glass window in the door lowers this value.
While little maintenance comes with steel, dents are difficult to repair. And while the doors are coated for rust resistance, scratches need proper attention or rust will invade it. Finally, in tests of weather and abuse over a decade, steel doors performed the least well compared to wood and fiberglass double entry doors.
Prefinished or Raw?
Doors come in raw material form for the contractor or finish or prefinished form for the buyer from the factory. Advantages of prefinishing are significant. Prefinishing:
Saves time, mess and hassle of finishing onsite (up to four hours of time).
Decreases installation delays due to weather, which affects the finishing process and dry time.
Offers even color and a clear, smooth finish, even in corners.
Boasts an absence of drips, runs, lap marks and shrink lines.
Reduces peeling and flaking.
Increases longevity of the finish and the door.
To summarize, while prefinishing adds cost upfront, the savings in dollars and time over the life of the doors is worth the investment. Plus, the beauty of finish in controlled prefinishing environments cannot be duplicated even in the best on-site applications. Talk with a professional regarding this option.
Glass or No Glass?
The ability to allow natural light to flow in through the front door is a must for some homeowners. All entry materials accommodate full view, three-quarter view or one-quarter view glass according to customer preference. And, not all glasses are created equal. Clear, textured, tinted and decorative styles give even more options. Glass sidelights and transom windows (discussed below) also offer a light alternative.
When considering the option of glass, be aware that it adds to the cost of the door. The more elaborate, the more costly. This fact holds true for glass in doors, sidelights and transom windows.
Also, glass cuts insulating value. After all, gaps for air to enter your home increase where the door and glass meet. However, double or triple-panel glass helps combat this lesser efficiency. Remember also that the surface of the door remains small in comparison to the whole of the house. Realistically, homeowners have some room for preference and artistry regarding glass without significantly sacrificing efficiency.
Style and Color
Speaking of customer preference, style and color allow you to get creative. If the front door represents your personality to passers-by, this area provides the means to express it. Just like a personal wardrobe, style, accessories, color and finishing touches combine to create a look that is just you.
Contemporary, Classic, Craftsman?
So many homes. So many styles. Companies offer consumers a broad range of door style options. A few list below:
Flushed: flat across the entire surface.
Paneled: contains molded patterns in the shape of rectangles, squares or arcs.
Dutch: split horizontally, so top and bottom open independently.
Contemporary: clean, simple lines.
Craftsman Style: decorative dentils with sharp lines, square edges and wood grain.
Decorative: metal grills and glass panels.
Classic: welcoming, familiar entries.
Rustic: old world charm of Tuscany, the Southwest or Europe.
Transom Windows or Sidelights?
Adding to space alongside the door or above it offers more creative versatility. Sidelights and transom window features give consumers a means to introduce more light (for those choosing glass) and design into their entryway.
Sidelights are panels that accentuate the side of the front entry. Glass, wood or fiberglass comprise these features. And, glass can be either transparent or opaque including decorative. While sidelights are traditional with single doors, double doors take on grander proportions if space allows these accessories.
A transom window uses decorative glass inserts above the entry. While the design may be a reason to include this feature, flooding light into the interior entryway proves a primary drawing card. The detail and design go beyond the simple box window to include arcs, scrollwork and more.
Another accessory proves functional more than design-oriented. An adjustable threshold offers a weathertight seal over time. Including this option decreases the cost of replacing the sweep to seal out rain and drafts. Improved energy efficiency and comfort result.
Stain or Paint?
The choice of whether to paint or stain falls to customer preference as well. However, the option of door material is affected by this preference. Wood and textured fiberglass best support stain. After all, the point of the texture is to see the grain and character of the material. The purpose of stain is to bring out the texture for a more natural look.
Smooth surfaces, whether steel, fiberglass or wood, work well with paint. Covering up a flat surface does not hide any of the door's character. These options allow for creative expression with bold colors or subdued tones as dictated by the personality or mood of the consumer.
The Color Spectrum
Black, white and neutral offer classic color choices for homeowners wanting this look. But, today, color choices run the rainbow. Prefinishing companies recognize the need for consumers to customize, and they accommodate. For instance, RWC offers a paint selection that includes the entire Sherwin-Williams and Benjamin Moore color palette. Combine this choice with style options and one-of-a-kind double front doors become a reality.
Similar versatility exists with stain as well. Working to match the interior and exterior stain colors, prefinishing companies oblige customers. RWC goes a step further by accommodating a buyer's color and tone preferences outside the standard choices. A beautiful match to home and personality results.
Finishing Touches
Hardware decisions boast the final step in the creative process when designing a double front door. Hinges, door knobs, door knockers and any decorative accessories complete the look of the product. And, as with color, gone are the days of a few finish choices. While polished brass and polished chrome still find a place among the offerings, the playing field has widened. Laminated steel, antique brass, satin nickel, antique nickel, satin chrome, Venetian bronze, rustic bronze, rustic pewter, iron black and more give the consumer the ability to match the home style and design aesthetic.
Beyond finish, the style of the door handle falls to preference as well. Knobs, levers, bars and others grip options play to a customer's whimsical or classical tastes. Combining a variety of grip styles with seemingly unending finish options gives homeowners more options than ever.
For security, doors with windows near a doorknob or those including sidelights should include a double-cylinder deadbolt lock. This type of lock requires a key on both the interior and exterior. This option offers added security to homeowners. Breaking the glass and reaching through to unlock the door from the inside fails with double-cylinder deadbolt locks, deterring would-be intruders.
Installing Double Doors
All the decisions made. Your preferences ordered and arrived!  What does the installation of your new (might we add, gorgeous) double front doors involve?
Let's review a bit before the process is detailed out. To get to this point, a quality company should have helped you confirm your measurements, make style, color and finish choices to suit your needs and wants, and laid a foundation to protect your interior from construction dust and debris.
The rest of the process includes:
Removing the original door, frame, wood threshold and molding.
Reconfiguring the door and frame within limits to improve fit for energy and security benefits.
Modifying the entryway, as necessary. Note: Many installation services do not include this level of construction. A separate contractor may be required for large-scale changes.
Installing the new doors and frame including the work to block, shim, plum, level and square the frame and doors, insulate the voids, and install the interior and exterior trim.
Completing and sealing the interior and exterior trim with high-grade, non-drying caulk.
Cleanup of construction debris and dust.
Leaving you to enjoy your new curb appeal for years to come.
Finding a Reputable Door Company
The purchase and installation of double front doors is a more pleasurable experience when you work with a professional, reputable company like RWC. While you may be in a hurry to make your remodeling dream a reality, slowing down to take the following steps proves wise. And, it just may lead to faster results with fewer headaches.
Research the Options
The recommendations of friends, family, and colleagues offer valuable insight into a door professional. Also, the Internet proves to be a source of reviews and ratings which can start a company search. Identify a few of the top businesses in your area and make contact.
Ask About Credentials and Experience
Informally interview the companies you are considering to assess their knowledge and expertise. Be sure to include questions on their assistance with decision-making, ordering and customer service. Do not be shy. You need to know and trust who you are hiring.
Also, a company with strong working relationships with manufacturers and distributors benefits buyers. Advocating for customers to get work done on time and offer the longest possible warranties are marks of a quality business. These professionals should be by your side and on your side throughout the remodel.
Check References
Even if a company comes recommended, be certain to contact references. These conversations provide useful information not contained in a list of service offerings. Work ethic, meeting of deadlines, customer satisfaction and more offer insight into the professionals you are hiring.
Request Quotes and Expertise
Quality professionals willingly share knowledge with consumers. Ask for help with measurements, design ideas and more. Also, get quotes which detail out the product and work included. Price comparison only works if you compare the same services. Request a quote with us today!
Conclusion: Happily Ever After
Take one more look at the possibility in this RWC project spotlight. Double front doors add an atmosphere of hospitality and grandeur to your home. Beyond curb appeal, bathing your entryway in natural light, broadening accessibility and making a personal statement benefit the homeowner that chooses this entry option. And, with so many styles, color and hardware choices, your personality greets family and guests alike once your new entry is installed.
Working with reputable professionals provides superior knowledge and expertise. These qualities enhance the experience of purchasing and installing your new entry. RWC offers testimonial-supported services and seeks to serve their customers well in product selection and installation.
So, if you have been reading this article and dreaming of the enhanced hospitality and improved curb appeal a double front door would bring to your home, do not hesitate any longer. Contact RWC today to find out if this dream can be your reality. And, be sure to send a before-and-after photo, and tell us about your happily ever after.