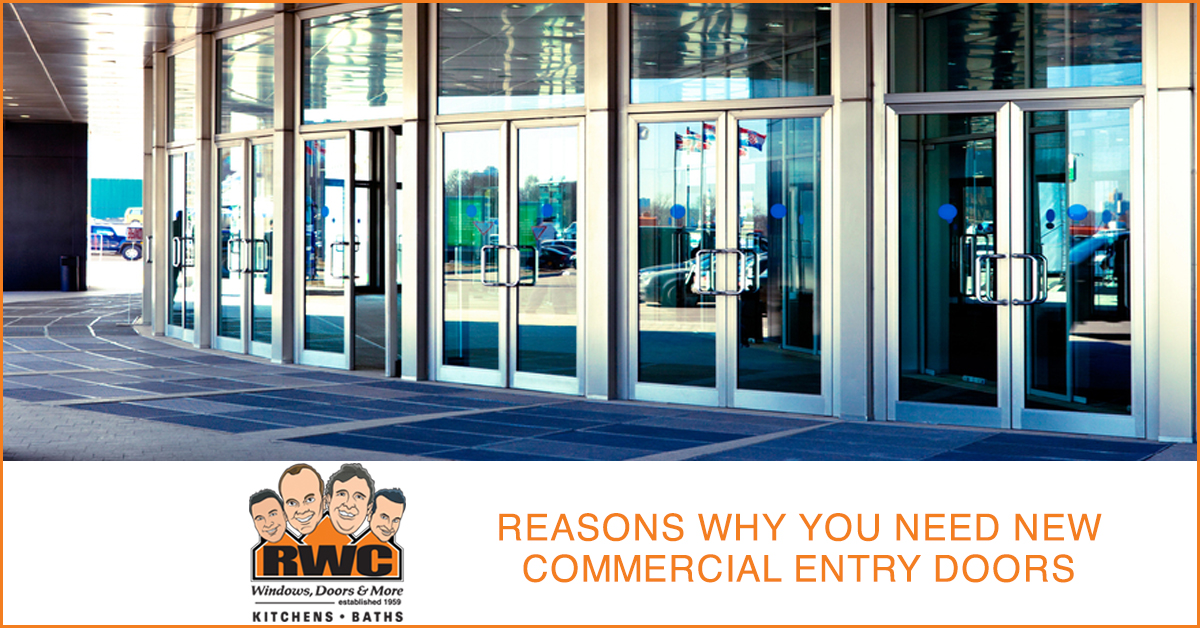 Doors in your building should be form-fitting, sturdy, secure and well-made. Your building, especially if it's your commercial business, is a vital part of your everyday operations, whether you rent the place to tenants, own a retail shop or house a factory. This is why you need professional installers to handle your commercial door needs.
Read on to discover how new commercial doors can save you money and bring you peace of mind.
Security
Physical security is a major concern for your business or commercial property. A sturdy commercial entry door for the front and back entrance, with a deadbolt or other security locks, represents the first line of defense against unauthorized entry, burglars and wayward people who wander inside. Don't leave a security breach to chance, and have a professional install a commercial door.
Further, commercial interior doors keep your products safe and secure, even on the inside. Locked doors keep unauthorized personnel out. Sturdy doors also soundproof rooms so staffers can talk in private. Security isn't the only reason to have a professional install new or replacement commercial doors.
Insects and Weather
Commercial exterior doors need to have the proper locks and seals on them to keep out drafts, weather and insects. All of these intrusions can cost your company money. If your doors let bugs or pests inside, you must spend more money on pest control measures. Drafts that come in through gaps between the door and door jam make your climate control system work harder to maintain a certain temperature, whether it's in the winter or summer.
A single investment in modern commercial doors saves money over the long-term use of the building because you spray for insects less and your utility bill is lower each month. Lowering your overhead means you can focus on making more profit from your building. There are many types of commercial doors that can mitigate these issues.
Types of Commercial Doors
Exterior doors are usually made of solid steel, whereas interior doors are hollow. Steel doors on the inside of you commercial building provided added security, soundproofing and climate-control measures.
Cargo doors that roll away provide safety and security among entrances for a loading dock or vehicle storage area. These doors often have remote controls that let you lock them from the inside, and you have a deadbolt key that can lock them down from the outside. Cargo doors commonly roll overhead so they are out of the way when vehicles come into the facility. These doors have bumpers around them to seal the outside while letting cargo vehicles safely sit against the back of the building.
Glass doors provide partitions on the inside of your building so you maintain visibility between sections of your plant, conference room or executive areas. They provide a nice touch with a bit of privacy.
Why a Professional Installation
Professionals can install exterior commercial doors at any time of year, although cooler months during spring and fall are the best. When the weather is cooler, there are fewer insects that get into your building while installers replace your original doors with newer ones. Temperatures shouldn't be too hot or too cold during your installation because those temperatures may affect the wood that goes around the doors by expanding or contracting the fibers.
Installers know how to seal exterior doors so the elements don't infiltrate your building. Professional installers maintain high standards and know how doors fit into your building's overall structure. Pros can fit together the handles, hinges, parts, bumpers and frame properly throughout an installation. A professional contractor knows what accessories to put on a door, such as keyless entry, chains, automatic openers, sensors and card swipe machinery.
Whether you need to replace or repair a door, a newer custom model door starts paying for itself right away. A professional installation adds value to your investment. An installer can return to the work site if he or she needs to make unique adjustments later.
Why RWC
RWC in New Jersey has the tools and the talents to complete your commercial door installation in NJ professionally, properly and efficiently. Once you consult with us, we take you through every step of the process. Once you place your order, we keep the doors at our place until they're ready to be installed. We can color match some types doors during the design and consultation process.
We won't do anything that you don't expect. Once our team leader arrives on site to oversee the project, he or she can explain exactly what's going on and why. Leave the hard work to us so you can return to running your business in the best way you know how.
RWC has been relieving home improvement stress since 1959. Call us today or visit us on the web for your free consultation.