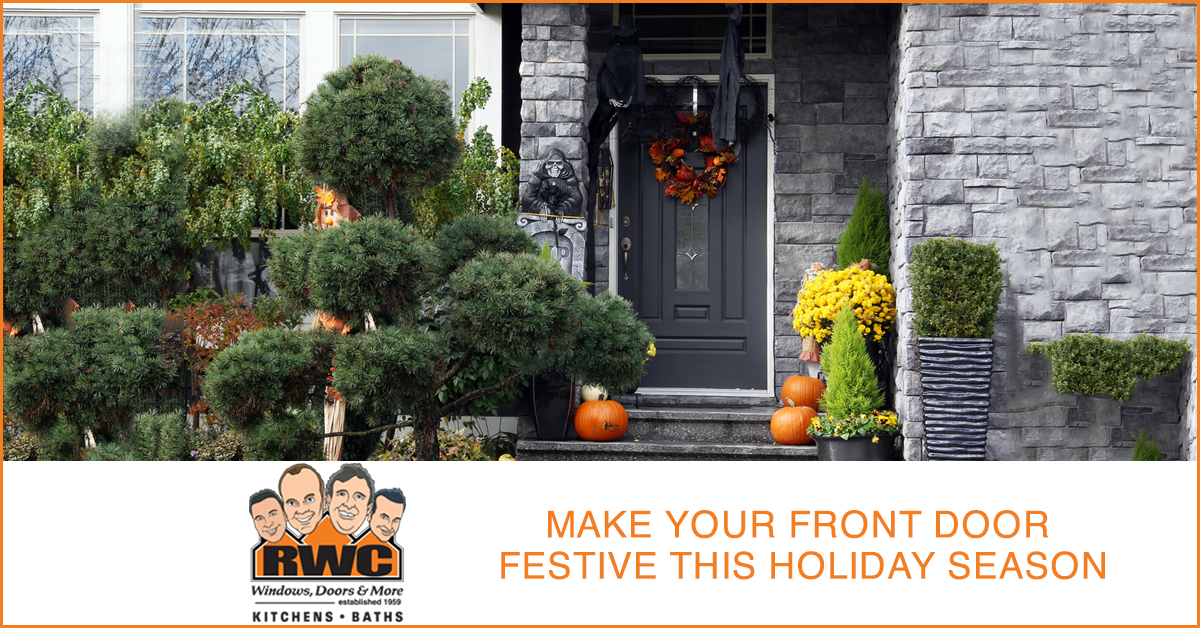 Your front door is probably the most widely used door in your entire house. When you want to give your home a festive flare, deciding how to decorate can be overwhelming. Whether you want to simply decorate your front door, or you want to make your whole yard a holiday display, a little planning can help you get the project under control. To make the most out of this holiday season, have some fun making your home look beautiful.
Creating a Budget
It may seem silly to create a budget for your holiday decorating, but outdoor decoration costs can quickly get expensive. Decide on a budget, and figure out what you can do within those budget parameters. There are many creative, yet inexpensive options to consider when you want to decorate without spending a lot of money. From well-placed spotlights, to greenery found in the woods, you can make a beautiful front door display that you and your neighbors will enjoy.
Start with Your Greenery
Some people choose to use fake greenery with lights already installed within. Made for the outdoors, garland strands that look like real greenery can make your front door pop. If you prefer natural greens, a hike through the woods can give you the brush that you need. Make sure that you aren't on private property, and go for a walk with a pair of thinning shears. You'll be amazed at the wonderful decorations you can find for your front door that are straight from nature.
Consider Your Lighting Options
A well-placed spotlight on your decorated front door can make a big impact. You can also try creating a path of solar lights leading up to your front door. If you are going all out during this festive holiday season, you can fill your front trees and bushes with lights to bring joy into the darkness. The holiday season is one full of love and light, and your home decor should reflect these sentiments.
Holiday Wreaths Both Traditional and Creative
Holiday wreaths are a traditional way to decorate your front door, but today's holiday wreath is far from boring. While you can make a wreath out of greenery, pinecones and ribbon, you can also use almost anything to make a wreath for your front door. You can even use recycled mason jar lids to make a fun, original wreath to decorate your front door. With a little time, twine and paint, you can create a holiday wreath that can be used for any variety of holidays.
Spread Cheer with a Positive Word
Hope, Joy, Love. No matter what word you believe in this holiday season, you can showcase your favorite word on your front doorwith a few simple steps. Using some strong cardboard, cut out the letters of the word you have chosen. You can try piece of cloth roughly 12 inches wide, hanging it from the top of your door and letting it hang down to the door knob area. Spray your cardboard letters with glittery spray paint, and attach the letters in order on the cloth. You can heavy duty staples to adhere the letters to the cloth. Consider small twigs, pinecones, or other decor to place around the letters for added decoration.
Gift Wrap Your Front 
Door
One of the easiest ways to make your home more festive is to gift wrap your front door. This can be done using material made to look like ribbon, and a large bow placed where the two material ribbons cross. You can also completely wrap your front door in wrapping paper, but you can choose to leave the door bare as well.
To find the perfect door for your home, contact RWC Windows and Doors today at 973-435-4230, or visit our showroom at 686 Passaic Avenue, West Caldwell, NJ 07006.