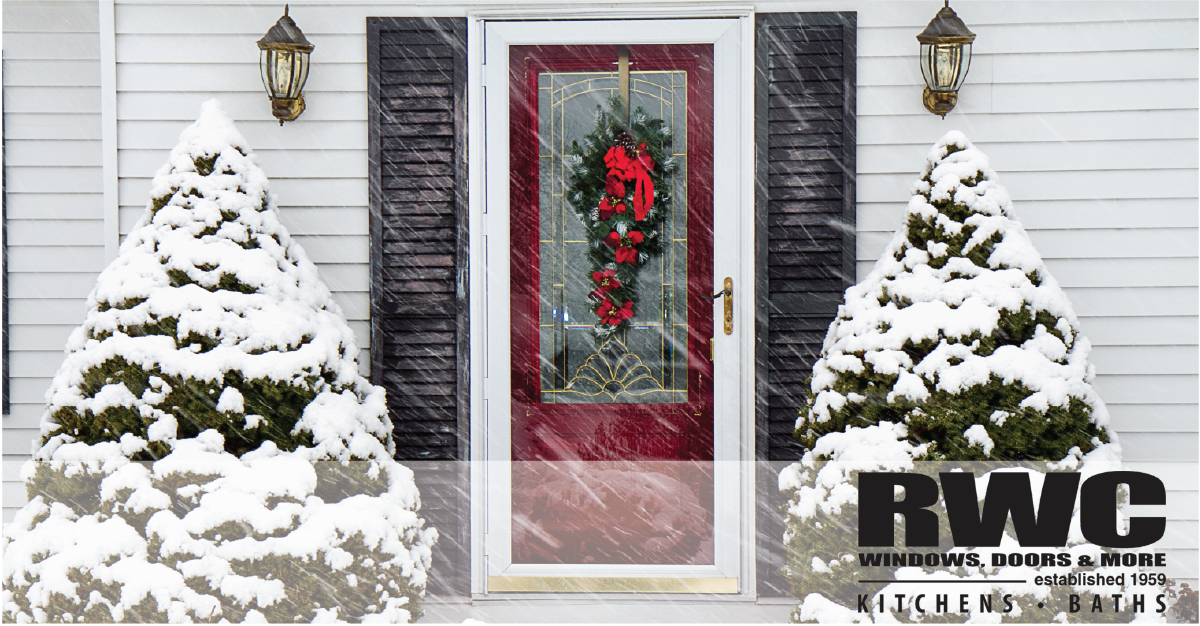 A storm door is essential for homes in cold or windy climates such as West Caldwell, NJ and surrounding communities. As a matter of fact, the weather in the Northwestern portion of the state has an average low that runs in the mid-20s and "the windier part of the year lasts for 6.1 months, from October 22 to April 26″.
During these fall, winter, and spring months, the wind can push drafts into the home when there is no air barrier other than a front door. For this reason, a winter screen door or storm door should be installed to save you money on utility bills and keep your home more comfortable throughout the windy seasons. Consider replacing your storm doors this year as one of the many ways to winterize your home. If you are wondering does a storm door keep the cold out? Then continue reading our article on storm doors in NJ.
What Does a Storm Door Do?
For protection against bad weather, while also allowing fresh air to flow into the home while keeping flying pests out, a modern storm door provides this multi-functional service. These doors are available in different materials and sizes and are usually installed on both the front, side and rear exterior doors of a home. There are three main styles of storm doors:
Full-view storm doors which feature a full-length glass panel and can be interchanged with a full screen during warmer months.

Ventilating storm doors with a full or half screen that stays in the storm door for year-round ventilation of the home.

Retractable screen storm doors where the screen is rolled up and into the storm door's frame when not in use.
The beauty of a winter screen door is that when the weather is sunny and mild, it allows homeowners to freely open their entry doors for fresh air and sunlight. When the family gathers in the backyard to enjoy themselves, having a screened storm door in place means easy in and out, without allowing pests into the home.
Benefits of a Storm Door
There are times when you should consider replacing your home's storm door. When completing home improvement projects such as replacement windows, new entry doors, or updating the home's paint or siding, and when changing the landscaping of your home, it is also beneficial to update or add a storm door. Other benefits of storm doors include:
Additional light when the entry door is open,

Increased ventilation and air flow into the home,

Protection against rodents and bugs when entry door is open,

Increases in the life of main entry door by protecting from rain, ice, and snow,

An extra barrier against air leaks, and

A pocket of insulation to keep warm air in and cold air out.
Modern Storm Door Features
Today's storm doors are available in different materials other than metal, which over years can suffer from denting, scratching, and discoloration. Aluminum and fiberglass doors are low maintenance and last for many years without needing to be replaced. To enhance the architectural style of a home, wood storm doors are a beautiful addition but will require some maintenance.
According to Energy.gov, "adding a storm door can be a good investment if your existing door is old but still in good condition…If you plan to purchase a storm door, consider features that improve the energy efficiency. "
Aside from choosing the best material for your home when buying a winter screen door, consider energy efficient factors that can increase the performance of the door and save on energy costs. These include foam insulation inside the frame to limit the transfer of cold/warm air and Low-E glass coating that helps house stay warmer in the winter and cooler in the summer.
Takeaways
Storm doors save you money on utility bills and keep your home more comfortable

Aluminum and fiberglass storm doors are low maintenance and last for many years

Install storm doors on the front, side and rear exterior doors of your home for greater savings
This year, winterize your home by adding storm doors to all exterior access doors, replace old weatherstripping, and check the insulation in your attic, basement, and crawl spaces. Contact RWC for more information on selecting a winter storm door and professional installations.
*The post below was written in January of 2017 and has since been updated above.*
Winter's cold seems unavoidable in New Jersey, but the feeling is even worse when it comes into your home uninvited. This doesn't just happen when you open the door. Instead, it finds an entrance through gaps that you may not realize exist until you walk into the right area and feel a draft.
There is one easy way to cut down on this intrusive chilly wind, have storm doors put in. These doors are meant to keep your home comfortable and lower your heating bill. Today modern versions of storm doors are both visually appealing and keep in warmth, previously they were only meant to keep heat in.
Why Are Storm Doors Important?
Despite their name, the most important thing about storm doors usually has nothing to do with serious storms. Instead, they're important partly because they help stop the wind from hitting the main door at full force. This greatly reduces the force of drafts. In turn, that keeps the house warmer in the winter and cooler in the summer.
Storm doors are also important because they can be switched from glass in the winter and screening in the summer. This allows the main door to be opened without allowing mosquitoes, flies, rodents, and other interlopers in. It also keeps humans from getting the idea that it's okay to walk right in without knocking.
Yet, another benefit of having a storm door is that it provides protection to the main door's finish. Through the years, exposure to rain and snow can fade your main door. With some types of doors, the weather exposure can crack or otherwise damage the material that the door is made of. By putting in a storm door in, you eliminate the direct exposure to precipitation and drying winds.
There can also be some surprising personal benefits some people say that their dogs bark less when they can see out the storm door!
Modern Storm Doors Can be Beautiful
For those who grew up with an old-fashioned storm door, the idea of actually wanting to get one may be a bit shocking. That's because the old kind of storm door typically had a pane of glass on top and an ugly, unfinished aluminum bottom. At best, the solid part was painted in plain black.
Now, it's common for storm doors to be made entirely of glass, or in the summer to have a screen within a sleek door frame. The frame can be painted in any color you desire. Finally, the glass for during winter is very clear so the main door is still easy to see. These attributes make storm doors beautiful and ensure that they don't take away from the home's appearance.
What Are Storm Doors Made Of?
There are a few materials that have proven to be popular for storm doors. These include wood, aluminum, and fiberglass, each with its own benefits.
Aluminum doors don't rust, so they'll last for years, even without maintenance. However, they look best when they're painted. Fortunately, many of them come with a factory finish that will last much longer than paint that is applied by hand.
Fiberglass doors typically have their color already in them. This is great for someone who wants to be sure that they'll never have to paint the door frame. Fiberglass is also lightweight.
Wood is best for people who want a natural look. It can be painted in any color, so it's also perfect for those who want a perfect match to other elements of the house. The main drawback with wood is the same thing that draws people to want it, it's natural. This means that without proper maintenance, it can rot, crack, or even be attacked by termites.
Luckily, doors are at ground level and aren't hard to repaint.
With all of these benefits and options, adding a storm door to your home is a good investment. Contact us here at RWC in New Jersey to see your options and have a door installed today.