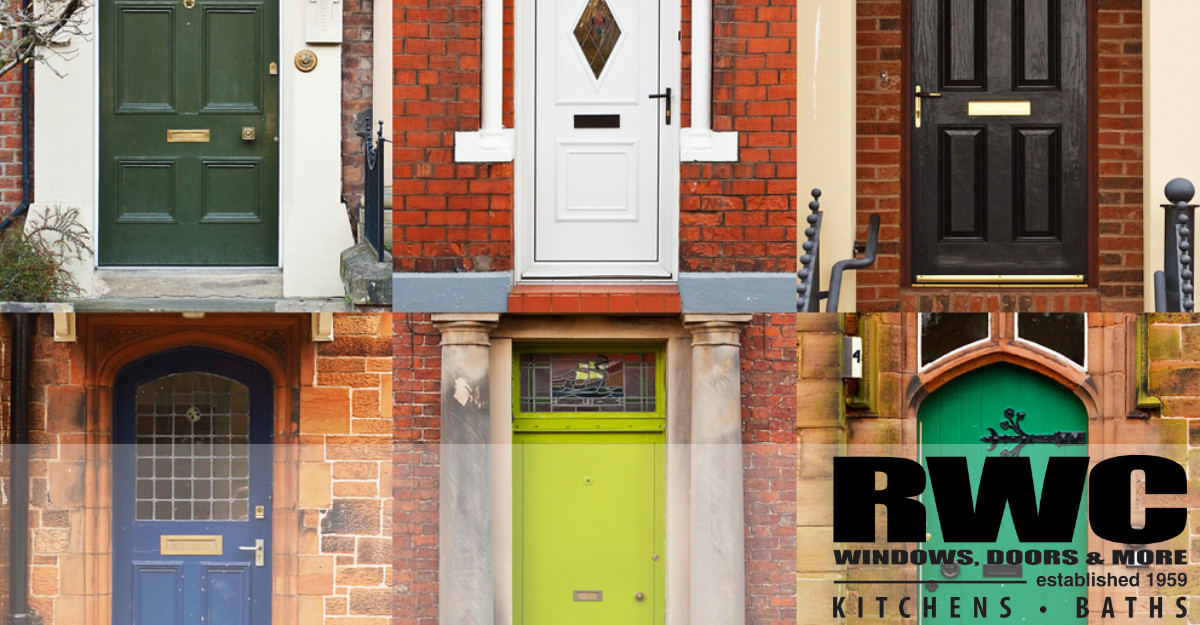 One of the fastest ways to increase your home's curb appeal is to replace the front door with a new style — especially one that highlights one of many trending front door paint colors for 2019. Your front door is the first thing people see when looking at your home. So, why not make a good first impression? This is easy to do through exterior door colors that either complement or contrast your home's finish. Consider the famous front door of 10 Downing Street, where the Prime Minister of Britain resides. This iconic black door is a classic example of Georgian architecture, and features a six-panel design constructed from black oak. You may not be the Prime Minister, but your home can have a cool front door color that can also stand out. Try one of these 5 unique front door colors for 2019.
Tips for Front Door Color
While thinking about how to pick a front door color, you should consider what type of personality you want your home to portray. Yes, homes have a personality; it is often reflected in the textures, colors, and style designs of both exterior architecture and interior furnishings. Of course, all of these things are a reflection of the designer or homeowner's personality. When choosing between different unique paint colors, take some advice from Better Homes and Gardens:
Do

speak to your home's style

Do

consider your surroundings

Don't

be afraid of color

Don't

neglect your

screen or storm door

Don't

ignore the trim
And for the timid at heart, sticking with the classic, unpainted, wooden door is a classic and beautiful option. While there are no steadfast rules, the best front door colors will make a strong statement, reflect your personality, and either blend with the home's overall exterior color or purposely contrast it.

5 Unique 2019 Front Door Color Ideas
Fiery reds and deep blues – To make a bold color statement with an exterior door, choose colors that are surprising and strong. Colors like fire-engine red and brighter salmon tones will surely stand out. For a more electric hue, consider a rich and deep blue. Blue tones will especially work for homes that have frontal foliage, and they can create a nice contrast to a white home.
Soft grey or yellow palettes – A front door with one of these muted and flowing colors radiates cheer and warmth, making your home seem more inviting. This is particularly true for a home that is a very dark shade, such as Hunter Green. If your home is white, combining a simple, soft grey door adds a velvety softness and a very charming bit of detail.
Woodland colors – For a lived-in sense of comfort, choose a Woodland color for your front door to set your home apart from the rest. Mossy greens, warm shades of brown or rich espresso colors are perfect for homes that already have a brighter color paint. These rich colors from nature are best when balanced with complementary shades for a truly unique home color combination.
Cool corals and golden limes – If you are replacing the front door of a Craftsman style home or a cottage or a coastal home, brighten it with a modern, upbeat color that is also calm and soothing. Cool corals and limes with a gold undertone will give your home a tropical cheer, while also adding warmth and stimulation. When paired with the right landscape, these color palettes are truly designer-worthy.
New 2019 earthy tones – There is a place in 2019 still reserved for the classic deep mahogany front door. Or, you can leave your wooden door with a natural stain and accent the trim with a new color, such as sand. Earthy tones in 2019 include include warmer taupes, mars red, blueprint, elephant skin and kindling.
Takeaways
Make a bold front door color statement with rich red and deep blues.

Contrast a darker home with a soft, muted color such as grey.

Earthy tones and Woodland colors add an inviting, natural element.

Corals and limes can enhance a Craftsman style, cottage or coastal home.

Don't be afraid of color for door decoration – contrasting can be great! – but also consider your surroundings.
To learn more of the best front door colors for 2019 and for all your exterior front door needs, contact RWC Windows, Doors & More. We provide bathroom and kitchen remodeling services including design along with door installation and window replacement to homeowners in northern New Jersey.